JW Pet InSight Clean Cup Bird Feed & Water Cup
By JW Pet
---
About This Item
Easy to install, remove and refill
Durable and dishwasher safe
Clear plastic guard locks in place to keep debris inside the cage
Fits vertical and horizontal cage wires with simple screw on design
Small is suitable for parakeets, canaries and other small birds, medium is suitable for cockatiels, conures, lovebirds and similar size parrots and large size is ideal for birds such as parrots and macaws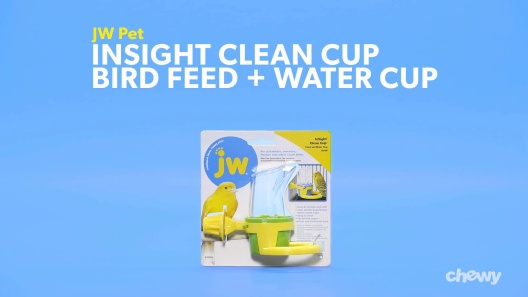 Learn More About JW Pet From Our Team of Experts
---
---
Questions & Answers
8 Customer Questions
---
Will this stop mess of seeds
Answer by • Jan 08, 2018
The clear plastic hood acts as a guard to keep food debris inside the cage, keeping it clean and free from messes.
---
my bird seems to be frightened to stick his head in the opening, when he finds the opening.
Answer by • Nov 21, 2018
The clear plastic guard can be removed if your bird is uncomfortable using it.
---
Do budgies (or any bird in this case) have to dig to get their food?
Answer by • Aug 18, 2018
Your bird does not have to dig to get the food out. All he has to do is place his head inside to eat or drink.
---
What color are the cups? Some of the photos show a medium green cup but a large blue cup. Are the sizes different colors?
Answer by • Dec 16, 2019
The color of this product is not associated with size. This product will be shipped in various colors at random depending on the availability in our warehouse facilities.
---
---
---
By Mandy on May 3, 2022
Didn't meet expectations
I couldn't find any measurements in the item description, so I had to guess the size. When it arrived, the glue used to seal the pieces was splattered onto the clear plastic top part, making it look permanently sloppy. My bird doesn't seem to mind, but I'm not happy about spending my hard earned money on something that never should have passed inspection at the factory.
---
By Yoda on Apr 19, 2022
perfect for small birds
Not easy to clean because of small size, top part can not be removed, but I use one finger n a small piece of sponge. After rinsing with hot water, the glue gets weak n water leaks (drip, drip, drip). You have to be careful not to pour water to close to the glued pieces. Besides that it is good for a small bird. I have a parakeet.
---
By PetsRgreat on Mar 14, 2022
easy to use, keeps water clean
I got this for my rat to help keep his water clean. He doesnt like using a water bottle and a dish gets filled with stuff. The hood helps keep water clean as well as keeping it off the floor. It has a perch in front. It easily twists and lifts out for cleaning and filling. The 4 stars instead of 5 was only due to not being able to remove hood from cup. Still it is easy to clean. Good size for small birds or small animals. As my rat has grown big now it is getting a little small but was perfect most of his growing.
---
By crazy4birds541 on Apr 14, 2022
Smart parakeet
These worked for 3 of my parakeets just fine but my other parakeet she is just too smart and she figured out how to turn them and unlatch the plastic piece that keeps the feeder in the base so needless to say she kept knocking them down onto the bottom of the cage so I stopped using them
---
By Karol on May 7, 2022
Bird Feed and Water Cup
so easy to attach anywhere inside of the cage. They slide off to clean and add food/water. They can perch on them to eat/drink.
---
By 3346 on Jan 1, 2022
Black Mold
In the connection between the clear plastic lid and the blue plastic water dish, I am finding "black mold". They cannot be separated so I cannot clean the connection. How can I prevent this? I wash it in the dishwasher every time I use it and dry it thoroughly.
---
By EmMa on Nov 24, 2021
It works great! Nice functional design and the birds used it immediately!
I had serious doubts about trying these, but my parakeets were constantly soiling their water. I installed two of these and the four birds all rushed to drink from them. There is sloppy glue on the clear part edge, but that isn't near the water. All in all, I'm thrilled with these - the design is great and they are easy to refill. My birds are also thrilled!
---
By Steve on Feb 23, 2022
Works for me
I think the dimensions are wrong on the small. It ended up being fine for me but idk just keep that in mind.
---
By Birdmom on Nov 8, 2021
Ehhh - not sure if I like them yet
I bought 2 of the large and 4 small cups in hopes of reducing the amount of seed disbursed from my cockatiels and parakeets (2 separate cages) I can't seem to remove the cup from the large ones which means I have to disengage the entire feeder to clean out. The small size cups easily come out so it's a quick change (what I'd like) I don't know what's up with the large.
---
By Slimani on Mar 11, 2022
Cheap products
Made from cheap material, and ugly design So many good product out there
---