K&H Pet Products CleanFlow Filtered Water Dog Bowl, Small, 80-oz Bowl + 90-oz Reservoir
Must enter code FALL2022 at checkout to redeem
---
About This Item
Bowl is BPA free and designed to be silent and leak proof
Perfect for either indoor or outdoor use in temperatures above freezing
Filters contents up to 130 times per hour, keeping floating, suspended and sinking particles out and your pets water clean and the charcoal filter helps remove impurities and can be replaced to ensure water remains clean and purified
Moving water invites more water consumption, making drinking water a little more interesting to your pet
Includes a 90-oz reservoir to hold water so you don't need to refill the bowl as often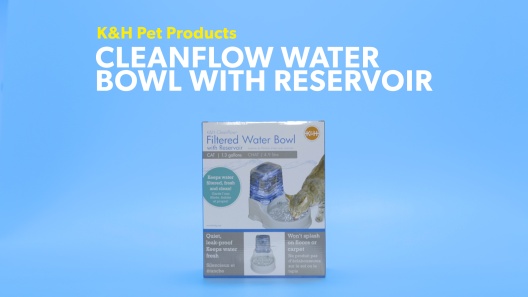 Learn More About K&H Pet Products From Our Team of Experts
---
---
Questions & Answers
22 Customer Questions
---
Where do I buy more filters for this
Answer by • Jul 12, 2021
For filters for this item please see the "For CleanFlow Filters: Click Here" sublink located on the product page.
---
What size would you recommend for 7 pound Yorkers
Answer by • Dec 20, 2017
At this time we only carry the 80-oz bowl for cats.
---
how do i keep any black slimy buildup from going into the plastic bowl
Answer by • Dec 22, 2021
To prevent any strands of mold you will want to routinely wash the clean flow out completely. We recommend using a dish soap that doesn't contain a degreaser as this would break down the plastic.
---
how much does the k & h clean water item 61705 weigh?
Answer by • Jun 09, 2021
This item weighs 2.335 pounds.
---
---
---
By Steve on Aug 11, 2022
Bowl is OK, motor broke upon 1st use
This is a decent high-capacity bowl, if you are just using it unplugged. Unfortunately, without the circulation, hairs and dust will accumulate on the water's surface over time. The first time I plugged mine in, the motor spat bubbly water all over the place. The bubbles are concerning -- this seems like some sort of factory residue, potentially even the remnants of a cleaning product. I immediately unplugged the device and rinsed it out thoroughly. Upon returning it to its place and plugging it in, the motor was simply dead -- no noise, no movement of water, nothing.
---
By NJcats on Jul 27, 2022
Terrific, no-splashing, filtering water bowl...
I have bought other water bowls that circulate or filter water for my cats, but they splash really badly - creating a really bad slip hazard on my tile floors near the bowl in a short amount of time. This product does none of that! No noise and no splashing, and best of all, no pet hair or other particles are in the water bowl itself. It arrived promptly - ahead of schedule - as well!!
---
By Batman on Jun 4, 2022
Works Okay - Reliability Concerns
Purchased this about 8 months ago and it worked without issue for around 6 months. The last time I filled the bowl up for my previously deceased cat it threw all the water out but that only happened once. Once she passed away we went a couple of months without using this bowl until my sister came to visit today with her cat. I filled the reservoir, allowed it to burp/fill the bowl, and immediately upon plugging the bowl in the pump made a terrible screeching noise. I unplugged it, tried again to the same noise for about 10 seconds before it just stopped making noise completely and also isn't moving the water. Pulled it and cleaned it to the same no function at all. 8 months of use - even if without issue - does not justify the longevity of this product. I will update this review if a positive outcome is reached such as a warranty I will update this review accordingly.
---
By Catmom1975 on Jul 5, 2022
Not what I thought
This water bowl drains all of the water into the bowl when you refill it, the filters don't last very long either. I've had to unplug it and just let the water sit int eh bowl instead of it running because it makes and loud noise as if it is burning the motor up. Started out great but not so happy with it now after 4 months.
---
By Chels on Jun 22, 2022
Clean Flow Water Bowl
We've used this water bowl for about 2 weeks and I'm really impressed with how clean the water stays and how quiet the motor is. My dog definitely drinks more water from this than a standard bowl with no flow. It also was really easy to set up and should be pretty easy to clean.
---
By MeowMom on Jun 1, 2022
Broke after two months
Loved it, and so did my cat; however, I think the water flow should be a little slower. Cleaned it according to instructions after a month and it continued working well for a couple weeks after that. Then one night it stopped regulating the water level and overflowed all over my floor. Tried setting it up again and its still overflowing - unusable. To their credit, Chewy is sending a replacement. Hopefully it will last this time.
---
By Erica on Jul 20, 2022
Absolutely AWFUL
It sounds like a Freight train!!! I can hear it all over the house!!! It's scared my dog and he want go near it..
---
By Heath on Mar 24, 2022
Broke Pump Trying to Clean, No Replacement Part
First time I tried to clean the bowl there was a thin layer of film at the bottom of the pump so I took it out and wiped it off. When I tried to plug it back in it did not move the water in the bowl anymore. I saw reviews that said don't do it too tight but that did not fix it. I cannot find this specific pump for this specific water bowl to replace it. All I can find are filter replacements. Now I will probably have to buy a new bowl just for the pump. Up to this point, I had no problems with it. But it should be easier to find the replacement part.
---
By Ourcats on Mar 6, 2022
Works well, easy to clean
I've tried 4 fountains so far and this one is easy to maintain and stays pretty clean. I clean it weekly, scrubbing it and replacing the water. The only thing that's been a little tricky is the little rubber piece going from the pump to the bowl. If I connect it too tightly, it doesn't pump, meaning it doesn't circulate the water in the bowl. So, I didn't connect it as tightly and now it works just fine. I really like this fountain.
---
By lcarlson on Feb 26, 2022
Good system
Only thing I an negative about if the clean plug that goes over the bottle cap. If not on the cap, water will overflow. If not reading the direction, it's easy to assume you remove it from the cap. Who reads directions..lol I just happened to look at the direction to see how to place the pump and saw that clear plug belongs on the cap. It's the water regulator. Don't forget it when putting the system together or cleaning the water bowl.
---