K&H Pet Products CleanFlow Filtered Water Dog Bowl, Small, 80-oz Bowl + 90-oz Reservoir
By K&H Pet Products
---
About This Item
Bowl is BPA free and designed to be silent and leak proof
Perfect for either indoor or outdoor use in temperatures above freezing
Filters contents up to 130 times per hour, keeping floating, suspended and sinking particles out and your pets water clean and the charcoal filter helps remove impurities and can be replaced to ensure water remains clean and purified
Moving water invites more water consumption, making drinking water a little more interesting to your pet
Includes a 90-oz reservoir to hold water so you don't need to refill the bowl as often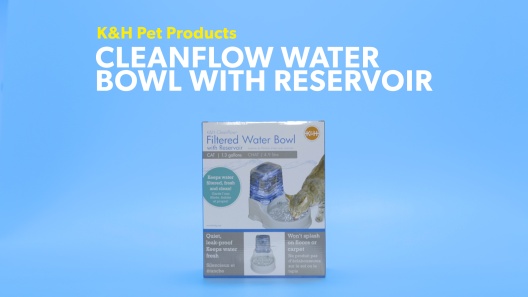 Learn More About K&H Pet Products From Our Team of Experts
---
---
Questions & Answers
22 Customer Questions
---
Where do I buy more filters for this
Answer by • Jul 12, 2021
For filters for this item please see the "For CleanFlow Filters: Click Here" sublink located on the product page.
---
What size would you recommend for 7 pound Yorkers
Answer by • Dec 20, 2017
At this time we only carry the 80-oz bowl for cats.
---
how do i keep any black slimy buildup from going into the plastic bowl
Answer by • Dec 22, 2021
To prevent any strands of mold you will want to routinely wash the clean flow out completely. We recommend using a dish soap that doesn't contain a degreaser as this would break down the plastic.
---
how much does the k & h clean water item 61705 weigh?
Answer by • Jun 09, 2021
This item weighs 2.335 pounds.
---
---
---
By Heath on Mar 24, 2022
Broke Pump Trying to Clean, No Replacement Part
First time I tried to clean the bowl there was a thin layer of film at the bottom of the pump so I took it out and wiped it off. When I tried to plug it back in it did not move the water in the bowl anymore. I saw reviews that said don't do it too tight but that did not fix it. I cannot find this specific pump for this specific water bowl to replace it. All I can find are filter replacements. Now I will probably have to buy a new bowl just for the pump. Up to this point, I had no problems with it. But it should be easier to find the replacement part.
---
By Ourcats on Mar 6, 2022
Works well, easy to clean
I've tried 4 fountains so far and this one is easy to maintain and stays pretty clean. I clean it weekly, scrubbing it and replacing the water. The only thing that's been a little tricky is the little rubber piece going from the pump to the bowl. If I connect it too tightly, it doesn't pump, meaning it doesn't circulate the water in the bowl. So, I didn't connect it as tightly and now it works just fine. I really like this fountain.
---
By lcarlson on Feb 26, 2022
Good system
Only thing I an negative about if the clean plug that goes over the bottle cap. If not on the cap, water will overflow. If not reading the direction, it's easy to assume you remove it from the cap. Who reads directions..lol I just happened to look at the direction to see how to place the pump and saw that clear plug belongs on the cap. It's the water regulator. Don't forget it when putting the system together or cleaning the water bowl.
---
By Samantha on Jan 18, 2022
The only bowl they will use
To say my dogs love this bowl is a understatement, I had at the time I purchased it in 2019 2 elderly dogs and a 2 year old dog. They all loved it after they got over the initial change which took about a week. Now I still have one senior and the younger dog and it's all they will drink out of. My senior dog won't even drink out of it if it's not turned on (spoiled). It does tend to make noise if the cord is against anything but I simply bunched up the extra cord and zip ties it and it took care of the problem. Also be sure to rinse out the motor as if your dog gets a lot of stuff in the water stuff does get sucked up in it.
---
By Tomas on Dec 11, 2021
Tesla & Coyle
I have had this bowl for two years now. It has worked excellent. The only issue I had was when disassembling it, I had a hard time removing the cover over the pump/filter when I would clean it. After the 4th time cleaning it, a piece of the base broken off where the cover clips so now it isn't "locked" into place. It still works fine. The bottle keeps weight on it. I disassemble and clean it weekly. Be sure to use vinegar and the cleaning brush regularly. I do monthly. My cats used to play in the water and still put toys in there to watch them swirl around. I use a sturdy disposable aluminum roasting pan under it in case it does leak. Every once in a while my cats put a Kleenex or napkin in there and when it breaks apart, it clogs the filter and then it overflows... It is very quiet and works very well.
---
By Rain on Dec 23, 2021
Not a fan or maybe this one is Defective
I initially bought this for my cats in September 2020 because my daughter had one for her dog and it was great. However, recently, the motor stopped working. I have to play with it to get it to circulate the water. Also, it spews out black spectacles in the water so the cats won't touch it. I've changed the filter 3 times and COMPLETELY cleaned every crevice of the bowl, even the motor and it just gets worse and worse. I'm pretty disappointed since they initially loved it.
---
By Andrea on Feb 13, 2022
Defective
The water over flows all the time. It is so annoying. My cat drinks out of it ok but it runs over all the time it doesn't have a sensor for the level of water. I'm very unsatisfied.
---
By 22ccc on Feb 8, 2022
pet product
I bought two of these and I the water overflows. I have change the filter and clean it and it works but the next days it overflows please don't buy it. No wonder it's on sale.
---
By Shelby on Nov 7, 2021
Review after a year from purchased
I love this water bowl! People talk about it overflowing but that's only if the filter/pump is clogged. You should be cleaning it regularly anyways so that shouldn't happen. As long as you keep it clean like you should it works great! My dog likes to eat then get a drink right after so there were always small chunks of food floating in his bowl. This filters them out completely!! It's easy to take apart, clean and quiet. 10/10 would recommend.
---
By KatLvr on Nov 27, 2021
Sad it was bad
We ordered 1st one and started to leak after a couple weeks. Chewy sent another and the motor stopped working after about a month. Won't order again. I was really bummed as my cats really liked the natural flow and freshness of the water.
---