K&H Pet Products Extreme Weather Kitty Pad & Fleece Cover
Frequently Bought Together
---
About This Item
Essential source of warmth for any cat whether they are indoors or outdoors.
Made of rugged ABS plastic and a free fleece cover is included.
Great for cat houses, porches, garages, barns or in the home.
Thermostatically controlled to warm to your pet's normal body temperature.
Features a 5.5-foot steel wrapped cord.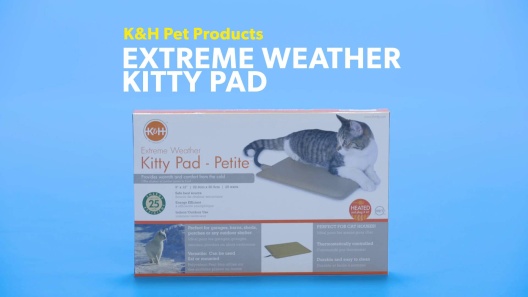 Learn More About K&H Pet Products From Our Team of Experts
---
---
About K&H Heated Cat Products
K&H Heated Solutions
K&H offers a variety of products designed to make your pet more comfortable. Their wide range heated products are all MET certified, making them a safe and comfortable solution for keeping your furry friend warm, indoors or out.
Safety
Safety for your pet is K&H's number one priority. They work closely with MET Laboratory to ensure their products are safe for your pet and home.
Soothing, Eco-Friendly Warmth
K&H products provide therapeutic warmth for your best friend, and they are energy-efficient and easy to care for, too. Your pet will love the muscle and joint relief they provide and you will love knowing they are green and easy to clean!
Green & Energy Efficient
Many K&H products cost less to run than a night light. They use foam from bio-based materials and poly fill made from recycled bottles.
Machine Washable
K&H beds are either machine washable or made with a machine washable cover, to make keeping your pet's bed fresh convenient and easy.
Vet Recommended
Veterinarians and pet experts use and recommend the traditional K&H bed line as well as their heated line of bed products.
Therapeutic Relief
K&H beds and mats provide warmth to relax the muscles of active pets, and to soothe the joints and muscles of aging and arthritic pets.
About K&H Pet Products
K&H has over 20 years of experience making products for pets with the goal of making their lives—and yours—better and easier. They know how much you care about your pets and are dedicated to designing innovative, quality solutions that enhance their comfort and well-being.
Shop K&H
Compare Similar Items


| | | | | | |
| --- | --- | --- | --- | --- | --- |
| | | | | | |
| Customer Rating | | | | | |
| Price | | | | | |
| Cover Material | Fleece, Synthetic Fabric | Wool, Natural Fabric | Polyester, Synthetic Fabric | Fleece, Synthetic Fabric | Fleece, Synthetic Fabric |
| Bed Feature | Outdoor, Machine-washable, Heated | — | — | Machine-washable, Heated | Machine-washable |
| Bed Type | Replacement / Cover | Covered | Covered | Bolster | Covered |
| Pattern | Solid | Solid | — | Solid | Animal Print |
| Bed Shape | Rectangular | Round | Round | Round | Round |
| Assembly Required | No | No | No | No | No |
| Lifestage | Kitten, Adult | Adult | Adult | Kitten, Adult | Adult |
---
Questions & Answers
33 Customer Questions
---
I see the wattage is 40. Isn't that too high for kitties? The one I'm replacing is 20.
Answer by • Oct 23, 2017
Allow 1 - 2 hours for the Extreme Weather Kitty Pad to warm. The unit will feel slightly warm to the touch. When an animal lies on the pad, it will reach a maximum temperature of approximately 102° F. The built-in thermostat will automatically regulate the temperature. After initial warm-up, your Extreme Weather Kitty Pad will feel cooler to the touch. This is the intention for energy efficiency. When your pet lies on the bed, it will warm to a comfortable temperature in even the coldest of weather.
---
Hi,I made A shelter from A plastic container and it is insulated with styrofoam boards,on top of the foam it is insulated with double reflective foil,than the bottom is covered with straw.Now,my question is,can this mat be placed inside this shelter with those materials? Will is ignite A fire?
Answer by • Dec 03, 2019
We don't recommend placing anything other than the included cover, over the bedding due to it potentially becoming a fire hazard. This product cannot be covered with blankets, straw or materials other than the fleece K&H Extreme Weather Kitty Pad Cover, which is made specifically for the pad. Other coverings may not allow heat to radiate properly and could cause pad failure.
---
I may have missed this... does it auto on when the cat climbs on, and then shut off when the cat is off? Or, is it just on all the time regardless of cat.
Answer by • Nov 09, 2017
When the product is plugged in, it slowly begins to warm up on its own. The product then heats up further when your pet lays on it, reaching a maximum of 102 degrees.
---
Can you use an extension cord?
Answer by • Sep 27, 2017
MET requires that all manufacturers put the extension cord statement "Do not use with extension cord" on every item that is MET listed by UL 499 standards. This is because they cannot test every extension cord on the market in conjunction with our products for safety. Also, MET suggests that an extension cord is not recommended as a permanent fixture and should only be a temporary solution when using any electrical product.
---
---
---
By Schmabes on Nov 5, 2022
Nice heat pad
I bought this to replace the smaller heat pad that was in the smaller cat house I have for our feral cat. He actually isn't ours, he is his own cat. He owns us. He seems to like the pad. He's in the house every night when it's cold.
---
By Oregongirl on Oct 24, 2022
K & H Extreme Heating Pad
I highly recommend this product. This is my second one and it keeps my outdoor cat warm and toasty. Just put it inside a cat house and it does the job of keeping your outdoor cat warm and safe from the elements. You can order replacement covers as well. Great Product.
---
By Lolo on Nov 20, 2022
Kitty Luvs It!
I purchased this heated pad for my feral kitty Raz. I put the pad in an insulated box on my back porch. She took to it right away. I feel better knowing she has a warm place to sleep now.
---
By cats on Oct 26, 2022
heating pad
this heating pad is made from very hard plastic and so far my cats have not use it, not sure if I an going to keep it or return it. My own heating pad for humans is soft. this is what I was expecting for my furry babies.
---
By Finekat on Oct 17, 2022
Very Loved!
My cat Opal is an indoor and overweight, but she still fits on this! She loves it so much she laid on it for too long the first day XD Bought this for her because her toes always get so cold in the winter. It is now her favorite spot to lay!
---
By Rita on Nov 3, 2022
Extream Weather Kitty Pad & Fleece cover
this is great, hoping to find Solar attachment for it, do you sell one?
---
By ixoye on Jan 25, 2022
wish it was a little warmer
It's barely warm to the touch. Chewy had this out the next morning. So awesome! Been nurturing this mistreated feral cat for a year now. She has a bad nasal infection or something. Shes had blood and mucus coming out of her nose. Last week her hair started falling out. There is no way we can catch her. She will go into an insulated box I set up for her but if she hears us she bolts. I put the box inside a huge, decompression storage bag to keep the box dry. This warmer fit inside. She has barely come out of the box since I set it up. I'm so happy to give this poor little kitty some comfort. She gets all the kitty food she can eat, blue buffalo wet food on cold nights and endless fresh water. Shes a sweet kitty. Thank you chewy for being such awesome advocates for our fur babies. I wish I could get her to a vet. My warmer was flat when it arrived so I had no issues with it rocking like another user.
---
By Jake on Jan 26, 2022
Small cat heating pad
Ferrell finds his way into the garage through the cat door. Now has a place to thaw out for the winter months. Have the larger one of this product and it has been in service for more than 6 years. Hoping that this smaller unit has the same longevity. Well constructed and durable. Believe it will be as trustworthy as the larger one.
---
By Beck on Feb 5, 2022
Size wasn't what I hoped for
I don't understand why this product comes recommended when purchasing the New Age Ecco flex kitty shelter cause it definitely doesn't fit inside. Very disappointed. I couldn't return it so it's on my garage floor for my kitty if he chooses to use it.
---
By Stevie on Jan 18, 2022
Warm winters with less worries.
I have had two home made outside totes for my cats on our covered porch for several years to keep them dry when outside. I have one cat that pends 90% of his time outside even during our Northeastern winters. I added this pad this year to one of the totes. He has been using it with no problem on the cold nights once he realized that it kept him warm. I worry about him less on our very cold nights.
---