---
About This Item
Indoor/outdoor warmer keeps pets warm and comfy even in the coldest of climates.
Controlled thermostatically to heat to the animal's standard body temperature.
9 x 12-inch size is perfect for rabbits, guinea pigs, ferrets and the rehabilitation of wildlife.
Edges are rounded and the cord entrance and first 18 inches of cord are steel capped to prevent chewing.
Four pre-drilled corner holes make it easy to mount to the floors, sidewall or cage.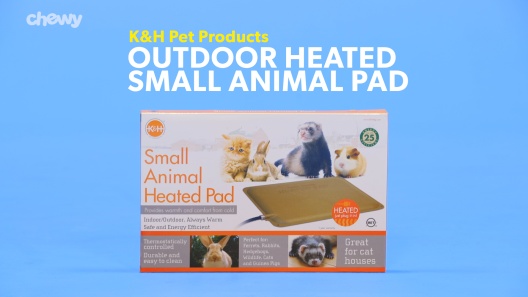 Learn More About K&H Pet Products From Our Team of Experts
---
---
About K&H Heated Small Pet & Farm Products
K&H Heated Solutions
K&H offers a variety of products designed to make your pet more comfortable. Their wide range heated products are all MET certified, making them a safe and comfortable solution for keeping your furry friend warm, indoors or out.
Safety
Safety for your pet is K&H's number one priority. They work closely with MET Laboratory to ensure their products are safe for your pet and home.
Soothing, Eco-Friendly Warmth
Green & Energy Efficient
Many K&H products cost less to run than a night light. They use foam from bio-based materials and poly fill made from recycled bottles.
Machine Washable
K&H beds are either machine washable or made with a machine washable cover, to make keeping your pet's bed fresh convenient and easy.
Vet Recommended
Veterinarians and pet experts use and recommend the traditional K&H bed line as well as their heated line of bed products.
Therapeutic Relief
K&H beds and mats provide warmth to relax the muscles of active pets, and to soothe the joints and muscles of aging and arthritic pets.
About K&H Pet Products
K&H has over 20 years of experience making products for pets with the goal of making their lives—and yours—better and easier. They know how much you care about your pets and are dedicated to designing innovative, quality solutions that enhance their comfort and well-being.
Shop K&H Pet Products
---
Questions & Answers
40 Customer Questions
---
Of added had (1) of these inside a smaller sleeping area for 4 rabbits abt 4 lbs ea. would it keep them all cozy?
Answer by • Oct 18, 2017
This warmer has controlled thermostatically to heat to the animal's standard body temperature. Make sure your rabbits can fit on the 9 inch x 12 inch pad. Do not place pad in confined area where the pet does not have the ability to remove themselves from the pad.
---
I'm interested in using this for an outdoor TNR cat that hangs around my home. I'll be making a shelter and this seems almost perfect to put inside. How long is the entire cord length? If it's shorter than I need, could it be used with an outdoor extension cord?
Answer by • Dec 13, 2017
The cord is 5.5 feet long. The first 18 inches of the cord are steel-capped for added protection. ET requires that all manufacturers put the extension cord statement "Do not use with extension cord" on every item that is MET listed by UL 499 standards. This is because they cannot test every extension cord on the market in conjunction with our products for safety. Also, MET suggests that an extension cord is not recommended as a permanent fixture and should only be a temporary solution when using any electrical product.
---
Is this good for rabbits? My rabbit, tends to move the fleece I line his cage with to lay on the cool floor, however for the winter I wanted to get him a source of heat in case he got cold. Would this be a good option?
Answer by • Oct 02, 2017
This product can definitely be used for Ferrets, Guinea Pigs, Rabbits and even Cats.
---
The animal will not be sleep directly on the pad so how warm will the pad get if the animal is sleeping above it. It is a wired cage and this will be in the tray area. The door is left open so the rabbit can come and go.
Answer by • Dec 05, 2017
This product is designed to maintain maximum temperature when the pet is on top. It may emit some heat, but not as much as if your pet is physically on top.
---
---
---
By Tobysmom on Jan 30, 2022
Perfect for Michigan Winter
Bought this for the stray/ferral cat that adopted us this past summer. Made him one of the rubbermaid houses, insulated it with styroboard, and put in one of these heating pads. He use to be a roamer at night, but now we find him sleeping in his house most nights and always napping in it during the day. He seems quite comfy even when temps are single digits and lower. We find him sleeping on top of his house when temps are 20's -30's as I think he probably gets too warm. The pad barely feels warm to the touch when I check it, but if I check it right after he gets off, it feels toasty. Great purchase!
---
By LF123 on Feb 9, 2022
Great heating pad!
Outside feral cat can't get enough of this pad in her bed. She's in an enclosed area but the bed is so toasty she curls up way in the back of her cave like bed and we feel good for her having the warmth during the cold winter months. Nice size as well. Fits more beds than the bigger one.
---
By granny on Jan 24, 2022
Wonderful!
WOW, WOW, So glad I purchased this..(and the cover)) I had no idea anything like this existed. We "inherited' a little kitten. She is probably a year old. She loves it. And I also called to ask some questions. The call was answered immediately.....on a Sunday! My first time with Chewy, and I will return !
---
By Sandy on Jan 24, 2022
I am using this for my double wide outdoor kitty house.
I've had 3 of these heating pads and they are great. I always have several stray cats that people leave behind when they move. The pad warms up when the cat(s) lay on them so they have a warm safe place to go in freezing weather. I believe the least I can do for them is provide them with food, water and a warm place to sleep.
---
By perilouspage on Feb 10, 2022
Ok as a supplement
I got this to warm my hedgehog's cage. I didn't find it effective as a sole heat source and ended up using the old ceramic heat lamp alongside it. It's nice as an extra little warm spot for under where she sleeps, but it's not as powerful as I expected.
---
By KER65 on Dec 12, 2021
It gets warm
I bought this heated pad because I feed the homeless cats in my rural neighborhood and don't want them to have nowhere warm in the Winter to sleep or nap. Some of them refuse to come inside my house, but I want to be sure they have warmth when they need it. So I took the door off my largest carrier, put it on my front porch & placed blankets in it along with this pad. It doesn't feel very comfortable to me. I'm not a cat, though, so I can't say what they prefer. I have an outdoor outlet on my front porch so I plug it in there and at least one cat takes up residence there most of the Winter. They seem to like it. I just wish the cord was a bit longer, because I only own one suitable indoor/outdoor extension cord; they aren't cheap. Overall, it does the job I got it for - it keeps homeless cats warm if they want to stay in there after finishing a meal or overnight or whatever. I just am not 100% sure they find it comfortable, and I wish the cord was a bit longer.
---
By Barbara on Feb 5, 2022
Keeping my cat comfortable.
I wouldn't take a million dollars for the heating pad. I plugged it in, put it in my cats box and she has been in it practically all day every day. It is so cold at night and I don't to worry about her staying warm. Thanks K&S for your wonderful product.
---
By JoJo on Mar 12, 2022
Great for stray cat
I put this in a stray cat shelter. Wrap it with some light towels to keep it clean. The cats love it. It still works great after 2 winters.
---
By KBKB on Nov 26, 2021
Perfect for outdoor cat!
We've been taking care of a stray cat who has adopted us, and Thais heating pad is perfect for his little house that we built for him! It doesn't get too warm, just enough to keep him cozy. On 35-40°F days, it keeps his little house at 60°. Not sure if it'll keep the house that warm when it gets even colder, but so far so good!
---
By KKitten on Feb 6, 2022
Works well
These indoor outdoor heat pads are just what I needed for my feral kitties to keep them warm in their huts on the cold nights.
---