---
About This Item
Features a layer of metalized insulation that radiates warmth generated from your cat's own body heat.
Removable hood offer the privacy that cats crave, with a plush cushion for total comfort.
Interior plush cushion cradles your cat as he snuggles for warmth.
Soft side walls hug your kitty in comfort, offering him a secure place to cuddle up.
Small size features a 16-inch diameter and large size feature a 20-inch diameter.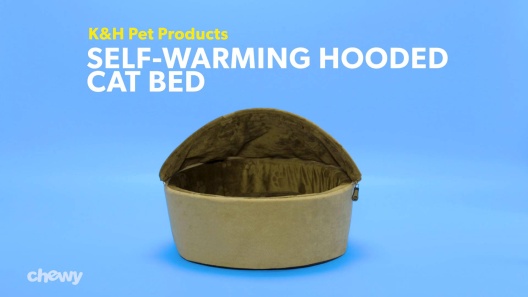 Learn More About K&H Pet Products From Our Team of Experts
---
---
About K&H Self-Warming Products
K&H Self-Warming Products
K&H makes a variety of products to help make your pets more comfortable. Their wide range of self-warming products utilizes a special layered technology to help keep your pet warm without the use of electricity.
How It Works
K&H's multilayer self-warming technology captures your pet's body heat and radiates it back for toasty warmth—no electricity required! The first layer works as an insulator for heat capture, while the second layer reflects that captured heat back to warm up your pet. These self-warming beds are perfect for use in crates or on their own anywhere your pet likes to relax.
K&H Beds for Comfort, Warmth and Convenience
Give your best friend the perfect place to sleep with a bed from the extensive K&H line. Their traditional and heated beds offer warmth and soothing comfort, in styles ranging from crate pads and cots to cuddlers and covered beds. Each pet bed is machine washable and energy efficient, too!
Green And Energy Efficient
Made from green, bio-based foam and polyfill from recycled bottles, many K&H products use less energy than the average nightlight.
Machine Washable
All K&H beds are either machine washable or made with a machine washable cover for cleanliness and convenience.
Vet Recommended
Veterinarians and pet experts recommend both traditional and heated K&H pet beds for their reliability and comfort.
Therapeutic Warmth
Every K&H bed and mat provides soothing warmth for muscles and joints—perfect for active or aging and arthritic pets.
Safety
K&H prioritizes safety and works closely with MET Laboratory to ensure all their products are safe for your pets and home.
About K&H Pet Products
K&H has over 20 years of experience making products for pets with the goal of making their lives—and yours—better and easier. They know how much you care about your pets and are dedicated to designing innovative, quality solutions that enhance their comfort and well-being.
Shop K&H
Compare Similar Items
| | | | | | |
| --- | --- | --- | --- | --- | --- |
| | | | | | |
| Customer Rating | | | | | |
| Price | | | | | |
| Cover Material | Polyester | Polyester | Fleece | Polyester | Fleece |
| Bed Feature | Machine-washable, Heated | N/A | Machine-washable, Heated | N/A | Machine-washable |
| Fill And Frame Material | Polyfill | Plush | Fleece | N/A | Polyfill |
| Bed Type | Covered, Bolster | Covered | Covered | Covered | Covered |
| Pattern | Solid | N/A | Animal Print | Solid | Floral |
| Bed Shape | Round | Round | Round | Rectangular | Round |
| Assembly Required | No | No | No | No | No |
---
Questions & Answers
22 Customer Questions
---
A previous person asked about the size for a 10lb cat. You said to measure the cat. And compare it to what? For example 1-15 lb = small, and 16-25 lb = large?
Answer by • Nov 21, 2017
The small measures 16 inches x 16 inches x 6 inches and the large measures 20 inches x 20 inches x 6 inches. We want to make sure your cat fits perfectly in their bed and we recommend comparing their measurements to the dimensions of the sizes available.
---
Will this warm in outside temps? I would actually be putting it in a shed . Will it keep my ferals warm?
Answer by • Nov 12, 2017
This Cat bed will keep ferals warm if putting in a shed, it'll absorb the body heat and create warmth.
---
What size for a 10 lb cat?
Answer by • Nov 16, 2017
To ensure your pet fits comfortably, we urge you to measure them and refer to the size chart.
---
Are the measurements for the inside (sleeping area) or the outside edge?
Answer by • Jan 01, 2018
The walls of the cat bed are approximately 1 inch, the inner measurements of the Small are 15 x 15 inches and the Large are 19 x 19 inches.
---
---
---
By julsc256 on Apr 7, 2022
self warming bed
I really wanted my cat to like this bed, I NEED HIM to like any bed but mine, but unfortunately this bed was not it. The hood, as other mentioned does flop down, and the inside of the bed makes this crinkling sound. I places catnip (which my seems immune to) but there was nothing that I can do to get him to go into it. It could just be my cat. But this bed was a no go for us.
---
By Ariefa on Apr 22, 2022
Soft and cozy
Bought this bed for my feline grandson and he loves it. It's very soft on the inside and sturdy on the outside. The canopy stays put and doesn't fall as some of the other reviews mentioned. He loves to be cozy and this is perfect for him. I'm very happy with my purchase and so is Chunky.
---
By Sansa on May 16, 2022
Soft, Roomy & Cushy
Raleigh likes this bed. I bought it as it was a larger size. He likes to stretch out.' Also thought it would be warm and provide a little sound proofing w/the hood. Nice material.
---
By Meankitty13 on Mar 14, 2022
THEY LOVED IT!
My kitties fights over this cat bed immediately after opening the chewy box. It's fluffy, soft and just the perfect size for my 13-15 lbs cats. Reasonable price compared to local pet retailers. Highly recommended and I'm ordering two more.
---
By Rich on Jan 28, 2022
Our cat loves it
We adopted our cat two months ago and she had a bed she liked, but we also have the thermostat go down to 58° at night so the heat won't blow hot air when we're asleep. (To be clear, the temperature never drops that low at night—it's just set low enough to ensure the hot air won't blow except on the rare nights when the temperature drops to the single digits.) I liked the idea of getting her a more-heavily insulated pet bed for that reason. She was initially a little bit reluctant to step into it, I guess because it's new and unfamiliar, but then after she tried it out it was quickly apparent she loved it. We've only had it in the house for 24 hours so far and she's spent a lot of time in the new bed. So far she won't use it with the zip-on cover in place, but that doesn't surprise me because she wouldn't use a covered litter box either. Definitely a matter of your cat's personal preference on that matter. We still have the cover partly zipped on, but it's pushed down out of the way, and we might try it again in the future. (We'll keep her old bed; we moved it to a different location. I figure she might want the less-insulated one during the summer.)
---
By Bonnie on Jan 25, 2022
Catty take away
I am Very pleased with this product. It is Excellent quality. It was a wow when I opened it. Accompanied With a sigh of relief. It was like I ordered. I put it on the coffee table to remove box to other room. Came back and my indoor catty was laying in it. That would have been great but it wasn't for her!! But for my outside catty. I didn't have the heart to take it away. So I will be ordering another. I have waited to see if the self warming works. And it Must because she lays in it all the time. She is 17 years and stays cold in winter. In fact she comes later in the night now to my bed. And that's a smile.
---
By CatCrazy on Feb 24, 2022
First Bed My Cat Uses
I got this bed as to try a new one with a hood/cover. I also like the brown color, and how the hood is removable. I was worried, as this was my cat's fourth bed, and just thought he was a floor cat, but it really helps him in the winter months! He really seems to be completely relaxed in it and is asleep for hours.
---
By Anita on Feb 10, 2022
POOR DESIGN
The curved top doesn't stay up. it collapses into bed. The zipper which attaches the top hood comes apart. Very poorly designed. When the top collapses into bed, the cat ends up laying on the metal rim of the hood. Hardly comfortable. Sorry I bought 2. Very expensive for beds that dont work.
---
By LiaStone on Dec 28, 2021
My cat adores this bed
My cat didn't seem that interested in the bed when I initially unboxed it and put it on the couch next to where he was sleeping. So I put it on the floor instead and figured I'd let him explore on his own time. After a couple hours and some sniffs he got in and was asleep in minutes. He absolutely loves the bed for napping or just hanging out. I think he really likes the warmth and the fact that it's hooded since I have a dog he likes to hide from.
---
By Jblanchardj on Jan 21, 2022
Purr-fect!
Bought this for my cats, mid teens, bigger boys. Was afraid of buying a heated bed with an electric element, finally found this. And they absolutely love it, now. It took them some time to start using it. Look of them both snuggling in it!!
---