K&H Pet Products Thermo-Kitty Cafe Stainless Steel Cat Bowls
---
About This Item
Heated pet bowls keeps food and water from freezing in outdoor areas.
Built-in thermostat controls the temperature to only heat when needed.
Stainless steel makes it easy to clean after use.
Electronics are safely sealed inside the casing to prevent any damage.
Recommended to keep in sheltered or partially-partially-shelter area to save it from wind, snow or precipitation.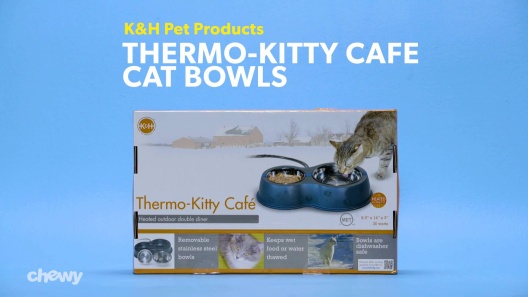 Learn More About K&H Pet Products From Our Team of Experts
---
---
About K&H Heated Cat Products
K&H Heated Solutions
K&H offers a variety of products designed to make your pet more comfortable. Their wide range heated products are all MET certified, making them a safe and comfortable solution for keeping your furry friend warm, indoors or out.
Safety
Safety for your pet is K&H's number one priority. They work closely with MET Laboratory to ensure their products are safe for your pet and home.
Soothing, Eco-Friendly Warmth
K&H products provide therapeutic warmth for your best friend, and they are energy-efficient and easy to care for, too. Your pet will love the muscle and joint relief they provide and you will love knowing they are green and easy to clean!
Green & Energy Efficient
Many K&H products cost less to run than a night light. They use foam from bio-based materials and poly fill made from recycled bottles.
Machine Washable
K&H beds are either machine washable or made with a machine washable cover, to make keeping your pet's bed fresh convenient and easy.
Vet Recommended
Veterinarians and pet experts use and recommend the traditional K&H bed line as well as their heated line of bed products.
Therapeutic Relief
K&H beds and mats provide warmth to relax the muscles of active pets, and to soothe the joints and muscles of aging and arthritic pets.
About K&H Pet Products
K&H has over 20 years of experience making products for pets with the goal of making their lives—and yours—better and easier. They know how much you care about your pets and are dedicated to designing innovative, quality solutions that enhance their comfort and well-being.
Shop K&H
---
Questions & Answers
14 Customer Questions
---
In the reviews someone mentioned that they would like to use an extension cord with this because of where their outlets were but they managed to make it work. I would definitely need to use an extension cord. Is it ok to use one?
Answer by • Dec 16, 2017
MET requires that all manufacturers put the extension cord statement "Do not use with extension cord" on every item that is MET listed by UL 499 standards. This is because they cannot test every extension cord on the market in conjunction with our products for safety. Also, MET suggests that an extension cord is not recommended as a permanent fixture and should only be a temporary solution when using any electrical product. Temporary use of a UL listed cord is fine, but consult your electrician for the proper cord for your application. For more information on MET safety testing, please visit their website at www.metlabs.com.
---
will the food stay warm even if it temperature outside goes well below 30 degrees. there is a stray cat that I fed last year and most of this... I see that he tried to eat food but when I went out this morning, food was frozen and it looked like he tried to eat it... poor guy.
Answer by • Dec 13, 2019
The K&H Thermo-Kitty Café has been tested at -20°F and continued to keep both food and water from freezing. For optimal use, make sure the product is placed where it is sheltered from the wind as windchill can affect performance in extreme conditions.
---
Is the cord weather safe? For example, what if it snows or rains where it's plugged in, and the cord is in water ?
Answer by • Nov 18, 2018
The electronics are safely sealed inside the bowl and the steel wrapped cord ensures these bowls are safe to leave outside.
---
Does this have an option to only heat one bowl at a time?
Answer by • Jan 06, 2020
These bowls are intended to be heated and there isn't an option to remove the heat from bowl at a time.
---
---
---
By kkdogmom on Nov 23, 2020
Great for cold weather kitties
I was apprehensive about spending the money on this but I am glad that I did. It keeps food and water just a bit warm. Our local feral cat has become more interested in eating the food that we put in here and tends not to stray too far from her dish. The temperature does cause the water to evaporate over time so be sure to freshen it up every day. It is warm enough to make wet food harden to the bottom of the dish but luckily it is very easy to take the bowls out to clean them.
---
By Van62 on Dec 4, 2020
Bowls are too small for cats to eat out of.
My feral cats do not like this as the bowls are too small and deep. They cannot get to the food at bottom of bowl which ends up heating up food and drying out, crusting to bowl. So difficult to clean when this happens. I cannot use it for food which was the reason I purchased it. Only use for water now. Had to purchase a larger heated bowl for food. Would not recommend.
---
By KittyKraze on Mar 10, 2020
Best Outdoor Heated Bowl Set
I've used two other types of outdoor heated bowls in the past but these are now my absolute faves!!! VERY sturdy, well designed, and manufactured. Never tip over....and they've tried. (Mr. Peabody & Bagheera love to push and pull on their water bowls.) My favorite feature is/are the REMOVABLE STAINLESS STEEL bowls. #1. No worries about plastic toxins leaching into the water....especially that it's heated and #2. they are so easy to clean! You won't be disappointed if you choose the K&H Thermo-Kitty Cafe Cat Bowls.
---
By Peggy on Feb 7, 2020
Perfect feeding bowls
These bowls are great! They keep food and water at a really good temp, even in very cold weather. The cords are heavy duty, wound with steel, and so are very safe and strong. They are also long enough to stretch pretty far from the outlet with an extension cord. Yes they need a power source. But they do the job in my backyard, keeping food and water available and edible for the two alley kitties who come everyday to eat from them. Highly recommend these. Much better than some others I bought that were plastic and did not have good heat conductivity. The stainless steel removable bowls makes clean up easy too.
---
By Zeke on Feb 21, 2020
Great for feral cat colony
Wish I would have researched this sooner. Wet food stays moist and edible all day and night. Water never freezes. No more frozen plates thawing inside or wasted wet food. Cats clean the entire bowl even when temps are at zero. Low energy usage makes it great. Have a small feral cat colony that loves wet and dry food throughout the day plus water and now we don't have to worry. Great dishes.
---
By CrabbyBabs on Jan 5, 2020
So far, so good.
Other than the hot plastic smell, this has been working out well when I feed/water the neighborhood cats. Water is warm enough not to freeze (and not hot) and thereby warming the animals that drink from it. Having removable bowls makes it easy to clean. I would recommend to anyone considering this type of purchase.
---
By Valentina on Jan 23, 2020
Works well!
So far, the Thermo-Kitty Cafe bowl is working very well in the cold weather. I use the small dish for water, but would have liked it to be larger. I use the large side for the canned food. I purchased them to feed my outdoor/feral cats.
---
Five Stars
Thank you, from my feral colony in freezing NYC. This product is a blessing. Wet food and water never freezes. I have two thermo cat bowls and have used them for years. They withstand all kinds of nasty weather. Thumbs up!
---
By Cats on Jan 31, 2020
satisfaction
The heated bowls are great; however I wish you carried replacement bowls. I contacted K & H and they stated that they are currently out of stock, but they only use their stock as warranty replacements.
---
By RiRi on Dec 25, 2019
Heated cat bowls for outside feral cats
This is better than I expected. It was colder than normal weather for a few days where I live and I noticed the kittens were drinking a lot more water after I got this and started using it. The food is warm too but not too warm.
---