KONG H2O K9 UNIT Insulated Stainless Steel Dog Water Bottle & Travel Bowl, 25-oz
---
About This Item
Water bowl features a cap that doubles as a bowl.
Made from food-grade stainless steel that is free of BPA, phthalates and other harmful chemicals.
Perfect for parks, walks, hikes, bike rides, camping, vacations, camping, the beach, dog shows and in the car.
Both the bottle and the bowl are 100% recyclable and sustainable.
Allows dogs to drink naturally and can easily fit into backpacks and bike cages.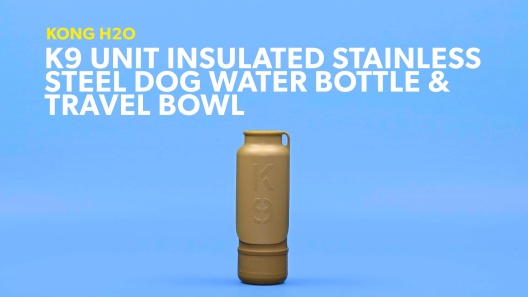 Learn More About KONG H2O From Our Team of Experts
---
---
Questions & Answers
17 Customer Questions
---
Is the bowl bpa free plastic? It says the stainless steel bottle is bpa free, but doesn't mention the bowl being such.
Answer by • Jun 21, 2018
The entire product is made from food-grade stainless steel that is free of BPA, phthalates and other harmful chemicals.
---
Does the outside of the bottle sweat?
Answer by • May 18, 2021
The insulation adds a layer that will inhibit condensation (sweating) on the bottle.
---
Where is this bottle made? USA? China?
Answer by • Aug 08, 2017
The water bottles are made in China.
---
What is the weight without water?
Answer by • Jan 14, 2018
This product weighs 0.7 pounds.
---
---
---
By sisword on Jul 15, 2022
best I've found!!
I've tried a few products to give my dog water on walks/hikes, and never thought they worked great. Then I found this Kong H2O, and it's the best!! The clever design of the drinking receptacle being built onto the lid works well, the shape of the receptacle is really easy for my old lab to drink from, and on a long walk, if he doesn't finish the water in receptacle, I can just pour it back into the bottle rather than wasting it. Highly recommend!
---
By Clint on Jun 27, 2022
Wait! Don't! There's a problem here!
Bought this about a month and a half ago. I thought it was okay, and I was happy enough with it for a few weeks. Then the inside cap broke! ( located at the top/bottom of the 'scoop,' the part that screws into the bottle). It's still usable, but what a pain to do so. I thought Kong was better than this. Why not mold the screw-in part with the scoop as one piece? The technology exists for that. What's going on here, Kong? Pretty expensive bottle for such a simple FAIL.
---
By Schooner on Jul 4, 2022
I love it!
I'm a Cockapoo, 6 months old. Love having water along on outings with my fur mom, especially cold water -- Yum! Got to have a cold drink every day for the last two weeks and the water bottle is doing just fine. Mom put a strap thru place where clip was attached so she can carry it over her shoulder. Much easier to manage. When I'm a bit older maybe I can carry it . . . ?
---
By Leslie on Jun 25, 2022
Great design!
Works really well. Designed well, keeps water cool and pup happy on long walks. The one drawback is the carabineer is a little cheap, but easily replaceable. Other than that great product!
---
By FreyasMom on May 4, 2022
Faulty product
The first time I took this bottle on the go, the screw top broke off from the serving scoop. I thought I could get away with using PVC glue to repair it, but it only survived two more outings before the scoop and screw top cracked apart again. It was beyond repair and needed to be thrown out. I like the design but I am so disappointed in the construction.
---
By Jojo on May 7, 2022
I love it.
Love this product, well designed. My dog drinks out of the cap with no problem. Since I have arthritis in hands I can't carry a lot on walks, we can share the water because of the design.
---
By Beulahb on Apr 17, 2022
Don't do it
Terrible product. The cup/top separated from the part of the top that closes the bottle and I can't get it open or put back together such that it stays back together. First use. Complete waste of money.
---
By irked on Apr 19, 2022
reduced OZ and increase in price
Dog likes these, but I can't say they are overly healthy no am disappointed that the package size was reduced from 25 to 22.5 oz only to have the price increase.
---
By gladclark on Oct 1, 2021
almost a great water bottle for pets
I've been using this bottle for several months now. I carry it in a bag when I walk my three dogs in the neighborhood. It holds plenty of water, is sturdy, and is easy for the dogs to drink out of it. It has been great. However, this morning I hear it has water up inside the lid, probably from washing the bottle and lid. There is a piece on inside top of lid that screws into bottle…. that is where the water is. I can't get the water out. Very disappointed because up until now it has been the best one I've ever used. Must be a flaw in the design.
---
By dogsvcats on Jan 6, 2022
great bottle
I love this water bottle. The drinking cup is a great shape. I love the aluminum bottle style over plastic. Perfect park hydration :)
---