Frequently Bought Together
---
About This Item
Put the squeak back in your dog's favorite KONG plush dog toy with these replacement squeakers.
Specially designed to fit in all KONG plush toys with replaceable squeakers for non-stop fun.
Squeakers are easy to replace and are paw-sitively perfect for your dog's favorite toy he refuses to give up!
Replacement squeakers are a great alternative for pet parent's who don't want to purchase a brand new squeaker toy.
Every KONG product is made with the highest quality and safety standards for your furry friend.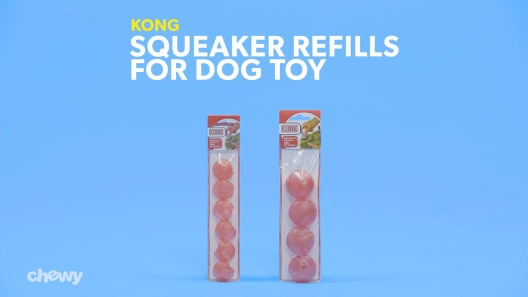 Learn More About KONG From Our Team of Experts
---
---
Questions & Answers
4 Customer Questions
---
Which toys have the replaceable squeaker option?
Answer by • Aug 14, 2019
These squeakers are designed to be sewn into your pet's toys, and they can be added to most stuffed pet toys for added fun.
---
Can you plz tel me how big they are.... small and LG plz
Answer by • Nov 19, 2018
The small measures 7/8 inches wide. The large measures 1 5/8 inches wide.
---
Do these withstand heavy chewing?
Answer by • Nov 04, 2021
Every dog plays differently and, since not all toys are created equal, it's always best to keep a close watch on your pup in case things get ruff. Supervised play will help toys last longer and most importantly keep your pal safe. No dog toy is truly indestructible, so always remove the toy from playtime if pieces begin to break off.
---
Where are these made?
Answer by • Mar 20, 2020
These squeakers are made in China.
---
---
By DouglasMom on Sep 24, 2022
Easily Punctured - Thin Wall Construction
I purchased two packages of these replacement squeakers because Douglas the Dachshund is driven to pull the stuffing out of toys and get the squeaker and 'kill it'. I put a new Kong squeaker in two restuffed toys. In less than five minutes, he had part of the stuffing pulled out and had punctured the squeaker. I always watch for him getting to the squeaker so I can take it away but he punctured this squeaker while it was still inside the toy! Twice - two different toys in two days. Disappointed to say the least. I plan to cut fabric out of denim or some other sturdy material to make covers for the remaining squeakers before I insert them into his previously killed toys and release them from the toy hospital.
---
By Harriet on Sep 20, 2022
Squeaker refills
These did not last a minute. Jack loves squeaker stuffies best of all. The squeaker could not hold up to his intense love of making them squeaker. He loves to annoy me when He thinks I am not paying enough attention to him and will sit in front of me squeaking continuously till he drives me crazy. Its both of our favorite game. I get up and chase him.
---
By Moosesmom on Aug 1, 2022
didn't work out
Was happy to see these. My dog destroys most. This didn't even last a hour. 1/3 size of original. Too bad, great idea but poor quality.
---
By Mythred on May 10, 2022
Perfect to prolong the life of soft toys.
I use these to revive the toys my pup destroys to 'silence' the squeaker. Usually there is a hole and room to hide another squeaker in a 'head, leg or arm'. The toy and the second squeaker lasts longer. I also keep a squeaker in drawers around the house. When calling her fails to get a response, the squeaker brings her to my side.
---
By 2Yorkies on Jul 5, 2022
Squeaker Refills
My two Yorkies play with their toys all the time! They love the squeaker ones and having the "refills" keeps them happy.
---
By Indianagal on Apr 4, 2022
Nice Squeaker
So glad that Chewy sells these small squeaker refills. My young pup has a tendency to go right for the squeaker when she gets a new toy. These refills are exactly. what is needed to replace in the toy and do a bit of sewing/stitching and ta-da .. .. it's like she has a new toy again. And away she goes... what fun!
---
By Bearyteddy on May 27, 2022
Little Squeakers
I love these squeakers. I wish I know they existed sooner. My other dog would always kill the squeaker in his toys. The price is very reasonable also.
---
By JOJO on Feb 25, 2022
Satisfied customer
I like everything I get from Chewy. I have one dog who loves the stuffed animals and he alway destroyed the squeaky so I started to buy the squeakers instead of buying more toys, because he has a dozen of them and I put squeakers in, usually more than one in each so I don't have to replace them as soon!
---
By Daniel on Feb 16, 2022
Works Great!
I bought these squeakers to stuff in one of my very large Tribbles (Startrek Fame)...as they "squeak" on occasion on the show. These squeakers are great for stuffing into plush pet toys too...just the right size. As always, I recommend being present when your pet is playing with the toy of course as these squeakers are not "chew proof".
---
By Charlotte on Feb 1, 2022
Furrfect for pups
I purchased this to make additional copies of some plain stuffed toys that I'd made my miniature Aussie Shepard. The squeak is just enough for attention but not enough to frighten a young puppy! It fits nicely even in small toys and polyfill doesn't dampen the sound. Also, quite easy for the dog to make squeak itself which was a nice surprise as many of his 'puppy' squeaky toys prior ordered were unable to be squeaked by him.
---