Frequently Bought Together
---
About This Item
High-quality LED light promotes healthy, vibrant growth of fish, coral and aquatic plants.
Full-spectrum array combines white, blue, pink, red and green LEDs to produce bright, brilliant light.
Unique moonlight mode bathes your aquarium in a cool blue hue for a beautiful nighttime effect.
Aluminum alloy shell is lightweight and incredibly durable; energy-efficient LED lighting lasts 50,000 operational hours or more.
Available in three sizes and includes extendable brackets on both ends to accommodate a wide range of tank sizes.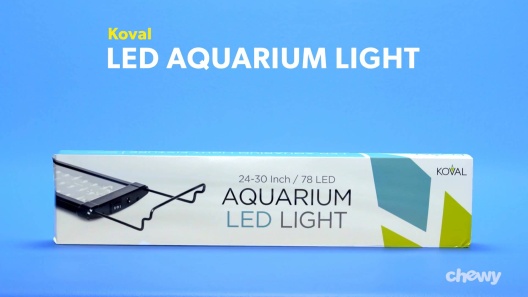 Learn More About Koval From Our Team of Experts
---
Compare Similar Items
| | | | | | |
| --- | --- | --- | --- | --- | --- |
| | | | | | |
| Customer Rating | | | | | |
| Price | | | | | |
| Fish Type | Tropical Freshwater, Betta, Cichlid, Goldfish, Marine Fish | Tropical Freshwater | Tropical Freshwater, Marine Fish | Tropical Freshwater, Marine Fish | Tropical Freshwater |
| Aquarium Type | Freshwater, Saltwater | Freshwater | Freshwater | Freshwater, Saltwater | Freshwater, Saltwater |
| Material | Plastic | Plastic | Aluminum, Metal | Plastic | Plastic |
---
Questions & Answers
39 Customer Questions
---
Will it fit my 55 gallon tank
Answer by • Nov 18, 2017
In order to determine if it'll fit your aquarium, you'll need to measure the length of it. The 78 LED is for aquariums that are 24-30 inches long, the 129 LED is for a length of 36-43 inches, and the 156 LED is for a length of 45-50 inches.
---
How many lumens is the light?
Answer by • Mar 28, 2018
The 24 - 30 inch is approximately 2340 Lumens, 36 - 43 inch is approximately 3870 Lumens, and the 45 - 50 inch is approximately 4680 Lumens.
---
Could this work as a hood too or does it need to be attached to a hood?
Answer by • Aug 23, 2018
This doesn't function as a hood. This light is meant to sit on top of a glass aquarium hood.
---
Where can you purchase a replacement power adapter?
Answer by • Jul 15, 2018
This product does not have a replacement power adapter available.
---
---
---
By SciTeach on Apr 18, 2022
The Light is Beautiful!
I bought this light to replace my fluorescent light, which no longer worked. This light provides ample light for my 20 gallon. Much better than the old fluorescent. It is actually so bright that I've changed the timer to run it only 7 hours per day. No excessive algae growth so far. Fits on top of my existing glass top hood. Definitely bright enough for live plants. Sturdy and well made. Easy to set up. I'm very happy with this purchase!
---
By Toby on Feb 23, 2022
Aquarium light
Light works great for my 65 gallon tall cichlid tank, but the braces on the end move too easily. When trying to turn the light off or on, the light slides toward the end opposite the switch and drops down onto the top of the tank. I have to hold the light with one hand and operate the switch with the other.
---
By AJay on May 4, 2022
Great Light
I've had it for over 4 years and it's still going strong nice and bright and the blue light mode is really nice for at night.
---
By MaineCoonInColorado on Dec 13, 2021
Great light. Sturdy, too!
Very bright, nice and clean profile too. I get that some folks are annoyed about the "looseness" of the legs. I understand that it's upsetting for some that it doesn't have a built in timer. HOWEVER, if you're like me and just need a high quality light for your 55g, no bells and whistles (and are ready to plug it into your own timer elsewhere) then this is for you. It does have a "moonlight" setting but I can't be bothered to use it. I just wanted simple ON or OFF binary lighting for my freshwater tank and this does the job just right. Incidentally, my 1 year old Maine Coon recently decided to get curious about the aquarium. I caught him standing ON the light - which resiliently resisted damage from his 21lb. I'm not saying it can hold that kind of weight ALL THE TIME, but for a sudden impact sort of thing (maybe you have cats too?), and if you have a glass top lid situation beneath this light, I'm saying I'm DELIGHTED and surprised at how it survived the surprise load-bearing event. Kitty has been thoroughly instructed to not repeat this test, so I think we're good.
---
By Wena on May 5, 2022
Love this light
Love this light! Makes plants and fish look amazing!
---
By helloOrchid on Nov 26, 2021
Beautiful light!
This light is wonderful. I have four aquariums, each with a different kind of light, and this one looks by far the best! I'm really pleased with it and wish all of mine had this light. Great value!
---
By Veronica on Oct 21, 2021
Thought it was a saltwater light
So I bought this light because my salt water light ended up breaking. I thought this was a saltwater light when I got it home it didn't appear to be. Luckily I have a fresh water tank who got upgraded to this light. I ended up going to my local reef store for the other light instead. This isn't for corals.
---
By GibJ on Oct 11, 2021
Koval Light
love it! to a friend about it for his aquarium. wish i had purchased it years ago. my friend said that he is going to look at it online. the LED's are are bright and brings out the true color of all my fish. my aquarium has not look this good in the 15 years that i have had it.
---
By Nicole on Oct 10, 2021
Beautiful and bright
Only reason I did not give 5 stars is that the brackets will expand at any jostling including turning on and off. Other than that an amazing light increasing beauty of both my glow fish and my discus!
---
By Fishyfishy on Jul 19, 2021
Bright--Nice, Night light feature
Wonderful!! What out for other brands, check the LUMENS!!! This is a nice bright light with a night blue light feature. It is only 23" of the 30" tank, but the brightness is very good, and the light fills the tank. Easy pull out hinges makes a great fit. Cord is plenty long. On/Off/dim feature easy to use. Took out of box, placed of tank, plugged it in---beautiful! :) All the dimensions are in the product description.
---