Marineland Bio-Wheel Emperor 400 Aquarium Power Filter, 80-gal
---
About This Item
Offers complete three-stage filtration (mechanical, biological, chemical) for both freshwater and saltwater tanks.
Filter cartridge traps debris and removes odors and discoloration, providing mechanical as well as chemical filtration.
An extra-large BIO-Wheel rotates to cultivate the beneficial bacteria that remove toxic ammonia and nitrates from the water.
The Bio-Wheel Emperor filters 400 gallons per hour for aquariums up to 80 gallons and almost twice the filter cartridge capacity of comparable models.
Features a dual-impeller design and efficient flow, this powerful filter contributes to a healthier environment for your fish.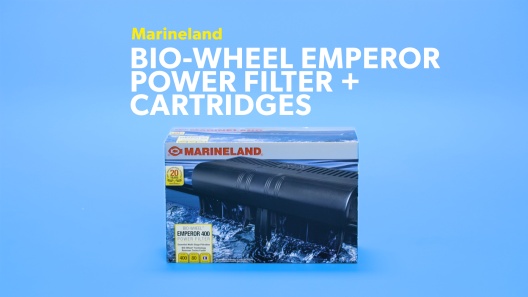 Learn More About Marineland From Our Team of Experts
---
Compare Similar Items
| | | | | | |
| --- | --- | --- | --- | --- | --- |
| | | | | | |
| Customer Rating | | | | | |
| Price | | | | | |
| Fish Type | Tropical Freshwater, Marine Fish | Tropical Freshwater, Marine Fish | Tropical Freshwater, Marine Fish | Tropical Freshwater, Marine Fish | Tropical Freshwater, Betta, Cichlid, Goldfish, Marine Fish |
| Aquarium Type | Freshwater, Saltwater | Freshwater, Saltwater | Freshwater, Saltwater | Freshwater, Saltwater | Freshwater, Saltwater |
| Material | Plastic | Plastic | Plastic | Plastic | Plastic |
| Capacity (Max) | N/A | N/A | N/A | N/A | N/A |
---
Questions & Answers
31 Customer Questions
---
How long is the tube that goes into the tank.? Can it be extended if needed? It also sounds like it does not come with all the filters.
Answer by • Dec 11, 2017
The tube is approximately 7 inches long and be can extended. This product comes with a filter cartridge.
---
how much clearness do you need between the tank and wall
Answer by • Feb 05, 2018
The overall dimensions of the Emperor 400 are 17 x 7 x 10.5 inches and the dimensions for the area outside the tank are 17 x 4.5 x 10.5 inches. You would need at least 3 inches but we recommend 4 inches just to make sure there is enough room to remove the filter for cleaning
---
Can this filter be used in a 29 gallon tank? If not why?
Answer by • Aug 02, 2019
It is not recommended for a 29 gallon tank as the waves will be too strong and any fish under 3 inches may be caught in the waves.
---
Can all kind of media be used with the 80 gallon filter ? Like bio balls and carbon ?
Answer by • Jan 23, 2020
This Filter uses the Marineland Bio-Wheel Emperor Rite-Size E Filter Cartridge.
---
---
---
By caly on Mar 10, 2022
it's too loud
I set up the filter 5 days ago. The water flow is great and the bio wheels are still working. After 24 hours it started making so much noise I can't even stay in the room. Took apart as directed and it was quiet for about 15 minutes now it's back to sounding like a jet engine taking off
---
By bassmaster27 on Jan 27, 2022
Excellent Filter
I have been using this penguin emperor 400 filter for over 25 years. These filters are very easy to use with little maintenance besides spraying off and cleaning the filter cartridges. After three or four months I would recommend changing the cartridges out completely because the carbon will be in active but they still filter the debris. Generally the first thing that wears out are the magnetic impellers, that is usually anywhere between 2 to 5 years. There are several places that sell the impeller replacements which quiets the filter back to its original sound. Overall a great three stage filter.
---
By Jemmott on Mar 6, 2022
Fully Functional
This is my 3rd Emperor 400 I'm running them on 3 different tanks. Extremely reliable and maintainable. They definitely work the life support for the fish's quality of water and life. Don't second guess on this machine.
---
By Steve on Apr 20, 2022
Best HOB I've used
This model 400 has worked well for years. I like the ability to add filter media of my choice. This is the 3rd filter I've owned.
---
By Apeflames on Jan 18, 2022
Great Customer Service
Chewy is the best when it comes to service. I ordered this on Tuesday and received it on Wednesday. I purchased this to replace my old 20+ year old Emperor that finally quit. This is a great filter and does the job well. I will say though, the newer version isn't as good as the old one is , cover wise. The new covers are real cheap made and unlike the old ones, they dont have windows in them so you can see your Bio Wheels spinning.
---
By wrench on May 1, 2022
great filter
These are the best hang on back filter that I have used and I've tried a lot of them.
---
By Brenda on Apr 6, 2022
Chewy 10/10 !
We have ordered several products each & every time we are Amazed by it All !!!
---
By Samantha on Dec 17, 2021
It's ok, if you have 80 gal
Mine arrived chipped and cracked. And I don't like the fact that I'm required to use the extender because I have a 40 gal turtle tank and the extender is too long. But if I don't use it then I can't use the filter thing.
---
By MrBob on Oct 15, 2021
Emperor 400
Have been using this filter for more than 10 years. Have two on each of my 100 gallon saltwater tanks. Have replaced the originals because the impeller housing wore out, they still work but are noisy, keep as backups. Wish I could find replacement parts. Every 2 or 3 months I clean all the parts of built-up debri. These filters are great, with a little maintenance these filters will last for years. I also have the 280 on a 55 gallon tank, been using this one for over 14 years, still working well. I often recommend this brand to all my friends.
---
By Seadog on Oct 25, 2021
Emperor 400
I have had my Emperor 400 for 21 years and yes it started getting noisy but it still works. I noticed the price and I think it is half as much as I originally paid, so I ordered a new one that I hope is quite. I run this next to an Aqua Clear 500 which puts out a lot of water but not a three stage filter. Two 400's would be better on my 80 gallon tank.
---