Noba Cateco Odor-Eliminating Cat Litter Box Starter Kit
---
About This Item
Air circulation technology naturally helps eliminate litter box odors by reducing humidity that can cause bacterial growth.
Designed to keep litter dry and fresh.
High-sided extensions keep litter and waste contained.
No transition needed, works with all fast-absorbing or clumping cat litter.
Includes 1 Noba Cateco Litter Box with extension walls, 1 aerator already installed, 10 dry-pads for the bottom of the litter box, and Noba Scoop in a variety of colors.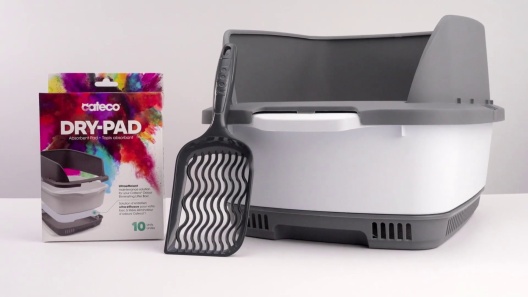 Learn More About Noba From Our Team of Experts
---
Compare Similar Items
| | | | | | |
| --- | --- | --- | --- | --- | --- |
| | | | | | |
| Customer Rating | | | | — | |
| Price | | | | | |
| Litter Box Type | Top Entry, Pan | Pan | Pan | Top Entry | Pan |
| Litter Feature | N/A | Odor Control | N/A | N/A | N/A |
| Material | Polypropylene, Plastic | Plastic | Plastic | Plastic | Plastic |
| Lifestage | Adult | Adult | Senior | Adult | Senior |
| Assembly Required | N/A | N/A | N/A | Yes | N/A |
| Potty Feature | Washable | N/A | N/A | N/A | N/A |
| Cleaner Type | N/A | N/A | N/A | N/A | N/A |
---
Questions & Answers
3 Customer Questions
---
What litter should I use with the cateco litter box?
Answer by • Mar 26, 2021
The Cateco litter box has been tested with a wide variety of clumping and absorbing litters, both mineral and plant-based. It works with the vast majority of them and extends their lifecycle, meaning no irritating transition issues for you or your pet.
---
Do I need to replace the aerator, if so, how often
Answer by • Feb 09, 2021
The aerator is washable and should be replaced when needed.
---
What size and what material is the washable aerator? or am I able to purchase replacements?
Answer by • Jul 08, 2021
The aerator measures 17 inches x 13 inches. It is made of nylon mesh and is washable by hand with soapy water.
---
---
By TUAZ on Aug 25, 2021
May purchase a second. Overall, I have a favorable opinion of this system.
I recently adopted two senior kitties who aren't crazy about the litter box liners I normally use. The absorbent pads (which are cut to the size of the bottom tray) are replaced a couple of times per week - and do reduce urine odor. During pad replacement, I sometimes have difficulty reseating the top portion of the box. That's annoying. Fine sand particles also make their way to the pad. So, you have to be careful not to spill it when replacing the pad. Note: this box is designed for CLUMPING litter, not Breezy pellets. I tried that system a couple of years ago and my cats refused to use it. I replace the litter and wash the box every week. I use litter box liners with my other boxes, which makes litter replacement much easier. But, this makes the new cats happy. I like this box well enough that I may purchase another. Still trying to decide. In the mean time, I've purchased enough replacement pads and some additional screens to last me for a while.
---
By SuzyM on Aug 30, 2021
So much potential, so much disappointment
This litter box is offensively terrible. I did a lot of research before purchasing, I was looking for a box that would allow urine to flow through in the box, so the litter could last longer. There are several similar concepts offered in the market right now, but this is the only one that is designed to work with crystal litter. It is more expensive than the others, but I was happy to make the investment for a product that had so much promise. The concept of this product is very good, it had so much potential - unfortunately the actual product leaves much to be desired - and urine all over the floor. The top half is great - the box size and height of the sides are perfect, the mesh bottom is genius - the perfect material for the concept. The bottom just went very, very wrong: FIRST, it is difficult to get the top lined up perfectly to the base. It has a very small lip to fit into and I found that it took a bit of work to get the box, filled with litter, into the proper position. The plastic base also arrive slightly warped, so compounded the issue since it did not sit flush to the floor when empty. These issues alone, I could forgive. SECOND, the pad designed to fit this box has serious design flaws. The front and back cutouts, to allow for the handles in the plastic base, permit urine to flow onto the plastic base. And, the pad does not hold enough volume, it is soaked and leaking after less than 24 hours with two cats. Finally, there is no sealed edge, so once full, the pad leaks out the sides. THIRD, the holes in the plastic base to allow air to circulate, allow urine to flow out to the floor after the inadequate pad is full. I have had this box for just over a week now. The first few days I was apprehensive b/c each morning I would wake to a very full pad. I would toss it out, as I expected with this system, BUT then I would need to completely clean the plastic base b/c there was urine on it. While frustrating to have to clean the base each morning - it still was not terrible and I thought I could work with it. Then this weekend, I was gone for 36 hours, I knew the pad would be full, but I was not prepared for the urine all over the floor. Once the pad was full, it leaked out the side holes to create puddles of urine around the box. I have two medium size cats, no health issues - the volume of urine is not extraordinary and they also have a second box. I find it unacceptable that this box cannot handle more than one day of urine for two healthy cats - this is not the solution I thought it was, I am so very disappointed.
---
By AnnaCatlover on Jun 1, 2021
I love this litter box!
I did not know what to think about it. Heard about it from a friend using it. Well after 3 months of use, I can tell you it really works! I use natural litter (soy base) and It works very well. The clumps are hard and easy to clean and I have no odours what so ever! I change the dry pad every 2 weeks or so.
---
By Cateco on Feb 3, 2021
odors are gone
I was desperate to get rid of the litter box odor, as it's in the laundry room by the family room and bedroom. I was not convinced this would work but wanted to at least try it out. It's been amazing. I put a little Tidy Cat clumping litter on top of the bottom pad and then about 1 inch in the top pan. You still need to scoop the poop and urine clumps every day, but there isn't any urine smell. I don't know if this is partly due to not having a lid anymore, or that the screen and pad are really working, but it's great! I've used the pad for a week with 1 cat before replacing. It's pretty expensive and the pad and screen refills are also expensive.
---
By Rachel on Mar 14, 2021
Excellent Cat Box!
I am happy so far with this cat box. The smell isn't as bad and the cats seem to prefer this one over their other box! I'll be getting a second one soon.
---
By boggy on Mar 27, 2021
.litter box
i do not like it, it cheap make and not worth the price.
---