NWC Naturals Total-Digestion Digestive Enzymes & Probiotics Dog & Cat Powder Supplement Twin Pack
Must enter code FALL2022 at checkout to redeem
Autoship
(Save an extra 5%)
Choose Autoship at checkout for regular deliveries.
Why Autoship?
FREE access to chat with licensed vets 7 days a week.
Save 5% on all future Autoship orders.
No fees, no commitments - cancel Autoship anytime.
---
About This Item
Includes proprietary blend of wholesome vegetarian enzymes, pro-biotics and prebiotics in an easily absorbable formula.
Designed to be given with meals every day, on its own or mixed into your pal's favorite food.
Made in the USA with no GMO foods, cGMP, and is available in 2.22-oz and 8-oz jar with scoop included.
Twin pack includes the Total-Biotics Probiotic Dog & Cat Powder Supplement and the Total-Zymes Digestive Enzymes Dog & Cat Powder Supplement.
Used together to support digestive health and normal stools, improve nutrient absorption, and support a healthy immune system.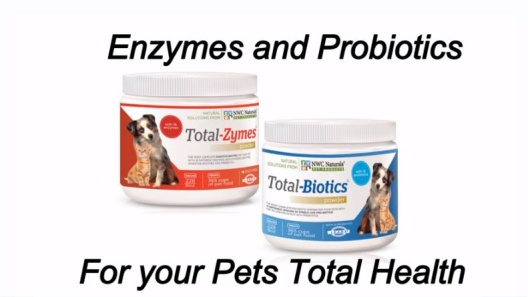 Learn More About NWC Naturals From Our Team of Experts
---
Compare Similar Items
| | | | | | |
| --- | --- | --- | --- | --- | --- |
| | | | | | |
| Customer Rating | | | | | |
| Price | | | | | |
| Autoship | | | | | |
| Top Ingredients | Total-Zymes Ingredients: A Proprietary Enzyme Blend of Inulin from Chicory Root (Prebiotic Dietary Fiber), Amylase, Protease 4.5... | A Proprietary Blend of Inulin from Chicory Root (Prebiotic Dietary Fiber), Pure Live Lactobacillus Acidophilus DDS-1, Bifidobacterium Bifidum... | Dried Aspergillus oryzae fermentation product, Dried Bacillus subtilis fermentation product, Dried Aspergillus niger fermentation product... | Organic Gum Arabic, Fructooligosaccharide, Dried Lactobacillus Acidophilus Fermentation Product... | Sun Cured Miscanthus Grass, Dried Pumpkin, Flaxseed... |
| Breed Size | Small Breeds, Medium Breeds, Large Breeds... | Small Breeds, Medium Breeds, Large Breeds... | Small Breeds, Medium Breeds, Large Breeds... | All Breeds, Extra Small Breeds, Small Breeds... | Small Breeds, Medium Breeds, Large Breeds |
| Lifestage | Adult, Senior, Puppy, Kitten | Adult, Senior, Puppy, Kitten | Adult, Senior, Puppy, Kitten | Adult | Adult, Senior |
| Health Feature | Digestive Health | Digestive Health | Digestive Health | Digestive Health, Immune Support | Digestive Health, Immune Support, Weight Management |
| Special Diet | Non-GMO | Non-GMO | No Corn No Wheat No Soy | Non-GMO | Grain-Free, Non-GMO |
| Food Form | Supplement | Supplement, Food Topping | Supplement, Food Topping | Powder | Supplement |
---
Questions & Answers
5 Customer Questions
---
I feed my own raw food for my cats and freeze after proportioning into containers. Can this be added to my blend and then frozen since it is frozen in less than 8oz. portions or does to have to be added once thawed just before feeding?
Answer by • Aug 24, 2017
It's recommended to add one scoop of Total-Biotics and one scoop of Total-Zymes to each cup of any pet food every time the pet is fed.
---
does this need to be refrigerated?
Answer by • Jul 12, 2020
This supplement can be stored at room temperature. To extend the life and potency of this product, store it in the refrigerator after opening. Freesing will extend the life of the product even more.
---
Do these have any flavor? I ask because I am hoping my dog won't care if they're in her food, or if anything, will enjoy the taste.
Answer by • Oct 23, 2019
These supplements do not have any flavor. They can be mixed into your dog's favorite food for taste.
---
In the above photos the NASC label is displayed in a seperate photo, but NOT on the product's label. Have these probiotic and enzyme supplements by this company actually been tested and awarded the NASC label?
Answer by • Jul 18, 2019
NWC Naturals Inc. is a member of the National Animal Supplement Council (NASC).
---
---
---
By Dogman1 on Dec 24, 2020
Use with caution
I started using this product for my dog who was licking his paws alot. Vet said to add probiotic and enzymes to his diet. That's when I got a few products and settled on this one. Have been giving it since 2018 pretty regularly. I'd say there was a 6 month period I didn't use it since I didn't see any positive results. But, I started again figuring it wasn't doing harm and if it was helping with his digestion (not that I could tell), then why not. In May 2020 took the dog for annual blood workup. His liver enzymes came back high, about 2x higher than limit. Vet was concerned and decided to do ultrasound. She didn't find anything. Recommended biopsy, essentially a spay-like surgery, she would open him up and get a few samples and a look at the liver. I Didn't want to go that far yet. We tried antibiotic, as she said they help sometimes if there is an infection we haven't seen in tests. At the same time I decided to remove the probiotic/enzymes from his diet. 30 days later we got another blood test. Numbers decreased significantly but still out of the normal range. Spoke with the vet and decided to put back the probiotic/enzyme so I could be sure that was the cause (since previously we made two changes at once). Sure enough the enzymes being back for about 30 days, the liver enzymes went up again. Removed the enzymes/probiotics again. 30 days later got blood test done and the results were back down again. I have had him tested every 30 days since September/October and every time the numbers kept dropping. Now they are under the high limit. The only thing that has changed is the removal of this product from his diet. There are too many good reviews to discount them. But, if you are using this product, keep an eye on your dogs liver enzyme numbers. The test is about $55, not cheap but not that expensive either. This whole thing has set me back over $2k with all the tests, specialty hospitals, etc. I'm convinced based on my testing/experiments, this product is directly related to the issues we saw. There doesn't appear to be any permanent damage to his liver, but I will continue to monitor his numbers.
---
Can't beat this combo for our two large dogs!
We have been buying this probiotic and digestive enzymes for 6 months. The list of ingredients is excellent, non-gmo and the serving size is measured by per cup of food. With large dogs, some supplements have you giving them between 4-6 scoops or pumps so you go through it in no time. So glad I came across these and thank you Chewy for the great service and pricing!
---
By JustOldFacts on Jun 5, 2019
This combo WORKS!
Wow. Just, wow. I have spent 3 years trying different probiotic and enzyme supplements with very little success. I kept being told by my vet and other Olde English Bulldogge and regular English Bulldog owners that my dog's nighttime "emissions" were just a normal part of owning a bulldog. I spent hundreds of dollars to have him tested for food intolerances, fed him only a low-fat kibble, and never gave vegetables or any other notoriously gas-producing foods to him. He just got worse with his nighttime gas-passing as he got older. It wasn't something he noticeably did during the daytime. At the time, my guess was because he was active and moving frequently. But when he would lay on my bed to sleep at night, his lack of movement seemed to get his gassiness going. He smelled up the room so badly that even HE would get up and leave, and I was left to suffer whilst trying to sleep. That little booger figured out as soon as he slipped a silent stink-bomb, he would just get up and go lay in the other room until it smelled better in my bedroom before he would return. Good grief! Vets kept telling me that it was just the nature of a bulldog to swallow alot of air whilst playing, eating, or drinking, because of their short, smashed-in muzzle. However, I kept trying digestive additives in the belief there had to be more to this because swallowing air is one thing, but why did his gas smell like the bottom of a 20 year old dumpster abandoned in a back-alley of Miami? I somewhat believed the misinformation about air swallowing/gulping bulldogs for almost 3 years, until I got my stink-bomb-tosser another bulldog puppy as a friend. Apparently, I'm a bit of a masochist to get another night time bomber, but I fell completely in love with the bulldog breed. Okay, this new puppy eats a completely different kind of kibble than my older dog because she is on a puppy formula. And of course, her gas at night started, too! I was beginning to dream about how to collect, contain, and market the horrible gases these two dogs produced at night, as a chemical weapon for military use, but it dawned on me - this new puppy was not allowed to run and play hard (only gentle play and lots of slow, casual walks through the field to prevent the joint damage many Bulldog puppies suffer from due to heavy play or exercise before their joints and growth plates are mature) so the vets' and breeders' comments about gassy Bulldogs and air gulping being a completely normal thing became moot. This new puppy never was allowed to exercise until she was panting heavily, nor was she allowed to gulp her 3 meals a day. She has lived a relaxed, slow lifestyle as she grows and matures. But her night gas was awful just like my older dog! So on I went with trying more enzyme/probiotic supplements. Then came this product. I saw it's high price and thought, what the heck, I'll try the smallest combo pack and see what makes it more expensive than any of the others I had tried. I'm sure you guessed it... Puppy stopped having ALL night gas within 2 days! I was floored. I started adding it to my older Bulldog's kibble twice a day (every time they got a cup of food, I added one little scoop and a 1/4 cup of water to mix it in)... Yup, my original stank-tosser was cured of all of his gas issues within 3 to 4 days! Same foods, same exercise, same routine as before, except I began adding a scoop of these NWC enzymes and a scoop of the NWC probiotics. I can VERY happily report that both Bulldogs have taken over my bed at night and no longer produce any discernable fumes! So, if you own a bully-breed (or ANY breed) and have ensured your dog does not have a food intolerance to what you are feeding them, but they pass gas regularly or have digestive upset often, please dont believe the myth of "short-snouts constantly swallow air and it comes out the other end". They do swallow some air if exercised hard or frantically gulping water on a very hot day, but English Bulldog types shouldn't be put in a position to do either of those things due to other anatomy concerns. Bulldogs DO have notoriously sensitive digestive systems, though, and so do many other breeds, so this twin pack by NWC, is a miracle.
---
By barb on Apr 10, 2019
They are important
elements in anyone's diet. Can I tell precisely if they're helping w/anything?? No. My dog and cats always get them, it's just a matter of which brand. But I plan to stick w/these because, in my situation, powder is preferable to pill.
---
By Kayhay on Apr 6, 2019
Great supplement for your dogs
HI, A dog trainer told me about this product. I've been adding it to my dogs food for a year or so and it seems to really help. One of my dogs had a lot of lose stools and it has helped with that issue. I would recommend this product.
---
By Angie on Jun 15, 2019
Great product!
Supported both my lab's and my basset hound's digestive upset as I expected.
---
By Butterfly on Sep 20, 2018
Pet Health
Dogs, like people, lose the ability to make enzymes and lose probiotics as they age. I have been using these products for several years now. My dogs utilize the nutrition in their diets much better, which means less trips to the vet. I own 5 dogs so that's important. I feed a really good dog food and no people food. Treats are kept to a minimum and I watch our dogs weight. I believe these products really help my dogs stay healthy because if they are not digesting their food properly, it doesn't matter how good the diet is.
---
By Lefty on Apr 24, 2018
Didn't stop the itch
I bought this based on another review saying it helped their dog with itching from allergies. It had no effect on my dog whatsoever, so I will not be buying this again! I am using a scoop (included in jar) twice a day of each, and have been for a month. My dog is 50 lbs.
---
By JudysZoo on Mar 23, 2018
Great stuff
Have been using past couple of years n was purchasing directly from vendor but chewy had it cheaper! My cats n dogs get this everyday and it has made a difference in their digestion.
---
By FuLan on Sep 3, 2017
Help my itchy dog
My dog is so itchy, after a lot of research I decided she must have allergies or a yeast infection in the gut. I bought this twin pack and already see improvement after 2 weeks. The enzymes help digestion and the immune system and the biotics help starve bad bacteria and replace with good bacteria. It feels good that she isn't biting her feet as much anymore.
---