Perky-Pet Panorama Wild Bird Feeder, Brown
---
About This Item
The innovative design of this feeder allows the seed to dispense into the trays and it stops dispensing once the trays are full
As the birds continue to dine from the two-tier circular perches, the seed is replenished into the trays separately so they remain consistently full
Compartments can even be filled with two different types of seed, attracting a larger variety of birds
This feeder features the proprietary Sure-Lock cap system, an exclusive squirrel-proof feature which ensures the lid stays put and squirrels can't get into the seed
Holds 4.5 pounds of seed and features a rustic brown finish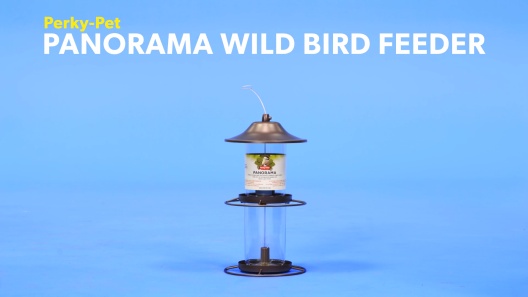 Learn More About Perky-Pet From Our Team of Experts
---
---
Questions & Answers
12 Customer Questions
---
How do you fill the bottom chamber?
Answer by • Mar 25, 2020
To fill the feeder, press the Sure-Lock cap at the top of the feeder and slide it and the lid along the hanging wire. Use a funnel to fill the feeder with one or two different types of seed. Once full, hold the hanging wire taut and slide the lid and Sure-Lock cap back into place so it is secure.
---
what materials are used in the bird feeder?
Answer by • Mar 05, 2020
This bird feeder is made of plastic and metal materials. This feeder has 2 seed trays that can be filled with black-oil sunflower seeds, peanuts, fruits and nut blends, or mixed seeds.
---
Is this feeder made of metal ( and plastic ) or all plastic ?
Answer by • Aug 24, 2018
The lid, perches, and rims of the trays on this feeder are metal with a powder-coated rustic brown finish. The tube and the bases of the trays are plastic.
---
Can this bird feeder fit on a pole or is just meant to hang?
Answer by • Aug 30, 2020
The bird feeder can be placed on a pole.
---
---
---
By birdie on Apr 18, 2022
Breaks easily/Not squirrel proof
Went out to fill bird feeder and I lost my grip it fell on the grass and the bottom cracked. A piece fell off. I really do enjoy watching the birds, I just need a feeder that is strong and can handle anything.
---
By Rosie on Feb 8, 2022
Disappointed
I have bought 3 of these feeders. They don't last over a year. They slip at the top and drop to ground. When it happened first time, I thought well just a lemon. Then it happened again, so I really am disappointed because the birds love it. I am on the last one, I am going to see if I can figure out a way to secure it. I sure wish they would figure a better way of securing this feeder. I would order it again if they fixed it's design to hold better.
---
By kittensen on Mar 5, 2022
NOT squirrel proof
Squirrels can sit on bottom and eat seed. Would not recommend. Saw one today on the bottom eating the sunflower seeds. It's advertised as squirrel-proof but is now. I would not buy this again.
---
By Joygh on Feb 12, 2022
Great feeder
Excellent feeder at a very good price. Birds were eating out of this feeder within 5 minutes of hanging it. Holds a lot of seed and many birds can feed at once.
---
By 148GHR on Feb 14, 2022
Broken in a few months
I purchased two of these feeders a few months ago. The loop at the top broke and one feeder fell and smashed in the ground!
---
By KayF on Nov 28, 2021
Bird/squirrel feeder
I felt like I've been living a Laurel and Hardy slapstick comedy. I've moved this feeder a few times to outsmart the squirrel. He's defeated me every time. Lol! I conceded.. it's now a bird n squirrel feeder. Oh don't get me wrong, I still have one more trick up my sleeves. I update y'all if it works.
---
By gretas on Feb 25, 2022
Sturdy birdfeeder
great for many birds at one time. No chance for bird feces contamination into the food. Love it
---
By amythann on Oct 26, 2021
Simple, lightweight, easy to use
I bought this feeder to replace an identical one that had finally cracked after years of sun, rain and snow. It is lightweight which is important because we have it attached to our deck railing. It's easy to refill. The only disadvantage is that birds spill seed out of the trays, so we attached a large plastic plate to the bottom perch to keep seed off of our lower deck.
---
By jewel on Dec 17, 2021
clogged at the bottom
I thought this would be great but it got damp and the seeds at the bottom got moldy and clogged so the birds couldn't get at fresh seeds.
---
By Dufster on Nov 16, 2021
Birdfeeder
Have had to fill this twice since the birds have found it. Not sure how to "lock" the lid on to prevent squirrels access but that doesn't seem to be a problem.
---