Pet Gear Bi-Fold Dog Car Ramp with SupertraX, Black/Green
Frequently Bought Together
---
About This Item
High-quality ramp allows your dog or cat to easily climb into your vehicle or other hard-to-reach places.
Bi-fold design and convenient carrying handle makes it easy to transport and simple to store when not in use.
Ramp measures 66 x 16 x 4 inches when in use and has a maximum capacity of 150 pounds.
Removable SupertraX mat features a pressure-activated material that provides extra grip and stability when he steps on it.
Rubberized grips keep the ramp from slipping while in use, plus the safety tether secures it to the back of most vehicles for even more stability.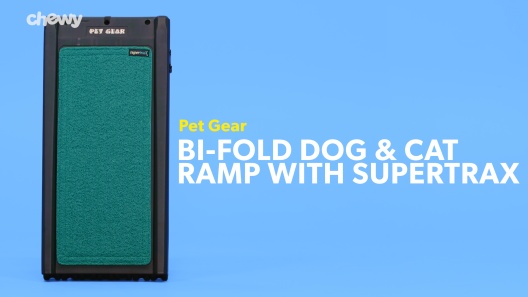 Learn More About Pet Gear From Our Team of Experts
---
Compare Similar Items
| | | | | | |
| --- | --- | --- | --- | --- | --- |
| | | | | | |
| Customer Rating | | | | | |
| Price | | | | | |
| Breed Size | Small Breeds, Medium Breeds, Large Breeds, Giant Breeds | Small Breeds, Medium Breeds, Large Breeds, Giant Breeds | Small Breeds, Medium Breeds, Large Breeds, Giant Breeds | Small Breeds, Medium Breeds, Large Breeds, Giant Breeds | Small Breeds, Medium Breeds |
| Features | Foldable, Non-slip Tread, Non-skid | Foldable, Non-slip Tread, Non-skid | Foldable, Non-slip Tread, Non-skid | Foldable, Non-slip Tread, Non-skid | Non-slip Tread, Non-skid, Foldable |
| Material | Plastic | Plastic | Plastic | Plastic | Plastic |
| Assembly Required | No | No | No | No | No |
| Lifestage | Adult | Adult | Adult | Adult | Adult |
---
Questions & Answers
11 Customer Questions
---
Can this ramp also be use for furniture, so that my dog can climb up to a bed? or Will it slip off ?
Answer by • Dec 26, 2018
The Pet Gear Bi-Fold Dog & Cat Ramp with SupertraX is designed for use only on the back bumper of a vehicle.
---
How much does this ramp weigh?
Answer by • Jul 16, 2017
This ramp weighs 13 pounds.
---
Can my dog get into suv from the passenger door with this? She not only has arthritis and difficulty jumping but climbing in to the back seat, but vision issues as well.
Answer by • Aug 03, 2018
The ramp is only suitable to use on the back of the vehicle.
---
Is it made in U.S.A.
Answer by • Sep 16, 2018
This product is made in China.
---
---
---
By Angie on May 6, 2022
The "grass" really works for grip!
I chose this ramp mainly for the green covering, in the hopes that my senior dog could get a grip on it and walk on it safely. It totally works and it comes off (velcro) in the event that it needs replaced. My only complaint is that there is a little "give" when my dog first steps on it, but I believe that is unavoidable due to the folding design. I have modified it with side fencing because my boy has poor balance and built up one end so it is level with the door threshold without being in the way of closing the slider.
---
By DiJeff on Feb 7, 2022
VERY nice ramp for dogs!
My hubby just got a new truck that sits much higher than our old one; hence the need for a ramp for our senior dog. I like the weight of this ramp; light enough for me to handle. I really like the green, grass like carpet that is non-slip and soft to walk up/down. This covering is removable for cleaning and can be rinsed off with a hose, no problem. Yes, some training will be necessary for any dog. So I keep her leashed, treats in hand, and she will easily go up/down for me. Although it said to start training with the ramp on the ground, she did better when I put it on the truck and we practiced. At her age, and the problems with her legs/joints, this was a no-brainer need for us.
---
By HappyCustomer on Jan 8, 2022
Perfect for van - could be used for higher vehicle with riser at ground end
I have both this ramp and the tri-fold ramp, which is considerably heavier. I use this one for side entry to my van, which is about 15" high, and the longer tri-fold for to get our 55 lb. dog up to the side entrance of our pick-up, which is about 25" high. This one is much easier to handle, but I like the longer one for the truck. At some point I think I will work on making an 8" or so riser for the ground end of this ramp so that I can use it for the higher truck, but I want to build his confidence on the 3" wider tri-fold before I switch to this one. I haven't figured out what to use yet for the riser - it needs to be fairly light and very stable. Raising the bottom lowers the angle, but puts that big step right at the ground, not at the top.
---
By HappyTraveler on Jan 25, 2022
Handy Helper for large dogs
Our large dog (GS) was getting older and our truck was lifted a bit, which made it more difficult for her to safely navigate in and out of it. After comparing which ramp worked best for our scenario, we chose the Bi-Fold Dog car ramp w/SupertraX. After a few trial runs on the flat ground, as recommended, she was running up and down with no problem, and continues to do so.
---
By Sooth on Dec 21, 2021
Large, heavy and old German Shepherd
My rescue shepherd took right to walking up and down this ramp. I bought the bi fold and was worried that it would be too short for my 2002 yeep gnd chrokee . It turns out to be a great choice for the dog and the vehicle.
---
By GGchet on Sep 3, 2021
Ramp for old age...
Well, love the item, sturdiness etc. For my elderly pup it was just too narrow. Her problem is her hips & the spread is just not enough. Wish it was 18" or 20" wide. My Standard Poodle is 13 and 65 lbs. Was hoping this would be an answer. I think it might be for smaller pups.
---
By Bishop on Jun 30, 2021
Excellent Ramp
We've had the ramp for a week. I started training Bishop with the ramp flat on the living room floor. I put a trail of treats on it and once he got used to the no-slip texture, he would walk (and eat) easily. I now have it propped up on "his" living room chair with no problems. I think I'll put it on the bed next, it's higher. Then we'll graduate to the SUV and truck. I expect he'll load easily. The ramp is lightweight for me but strong enough to hold his 50 lbs. without bending.
---
By Babs on Jun 4, 2021
For More Then Dogs
We purchased this ramp for our cat-yes that's right, I said cat. Jack is 14 years old and has difficulty jumping up on things he used to love sitting on. One of his favorites was the bookcase in the bedroom by a window. We came upon the idea of getting him a ramp and placing it on the bed to the bookcase. He took to it immediately and even sleeps on it. The ramp is removed at night. He can hardly wait for it to be put back up in the daytime. This ramp is well made, very sturdy and even has grass type carpet. A very good buy!
---
By Toby on Jun 17, 2021
Portable Dog Ramp
The ramp is helpful. It does have some give to it which makes the dog uncertain. The surface is more dog friendly than other ramps. It has a locking hook for when it's folded and a comfortable handle for carrying. We did some training to get the dog used to it but still had to be insistent about him going up and down.
---
By Blue on Jun 8, 2021
Not very stable - Slips
The ramp itself is sturdy, and the green padding is great for traction. But my vehicle doesn't have anything to hook the strap on. The rubber pads are very small and don't provide any stability so the ramp slides from side to side. I'm going to try to come up with an idea to stabilize the ramp. If I can't figure something out, the ramp will be useless.
---