Pet Magasin Collapsible Dog & Cat Carrier Bag, Small
Temporarily Out of Stock
Get notified when this item is back in stock.
Compare Similar Items
| | | | | | |
| --- | --- | --- | --- | --- | --- |
| | | | | | |
| Customer Rating | | | | | |
| Price | | | | | |
| Features | Top Load, Removable Pad, Collapsible, Water-resistant | N/A | N/A | Carry Handle, Double Door | Shoulder Strap, Interior Tether, Collapsible... |
| Material | Mesh, Synthetic Fabric | Nylon, Synthetic Fabric | N/A | Plastic, Steel, Metal | Nylon, Mesh, Synthetic Fabric |
| Breed Size | Extra Small & Toy Breeds, Small Breeds | Medium Breeds, Small Breeds | Small Breeds | Small Breeds | Extra Small & Toy Breeds, Small Breeds |
| Assembly Required | No | Yes | N/A | Yes | No |
| Tools Included | N/A | No Tools Required | N/A | No Tools Required | N/A |
| Lifestage | Adult | Adult | Adult | Adult | Adult |
| Pattern | N/A | Solid | N/A | N/A | N/A |
---
About This Item
Hard top and sides protect your pet while offering them an even, sturdy platform to lay on.
Includes a padded mat to give your little one a comfortable spot to lie down while traveling.
Lightweight material makes this an easy kennel to use for everyday travel or trips, such as vet visits.
Easily folds down into a little package and can be zippered together to conserve space when not in use.
See-through door and multiple ventilation holes allow air to circulate and prevent isolation or anxiety.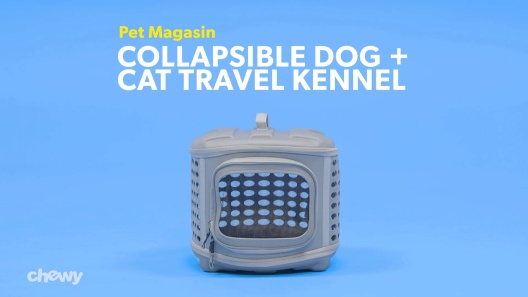 Learn More About Pet Magasin From Our Team of Experts
---
---
Questions & Answers
23 Customer Questions
---
How to put together
Answer by • May 19, 2018
This kennel has 4 main parts: the top cover, mid section, soft bed and bottom cover. The attached pictures illustrate the parts and how they go together, as well as how it will look when folded.
---
Can this carrier be opened at the top for entry/exit of a cat?
Answer by • Jul 09, 2018
You are able to unzip and remove the top cover for entry.
---
How the blazes do you get the animal in? Mine NEVER voluntarily do. My current carrier can be put on its end, giving me topside entry cats can't easily escape. Video doesn't show how to get any animal in at all. I suppose a five-minute struggle would change the tone of the marketing video.
Answer by • Aug 31, 2018
Some pet owners do experience difficulties getting reluctant cats into carriers. You can always use a calming supplement or find a new method for this particular carrier (i.e. backing your cat in while covering their eyes). However, we advise choosing a kennel design that you already find is the easiest to get your pet in.
---
I have two five month old kittens that prefer to be in the same carrier when traveling. Would this accommodate both of them?
Answer by • Jan 11, 2019
For their safety, it's recommended each pet have their own kennel.
---
---
---
By KuboCat on Jan 17, 2022
Two Paws Up!
My hooman has finally bought me a carrier I deserve. It's a place I can nap without the tiny hooman disturbing me. I no longer sing the song of my people all the way to the vet because I feel secure. If you love your superior feline family member, then you should get this. They (may) thank you later, if they feel like it. -Kubo, the Cat
---
By Sarah on Apr 18, 2022
Collapsible pet carrier
Me and my puppy love it! It's soft cozy and weightless. All in all it's a really good product and I'm happy to have it.
---
By Yes1975 on Apr 25, 2022
Love this carrier
Great product and so easy to put together. I use it for my cats and my puppy. Light weight and durable.
---
By IsabellaRobin on Dec 2, 2021
Easy to get my huge cat into it!
I was a little confused at first, because the instructions weren't completely clear - the container comes all zipped up together and it didn't say to COMPLETELY unzip it (afterwards, I realized it was a "DUH!" moment). But... After i figured that out it was easy peasy! It is awesome and getting my cat into it is a breeze! He is VERY hard to get into containers, so I love this! PLUS, he thinks it is his new cat house. So I leave it setup and in the living room. He sleep in it all the time. I thought that would change after I took him to the vet again yesterday, but he still lays in it! Yaaaay
---
By Moreruckus2 on Oct 2, 2021
He loves it...I'm not surprised...
I was thrilled to find this carrier as I had one like it a few years ago. The other one was brown and for some reason it never occurred to me that it was collapsible. I purchased it at a pet store already assembled and used it for years until my female cat had an "accident" in it. I could not get it clean so had to throw it out. Imagine my surprise when I found this replacement. So I very carefully put it together - the reviews that talked about it coming apart scared me. Within 5 minutes my male cat had found the carrier and claimed it. He slept in it the very first night...I used the new carrier to take him to the vet. I was very careful and scared after reading the reviews of cats escaping, but we had no problems. After he came home and was over the traumatic experience, my little guy went back into the carrier. It's been a bit over a week now and he generally is sleeping in the carrier most of the time. It helps when I am putting him in a carrier that I know he feels comfortable in.
---
By Aithne on Aug 30, 2021
Good but not technically collapsible
Wish they would not advertise it as "collapsible" because you have to disassemble it to get it into the little shell shape shown. I was looking for one that actually just folded up without having to disassemble, like a pop up type. Small, but roomy enough for my small cat, not sure how comfy it would have been for my older cat who was taller and larger. Would not carry it by the handle alone for any cat or dog much over 5 to 7 pounds. I do like the size of the holes for good ventilation for traveling. The zippers are a bit fiddly to get to work the first time.
---
By Roni on Nov 5, 2021
Spacious and comfortable
I bought this as a small bag. It is wider than most. Gives my cat a lot of stretch room. I like that collapses. It has a lot of ventilation and room for blanket and toys.
---
By AmandaH on Oct 14, 2021
Nice carrier
This works really well. It's sturdy when opened and easy to fold up and put away between uses. It is much better than the floppy soft sided carriers and the big bulky cages
---
By CityKitty on Jul 16, 2021
Liked at first then it broke open!!
I was excited for this carrier especially since it's collapsible which is perfect for apartment storage. It also seems very comfortable for our cats and I liked it as an alternative to the traditional hard side carriers. But the third time we used it, it BROKE OPEN while in use with our boy Teddy. He fell to the floor but luckily not too hard since we were supporting the bottom with a hand but it was a very upsetting experience as he could have been hurt or gotten loose. Therefore I cannot recommend this product as the zippers are not secure and break easily. Back to the traditional carriers for us.
---
By Missdd on Aug 12, 2021
Cats Love it
I bought one of these for each cat. Set up two of them so far and set them around the living room as cat beds and they are in them CONSTANTLY. I am hoping that using them as beds and getting them used to being in them will make trips to the VET easier for both them and me.
---