Pet Qwerks Blinky Babble Ball Dog Toy
Frequently Bought Together
---
About This Item
Paw-some toy is triggered by touch and turns off automatically when playtime is over, saving your batteries.
When activated, your dog will hear a variety of fun sounds and see a flashing light—keeping playtime interesting and unique every time.
Features more than 18 different expressions and sounds to entice your pup.
Keeps your dog occupied and prevents unwanted behaviors associated with boredom.
A great toy to keep your dog active and stimulate both sight and sound senses.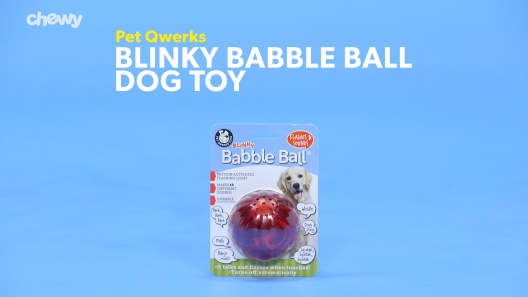 Learn More About Pet Qwerks From Our Team of Experts
---
Compare Similar Items
| | | | | | |
| --- | --- | --- | --- | --- | --- |
| | | | | | |
| Customer Rating | | | | | |
| Price | | | | | |
| Toy Feature | Glowing & Light-Up, Electronic, Exercise | Squeaky | Squeaky | Crinkle, Exercise | Tough Chewer, Bouncy, Exercise |
| Material | Plastic | Rubber | Rubber | Rubber | Rubber |
| Breed Size | Large Breeds | Small Breeds, Medium Breeds, Large Breeds | Giant Breeds | Medium Breeds | Small Breeds |
| Toy Type | Balls | Balls | Balls | Balls | Balls, Chew Toys |
| Lifestage | Adult | Adult | Adult | Adult | Adult |
| Chew Style | N/A | N/A | N/A | N/A | N/A |
| Pattern | N/A | Tie-Dye | N/A | N/A | N/A |
---
Questions & Answers
13 Customer Questions
---
Is this more of a hard plastic or a softer plastic?
Answer by • Jan 17, 2019
This ball is made of a hard durable plastic.
---
What are the sizes of the balls?
Answer by • Jan 26, 2021
The Small ball measures 2 ⅛ inches, the Medium ball is 2 ¾ inches and the Large ball is 3 ⅛ inches in diameter.
---
Is this item made in the United States?
Answer by • Oct 07, 2018
This product is made in China.
---
Is it waterproof
Answer by • Nov 20, 2021
The Blinky Babble Ball is not waterproof.
---
---
---
By DBee on Jun 22, 2022
My Boy LOVES this toy
My Samoyed has distinct tastes in toys. Mostly he likes pulling toys apart and pulling out squeakies. He always likes new toys--momentarily but I have not seen him play as consistently and for as long as he has played with this toy. He LOVES it. It flashes and makes all kinds of sounds. He picks it up and throws it to make it babble. He brings it to me and when I am not available to play interactively with him, he plays w it himself. Great toy!
---
By DogMom on May 30, 2022
Best-Funniest toy ever!
I got these in hopes of entertaining my new pup a Chi-Poo. At first she wanted nothing, notta, no interest at all of them! But lucky for us it was not a lost purchase. Our Yorkie decided these were/are the best thing ever! Hubby & I laughed so hard the first night I peed myself. After about a week our Chi-Poo decided she would try pushing it around a bit, & from that moment she was/is non stop with it! & a month later she is still lovin it! She loves to start rolling it, then will pick it up & throw in the yard (self entertainment) & then run & pounce on it & roll on it & do her best to hide it from our Yorkie! If you are looking for self entertainment & laughing YOUR butt off, this is the toy! (Btw) we got all the talking balls & she loves all of them! It's non stop giggling at our place
---
By Keli on May 28, 2022
Best toy for a dog that needs a playmate!
If you are home (as we are, retired) and feel sorry for your dog not having someone to "talk to" other than us, this is the best entertainer! It makes all kinds of sounds so you have to be prepared for that, but our cocker spaniel loves it and all talking balls. After a doorbell sound, there is a 7th cavalry sound. When I want my husband to get off the couch, I have trained our dog to "sound the charge" which she has leaned comes after the doorbell sound. It only makes sounds when the ball is in motion. Another plus is now she does not bark when our home doorbell rings as she is so used to that sound on the ball! Love this!
---
By Labmom67 on Jun 6, 2022
Great distraction for our new puppy
Our new puppy is too smart for his own good so he bothers our older dog constantly to play. This ball not only makes sounds but lights up which keeps his attention for a long time. He chews on it which made me a little nervous but other than some scratches from his puppy shark teeth it's still going strong. He also loves to drop it on the tile over and over and since it's a harder plastic I thought it might crack or break but so far so good. Would definitely buy again.
---
By little on Jun 11, 2022
surprising toy
I purchased this toy to help desensitize our dog to sounds especially the door bell. Upon putting it on the floor and rolling it to him, he was at first startled then he tried to bury it under his bed. However, now he will poke it with his nose then listen and watch. I think it might just be working.
---
By Bernerlb on May 20, 2022
Great toy for dogs and puppies
When you get one of these, get a Holee Roller at the same time. Put the Babble Ball into the Holee Roller. This will help protect the hard plastic ball. If you have a hard chewer, get the heavy duty Holee Roller and the kitten size Babble Ball, which will fit through. Some of my dogs have been wary of this toy when they first met it, but all of them grow to enjoy this incredibly obnoxious noisy ball.
---
By Rottiemom on Jun 3, 2022
It's a hit!
This thing arrived today, and I opened it immediately and let my Rottweiler try it out. What a hoot! I don't know how it will hold up long term, but it was worth every penny just for the entertainment value of watching Rogue's reaction. Still laughing.
---
By Stevie on Apr 19, 2022
Awesome toy!
We bought the first one in the small size because our Cockapoo was a puppy. We quickly discovered that she kept losing her Blinky under the couch, the TV stand, you name it. We spent more time looking for it than her playing with it. I just bought her the next size up and it looks like it will work better. She loves this thing! It constantly talks to her and keeps her engaged which is great when we are busy and she wants to get underfoot to help us . Lol
---
By Teeg on Mar 9, 2022
The Only Thing More Annoying Than This Toy is My Dog Without It
I usually don't review products but this one is just so odd that I thought it was worth it. I have a roughly one year old dog that I found on the street. She's crazy high energy and somewhat anxious, so enrichment is important or she'll destroy my house. She has a high prey drive and cleans out treat toys at lightening speed so I thought this would keep her occupied for a bit longer. This toy makes the most annoying sounds ever, and it's pretty loud, but I just don't care because my dog is so freaking happy with it. She plays with it for so long that she has to take breaks because she gets out of breath. Granted, she'll also play with a non interactive toy by herself if she gets bored, but this is a whole new level. Watching her roll this thing all over the house, woofing with glee, is totally worth the noise (and honestly if you have kids it probably won't even be unusual). It did take her about 15 minutes of exploring, observation, and experimentation to decide that she likes it, and she's very bold, so if your dog hates it at first don't give up right away, just let them investigate it at their own pace. I bought this to see if she would respond to a Ricochet toy before I drop $50 on it and in the process I found a smash hit. Bonus points: one of the sounds is the doorbell and I think it's helping to desensitize her to the actual doorbell.
---
By Biscuitmom on May 19, 2022
Thought it would be great
I really thought this would be a great toy for my two dogs. They love laser pointers! This is a really neat ball, love the sound effects! But one dog is afraid of it and the other refuses to let it out of his mouth. So for us, sadly, a no go.
---