Petdiary Smart Bark Waterproof Dog Bark Collar
By Petdiary
---
About This Item
With 3 different modes—beep, vibration, and shock—you can customize your dog's training experience.
Collar activates by your dog's barking and the vibration of his throat, which prevents false triggers.
Use the fixed level and cycle level to figure out what your dog responds best to.
LCD display screen uses sturdy tempered glass, while the collar as a whole is waterproof.
Easily recharge this collar with the magnetic USB design—it lasts up to 18 days after a full charge.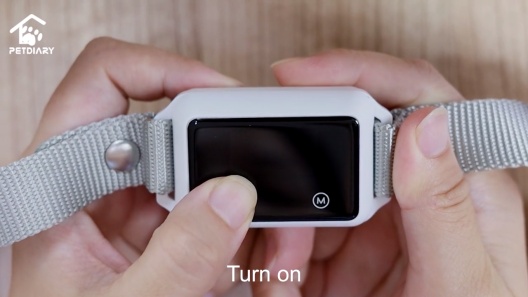 Learn More About Petdiary From Our Team of Experts
---
Compare Similar Items
| | | | | | |
| --- | --- | --- | --- | --- | --- |
| | | | | | |
| Customer Rating | | | | | |
| Price | | | | | |
| Collar Type | Bark Control - Noise, Bark Control - Static, Bark Control - Vibration | Bark Control - Noise, Bark Control - Static, Bark Control - Vibration | Bark Control - Static, Bark Control - Noise, Bark Control - Vibration | Bark Control - Static | Bark Control - Static |
| Breed Size | Medium Breeds, Large Breeds | Medium Breeds, Large Breeds | All Breeds | Small Breeds, Medium Breeds, Large Breeds | All Breeds |
| Material | Plastic, Nylon | Plastic, Nylon | Plastic, Nylon | Plastic, Nylon | Plastic |
| Compatibility | N/A | N/A | Rechargeable | Battery Powered | Battery Powered |
| Leash & Collar Feature | Waterproof | Water Resistant | Long Prongs, Waterproof | Waterproof | Waterproof |
| Closure Type | Buckle | Buckle | Buckle | Quick Release | Buckle |
| Technology Feature | N/A | N/A | N/A | N/A | N/A |
---
Questions & Answers
10 Customer Questions
---
Can this be used when you are not at home?
Answer by • Jan 19, 2022
This will work automatically. You do not need to be near the pet for it to work.
---
I ordered this item, but there are no instructions telling you what to do with the contact points and the silicone caps. What are the silicone caps for? Do they need to be on the metal contact points before using it on your dog?
Answer by • Oct 07, 2021
The contact points should be installed to deliver static correction to your pet. The long points should be used for dogs with heavy or long coats. The short contact points can be used for dogs with shorter coats. When not using static correction, the silicone caps can be placed over the contact points. This can help prevent skin irritation.
---
Does this collar respond to all dog noises, or just barking? I don't want to train my dogs out of "talking" to me, just out of barking.
Answer by • Mar 24, 2022
This product uses the vibration sensor for sensitivity distinction. When the sound of the dog barking reaches a certain frequency, it will trigger the sensor. Use may vary depending on the other noises or vocalizations that the pet makes.
---
Does this also come with a remote for manual use?
Answer by • Mar 05, 2022
This bark collar does not include a remote for manual use.
---
---
---
By Maria on Apr 23, 2022
Worked like a charm
We have one of those front doors with a few glass panels and my little dog would always bark at any one and everything that would pass in front of our house. I at first got just a remote shock collar but my dog soon learned that when I put my hand in my pocket it was time to stop barking, but all other times were fair game. So when I was able to get this automated one it was a life changer. I didn't have to turn on the shock part of the collar at all, just the vibrate setting was enough for my dog. I will say you do need to make sure to lock this with the trip tap of the power button, because my dog found out that all he had to do was put his head down far enough to touch the screen and it would change the function or turn off. I will say this did backfire on him a few times and shocked him kinda bad. It has also been kinda nice to see the number of times he has been warned, this number always goes up way more when we are not at home. All in all this is way easy to use and simple to operate.
---
By Jerzi on Apr 25, 2022
Dog mom approved
I have a very spoiled 9month old Chow mix that I've never crate trained during the day so when I put her in there even to go in the hard, she screams bloody murder. There's no way I could leave her home alone screaming in that manner so I purchased this collar. I chose this one because I didn't want her shocked like a wild animal. I tried it around my arm to ensure it didn't hurt. I put it on my puppy, put her in the crate and closed the door. She began barking then slowed down to a couple barks, then nothing. She stayed quiet for about an hour until I let her out. She will not be left alone for long periods, so this works for us perfectly.
---
By Lassie on Apr 6, 2022
Worked okay for a couple months, now nothing!
Initially, this collar worked fairly well. My Rough Collie outsmarted it the first day, by just barking once while holding still, then waiting a short period of time before the next bark. Though, It did make a difference, because she didn't bark as often or as much. Once in a while it would go off when she was playing, but not barking, which caused some confusion. In addition, it would become inactive after a period of time without triggering, so if she didn't bark for a long time, it would shut off. We also use a regular training collar, so only used this about twice a week. Today, not quite 3 months after purchasing it, the collar said it needed to be charged. When it was done charging, it would not turn back on. I tried charging again, same thing. If the collar actually had lasted a year, it would be worth the expense, but 2 months for a $52 item is NOT a worth the expense! I can think of better ways to spend $312/year.
---
By Jose on Apr 24, 2022
Not that great
Still trying to make it work with our dog. Seems to take an extreme bark to trigger unit, moderate level barking won't set off. Push down clamp on collar not reliable. Difficult to get on dog. Has come off. One of rivets attaching collar came off and I sewed collar back together. Chip out of face of unit. Can't get test mode to work. Can't get unit to change from fixed to looping mode. Not a great experience in the one week we've had it.
---
By SharonS on Apr 26, 2022
A must have bark collar!
My dog barks constantly and I needed a bark collar and decided to get this one because I like the different features. It's very easy to put on with the way the collar adjusts. It has three different settings so I can find the setting that best works with my dog. The charger is easy to use. It has a magnetic cord that connects easily to the collar and charges quickly. All around great bark collar.
---
By Saraah on Mar 29, 2022
Works well, highly recommend
This is one of the best purchases I ever made from chewy. We have a 5-year-old terrier mix who barks at nearly everything. I thought he would mellow out as he reached adulthood, but the barking seems to be getting worse as he gets older. Anyway, his collar works wonders. He rarely gets to the point where it vibrates, the beeping is enough to stop the barking. And he actually likes it. When I get it out to put it on him in the morning, he runs right up to me and lets me put it on (in stark contrast to hiding when we get out his leash to take a walk). When he starts to bark, I say "quiet." And by doing this, his barking has improved even when he's not wearing the collar. We have only had this collar for about a month, but he has made a lot of progress during that time. Highly recommend.
---
By Cooksey on May 16, 2022
Just One Day
I have tried multiple products and even a trainer to get my dog to stop barking. Within one day, we were watching shows with animals on them, could sit in our yard and delivery trucks were no problem. He may get used to it and it stop working but for now it's been the best.
---
By Caracciolo on Apr 2, 2022
No more barking!!!
No more barking!!! I have 2 dogs that barked all day while I was at work. They would go manic barking at other dogs while on a walk. The first time they triggered the vibration collar, they were quite confused. However, they have not tested it again. Now, as soon as I place it on them, not a peep. They walk right by other dogs and don't make a sound! I'm no longer the one in the neighborhood with the 2 obnoxious dogs. People have stopped me to ask what I did to get them calm. I have a feeling this collar will be popular in my neighborhood!! I'm so thankful for this collar. It saved my dogs reputation as well as my own!
---
By Dani on Apr 25, 2022
This is such a cool device!
This is such a great training device for our dog. She's a very smart dog and she hardly barks but every so often something can make her nervous outside at night and we don't want to get a citation for barking. This has done the trick. I just use the vibration feature and it has done the trick really fast. I like the lcd screen and the way you can customize the type.
---
By skimm99 on Apr 13, 2022
Lessens dark barking
We have a Pitbull Shepherd mix and a Miniature Pinscher. They both will get on a roll of barking if someone comes to the house, but we are able to quiet the Pitbull down rather quickly. This really helps with our Miniature Pinscher to get him to not keep going off. It took a little for him to realize what was causing it to vibrate, and he has calmed down. He still runs around like crazy, so there doesn't seem to be any bad effects of the collar.
---