PetSafe 6-Meal Automatic Dog & Cat Feeder, Blue
---
About This Item
Automatic feeder that holds up to six pre-portioned meals.
Each slot can dispense up to 1 cup of dry or semi-moist dog or cat food.
Built-in digital clock and LCD display make setting up meal times simple.
Carousel turns and drops food, helping to prevent your paw-tner from stealing food from the next tray slot.
Both the bowl and tray carousel are dishwasher safe for easy cleaning.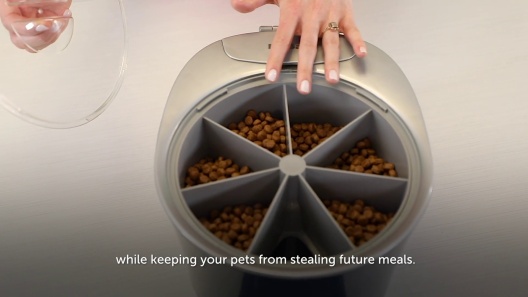 Learn More About PetSafe From Our Team of Experts
---
Compare Similar Items
| | | | | | |
| --- | --- | --- | --- | --- | --- |
| | | | | | |
| Customer Rating | | | | | |
| Price | | | | | |
| Breed Size | Extra Small & Toy Breeds, Small Breeds | Extra Small & Toy Breeds, Small Breeds | Small Breeds, Medium Breeds, Large Breeds | Extra Small & Toy Breeds, Small Breeds | Small Breeds, Medium Breeds |
| Bowl & Storage Feature | Automatic, Portion Control | Automatic, Dishwasher-Safe, Portion Control | Automatic | Automatic | Automatic, Portion Control |
| Lifestage | Adult, Puppy, Kitten, Senior | Puppy, Kitten, Adult, Senior | Adult | Adult | Adult |
| Material | Plastic | Plastic | Plastic | Plastic | Plastic |
| Capacity (Max) | 6 Meals - 1-cup each | 5 Meals - 1-cup each | Food Storage Reservoir - 20-cup | 18-cup | 17-cup |
| Assembly Required | Yes | Yes | No | No | No |
| Compatibility | N/A | N/A | N/A | Plug-In Power, Battery Powered | Plug-In Power |
---
Questions & Answers
18 Customer Questions
---
I have the PetSafe Smart Feed and the smallest amount you can set for each meal is 1/8 cup. What is the smallest amount you can set for an individual feed on this machine?
Answer by • May 28, 2020
There is no minimum amount for the Six-Meal Feeder as each compartment is filled separately. You can put as little as one piece of kibble in each.
---
Can it be programmed for 3 meals/day for 2 days?
Answer by • Nov 09, 2019
This Six Meal Automatic Feeder will automatically dispense meals for your pet when you are away from home, traveling for the weekend, or even tied up with other tasks. You can schedule this feeder for thee (3) meals per day for two days.
---
Is the time programming based on on an actual clock set time or is it just every so many hours.. I might need to get two since they don't share well. Just don't one opening before the other
Answer by • Aug 17, 2020
With the Digital Six Meal Feeder, you set a clock on the feeder, and you set the time that you would like the meal(s) to be dispensed. The meals will then be dispensed at the same time every day. This feeder is suitable for one pet and is not recommended for multi-pet households.
---
Can I attach a two-piece dispenser for a multi-cat home?
Answer by • Apr 12, 2020
At this time, this feeder does not features a double bowl.
---
---
---
By Mona on May 4, 2022
Pros and Cons
Unlike the other feeders, this feeder let you to customize each meal for your cat. You can add treats to a certain meal if you would like to. I like to feed my cat with a piece of chicken neck for their breakfast and this feeder allows me to do so. However, I don't like the plastic bowl. Also, keep it in mind that this feeder only provide six meals.
---
By LokisGma on Jun 16, 2022
Good while it lasted
Delivered 4/10 and started using it within a few days. Today (6/15) it died. Thought it was a battery issue. Still did not work after new batteries.
---
By MangoCat on Apr 6, 2022
Best feeder we've used
Accurate clock, you know how much has been fed to your animal, low center of gravity so our can't hasn't figured out how to tip it over. Our cat also could reach up and turn the mechanism on our old feeder and get a few kibble. He can't do that with this one.
---
By Galsd1 on Jan 26, 2022
Died After a Year
I liked this feeder until it recently decided to stop working. It won't take batteries anymore (I've tried multiple brand new ones), and doesn't use electricity so the whole unit needs to be replaced. If you don't mind buying a new one after a year, this is a good feeder, but I'm sad that I need to throw this out and get a new one.
---
By Rachel on Nov 29, 2021
Not ideal for most dogs.
This product should be advertised for cats and dogs under 10 lbs only. After installing the batteries, I noticed that they didn't fit tightly at all, and one was sagging out and not touching any connectors, which was preventing the unit from turning on. I solved this with a piece of electrical tape to hold the batteries in, and then put the cover on. So even before use, this seemed like a pretty junky product. But now that I had the unit turning on, I figured I'd give it a try with my 40lb female poodle. I regret that decision. She must have thought it was a toy and batted it around all over my house. I came home to tons of food spilled all over the place. The bowl also came off (it's entirely too easy to detach), and she had a blast chewing on it. It now won't fit back in the unit, rendering the whole thing completely useless and unable to be returned. What a waste of money. Would not recommend for any animal over 10 lbs.
---
By DeviousCatToo on Oct 15, 2021
I'm all about FOOD—Bigfoot polydactyl
FOOD is my high-value item, but food doesn't really like me if I'm not restricted to 10-12 cereal crumbs at a time. The digital unit works great but after a month, can advance 8 sec. Quik fix: just advance the clock time, not the six drop times. Four D cell batteries last over a year; the actual unit usually lasts 3-4 yrs, well worth the price; nothing digital last forever. IF the divider fails to turn, check to see that a pellet has worked its way under the divider.
---
By catowner on Oct 31, 2021
setting the time is a NIGHTMARE!!!
There isn't and option to set the Hours and the minute or Am vs. Pm. So I think I gave myself carpal tunnel pushing a small button over a 1000 times to set the time and another 1000 times to set the time I wanted it to feed the cat. It did work an thank goodness my cat didn't starve while I was away.
---
By Jess on Sep 20, 2021
Good overall
I have a very smart adolescent sphynx cat who can figure out how to get into almost anything but thankfully this feeder seems to be holding up to him. Unlike some other feeders he can't get food out by sticking his paw up into it so I love that about this feeder. I also like how I can make the individual meals so I can control exactly how much he is eating. The machine is also pretty quiet as the only sound you hear is the food falling into the dish. The only downside of this feeder is that I wish it plugged in instead of using batteries. We'll see how long the batteries last. There is a battery level indicator on the screen which I appreciate.
---
By Staci on Oct 14, 2021
Simple and works perfectly
I tried the ones you link to wifi and they just didn't work with my wifi setup. This was super easy to set up and refill every 3 days. Easy to clean, too.
---
By Lynn on Oct 22, 2021
Feeder for My pet
Does not work anymore. Waste of money. Batteries do not last in machine.
---