PetSpy P620 2000-ft Easy & Effective Adjustable Waterproof Remote Dog Training Collar
By PetSpy
---
About This Item
This rechargeable and waterproof collar is great for all breeds and sizes, from 10-lbs to 120-lbs.
Easy to distinguish buttons can be operated blindly by touch with an operational range of up to 650 yards.
Choose between three humane training modes—static shock, vibration and beeper trainer.
Includes a free training guide with helpful tools designed to make it easy to train your pet.
This easy to use collar is a great way to stop yappy or loud dogs from barking inappropriately.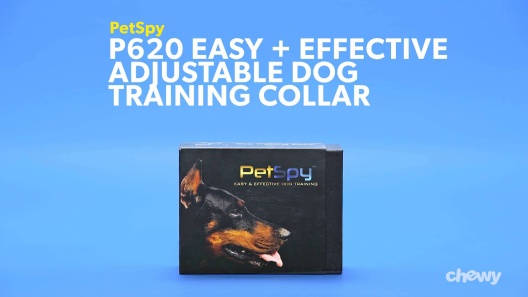 Learn More About PetSpy From Our Team of Experts
Click here for the PetSpy M86N Advanced Dog Training Collar.
Click here for the PetSpy M919 Premium Dog Training Collar.
Click here for the PetSpy M86 Advanced Dog Training Collar.
Click here for the PetSpy M686 Premium Dog Training Collar.
Shop Prescription Medications from Chewy Pharmacy
---
Compare Similar Items
| | | | | | |
| --- | --- | --- | --- | --- | --- |
| | | | | | |
| Customer Rating | | | | | |
| Price | | | | | |
| Collar Type | Remote Training - Vibration, Remote Training - Static, Remote Training - Noise... | Remote Training - Static, Remote Training - Vibration, Remote Training - Noise... | Remote Training - Static, Remote Training - Vibration, Remote Training - Noise... | Remote Training - Static | Remote Training - Noise, Remote Training - Static, Remote Training - Vibration... |
| Breed Size | Small Breeds, Medium Breeds, Large Breeds | All Breeds | Medium Breeds, Large Breeds | Small Breeds, Medium Breeds, Large Breeds | All Breeds |
| Material | Plastic | Plastic | Plastic, Nylon | Plastic | Plastic, Silicone |
| Compatibility | Battery Powered, Rechargeable | Battery Powered, Rechargeable | N/A | N/A | Rechargeable |
| Leash & Collar Feature | Long Prongs, Waterproof | Long Prongs | Multi-Dog System | N/A | Waterproof, Multi-Dog System |
| Closure Type | Buckle | Buckle | Buckle | Bolt Snap | Buckle |
| Technology Feature | N/A | N/A | N/A | N/A | N/A |
---
Questions & Answers
46 Customer Questions
---
What is the off leash range on this collar. We have woods on the property and I don't want him wandering too far without us.
Answer by • Oct 22, 2018
The range of the Remote Training will vary according to terrain,weather, vegetation, as well as transmission from other radio devices. The operational range is approximately 650 yards.
---
Why does the dog need to be 6 months old?
Answer by • Jun 09, 2018
Puppies have a learning curve and they need to be taught basic concepts and commands before using training collars such as these. Young puppies have short attention spans, but can learn simple commands as young as 7-8 weeks of age. Formal dog training has traditionally been delayed until 6 months of age.
---
when waking the system from power saving mode, I understand you have to send a diciplinary action. But does the dog feel it or is it to just wake it up?
Answer by • Jan 26, 2018
The blue backlight on the display stays on for approximately 30 seconds after a button press. After that with no button press, the blue backlight shuts off first, and if no button press with another five minutes, the display shuts off and the Transmitter goes into battery conservation mode. Pressing any button will turn the display back on to wake up. This simply wakes the transmitter and your dog will not feel it.
---
Does this collar come with the conductive rubber caps for the prongs, if not can I purchase them for this collar?
Answer by • Aug 22, 2018
This purchase includes (1) Remote Transmitter, (1) Dog Receiver Collar, (1) Neck Strap, (1) Test Light, (1) Battery Charger, (2) Sets of Metal Probe, (1) Dual USB Port, (1) User Guide.
---
---
---
By chels on Apr 18, 2022
worked great until it didnt
I have had this a little over a year and within the year we have only used it about 30 times. It has now stopped working. Will not turn on. The remote still works but collar is done for. Won't hold charge or turn on anymore. For the price of this it should last you longer. Will not buy again.
---
By Pasha on May 11, 2022
Absolutely No
Liked this collar the first few days but then it started acting up. Such as the shock is not consistent. Only works occassionally. Its not dependable and I know when its work by my dogs actions. Disappointed.
---
By Elliott on Feb 7, 2022
Best training collar
After spending hundreds of dollars on other training colors that didn't work I was at the end of my rope and tried this one from chewy it is amazing I have a little barker he's a barker and we live in an apartment and it was becoming an issue so I bought the pet spy collar took a few weeks I won't lie but he is a big heavy barker I never had to use the static just the sound and vibration was all I wanted to use and he's sitting here now on my lap no collar he doesn't bark hardly at all couple times a day but that incessant barking he doesn't do anymore and that was what the issue was thank you chewy and thank you pets spy!
---
By None on Jan 20, 2022
Petspyshockcollar
I loved this for my dogs til the batteries died. And i wanted to replace the batteries but you can't. You have to buy the Petspy package again. I thought you could change the batteries. We unscrewed the backing of the collars and handset but can't replace them. Good product if you could of replaced batteries instead of buying it again.. Would of saved me alot of $..
---
By GrandmaLynn on Jan 22, 2022
Just Wonderful
Just wonderful! It has helped us immensely. We have had issues with our neighbor's dog coming up to our fence and we can't get our dogs separated and to come in. Normally we don't have a problem with them when we call them in! But for some reason when that neighbor dog shows up!!!!! Anyway, the collars work awesome! We have only used the tone and vibrate features.
---
By DANKELLY on Nov 22, 2021
WORKS FANTASTICALLY!!!
So happy with this training collar I decided to purchase for my doberman. I was looking for a good quality training collar to help with my dog wanting to leave my property all the time and not stay within the area he supposed to stay in. It was extremely easy to follow the instructions on how to set the training collar and remote up. The collar is adjustable and was simple to put on my dog and adjust to the correct size of his neck area. I like the fact that I can watch my dog through my front window and use the remote when he starts to wander, it corrects him and he immediately has come back onto the right side of my property as soon as I use the remote control. He was a bit startled the first few times I used it on him, however after a few times he figured it out and now has not given me any problems with staying where he supposed to stay and not wandering off anymore. Thanks to this amazing collar. I would definitely recommend it to my fellow dog owners.
---
By Agmae on Mar 28, 2022
Great shipping time
The shipping and arrival time was impressive, I've read great reveiws and hopefully my older dog gets the training he needs.
---
By cande on Apr 19, 2022
Training collar
It was amazing literally within 2 days he was a changed 10mo puppy he's 85 pds and it was great
---
By KeeneFamily on Nov 29, 2021
Amazing collar, great quality, works wonders
This product has saved my sanity and my relationship with my our dog! Before ordering this, we had tried training, positive rreenforcement, classes...really anything you could think of. No matter what we did, she would not stop barking, chewing, and trying to bolt any time the door was open! We were honestly considering rehoming her. When I got thiscollar in the mail m, we immediately put it on her and have seen vast improvements since! All of these behaviors that have been driving me off the wall are improving. This thing is a godsend!
---
By Tharris on Nov 18, 2021
Awesome collar
I give this collar to my daughter to use with her pit bull she had "inherited" when her dad passed away. She was needing something to help her keep him in her yard as he kept getting off the chain. He was also doing alot of barking due to being in new environment. She didn't want anything that would be to harsh on him since he had been thru such a dramatic change also. So she said this collar was just perfect for training him and didn't take but a couple days and he was listening to her and learned his boundaries of his roaming limit. She is super proud I got this for her and so glad she doesn't have to keep him couped up or chained. So definitely worth getting.
---