Piggy Poo and Crew Adjustable Height Slow Feeder Pig Bowl
---
About This Item
Enrichment slow feeder training toy stimulates and entertains your piggy pal.
Adjustable to suit pigs of any size.
Fun activity keeps your pig occupied and happy, and encourages less vocal behavior.
Can help with behavior training.
Perfect for daily use.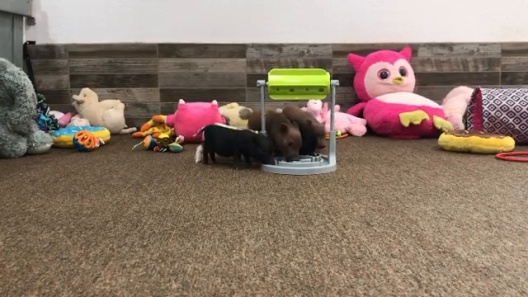 Learn More About Piggy Poo and Crew From Our Team of Experts
---
---
Questions & Answers
2 Customer Questions
---
Two questions. Would this work for a dog? Does easy to clean mean it will go in the dishwasher? Or does it come apart to clean?
Answer by • Feb 23, 2021
This feeder is suitable for dogs. The pieces do separate and we recommend hand washing it.
---
How much food can this hold?
Answer by • Dec 10, 2020
This bowl can hold up to 2 cups.
---
---
By Alyss on Jan 11, 2022
SO worth the money!
I bought this for my cat as a last resort. He's very food driven and will try to inhale his food as quickly as possible with every feeding. I've bought several different types of the puzzle bowls for him in the past, but every time he somehow manages to figure out how to work around it and inhale the food. Not with this though!! It's actually forcing him to work for his food AND when it does fall, the grooves are too deep for him to just stick his face in. He actually has to work to get the kibble out once it's fallen, too. Though he is NOT happy about, I sure am! It's slowed him down and is so enriching for his mind. The only "negative" to this product is that there is no traction so it does slide pretty easily. If you can get past that, it's worth every penny.
---
By DezD on Feb 7, 2022
Wouldn't recommend
I bought for my 4 month old mini pig. He turned it over and his pellets just fell through the holes. The holes where to small for his treats so keeping him entertained with his pellets just didn't work. The height doesn't adjust enough either.
---
By Lilypads on Feb 26, 2022
Great purchase
I bought 3 of these for my dogs, they love them but, one of the screws that hold it up on the side was warped and does not tighten. That's my only complaint. Would definitely recommend…!!!
---
By Goldenjul on Feb 13, 2022
Not durable enough for food hogs.
I love this but our 11 month old Golden spins it so fast and food flys everywhere. I have to hold it to slow it down. Also the top part green screw stripped after just two weeks.
---
By Myreview on Sep 14, 2021
Good and bad
The good: Definitely takes time to get all the kibble out. The bad: The opening to add food is TINY!. It's hard to add food without it spilling everywhere. It would be nice if the side would unscrew to be able to add the food rather than a tiny rubber flap.
---
By cheap on Nov 21, 2021
Pig can't even use it.
Screws were completely messed up. One looked like it was melted or something. Can't even use it.
---
By Kristen on Oct 22, 2021
Great feeder feeder dog
This works great for my 70 LB shepherd. It's the perfect combo between a food puzzle on top and a slow feeder on the bottom.
---
By Sara on Jul 18, 2021
Best Slow Feeder
I had to write a review for this one because it has been amazing so far. I have a dachshund who loves her food and will scarf it down even in the average slow feeder. She learned how to spin it quickly but it still takes her about 15 minutes to finish 1/3 cup of food. She also has severe separation anxiety and I use this to distract her while I leave. By the time she finishes the food she has forgotten I even left (I watch her on a camera). I plan to buy two more and place them around the house for her. The only thing I would caution is that I am not sure this would work for a larger/destructive dog because I think they could knock it over and probably chew through it eventually.
---
By CheesyPizza on Jun 15, 2021
Excellent slow feeder for CHI mix
We adopted a 14 yr old CHI mix a year ago - we have several slow feeders but this is the absolute best! She learned to turn the cylinder very quickly and is rewarded with her kibble dropping to a maze below. Her feeding is much slower and it keeps her senior brain active. Only delta is she is extremely protective of this feeder and will growl at our other dog if he even looks at it!
---
By Ellie on Apr 28, 2021
Great Idea, Needs Improvement
My 50 lb pitty gobbles down food at an alarming rate and I've tried a number of slow feeder bowls but she manages to figure out how to cram all the food in her mouth in record time. I tried this feeder and while it does work as it should, it is not the right feeder for my pup. She figured out how to move the wheel to get the food in no time, which was a proud moment for me, and the food drops at a slow rate, which is awesome. The only 2 issues I have with the feeder are as follows: due to my dogs excitement about eating, she moves the entire contraption as she goes to eat the bits of kibble- there are no anti skid pads on the bowl and this thing went flying around my kitchen. The second issue is that it is simply too small for my pup, even set to the tallest srtting- when she tries to eat the kibble that dropped to the bowl, her big old melon kept getting stuck between the bowl and the wheel. While absolutely hilarious to watch, this slow feeder is not getting more than that first time use.
---