PortionPro Rx Automated RFID Dog & Cat Feeder, Gray
Temporarily Out of Stock
Get notified when this item is back in stock.
Compare Similar Items
| | | | | | |
| --- | --- | --- | --- | --- | --- |
| | | | | | |
| Customer Rating | | | | | |
| Price | | | | | |
| Breed Size | Small Breeds, Medium Breeds | Small Breeds, Medium Breeds | Extra Small & Toy Breeds, Small Breeds, Medium Breeds, Large Breeds | Small Breeds | Extra Small & Toy Breeds |
| Bowl & Storage Feature | Automatic | Automatic | Automatic, Food Storage, Portion Control | Automatic | BPA-Free, Lead-Free, Tip-Resistant... |
| Lifestage | Adult | Adult | Adult, Puppy, Kitten, Senior | Adult | Adult |
| Material | Plastic, Ceramic | Plastic | Plastic | Plastic | Plastic |
| Capacity (Max) | 15 Cups | 2-cup | 24-cups | Food Storage Reservoir - 25-cup | Food Storage Reservoir - 25-cup |
| Assembly Required | No | No | Yes | No | No |
| Technology Feature | Microchip / RFID | — | Programmable | Two-Way Audio, Voice Recording, Programmable | Voice Recording |
---
About This Item
The via patented access control helps stop your pets from stealing food from one another.
May be used by cats and dogs!
Portion controlled feeding for as many as six feedings per day.
High-quality durable construction.
The large storage hopper can hold up to 32 cups of dry food.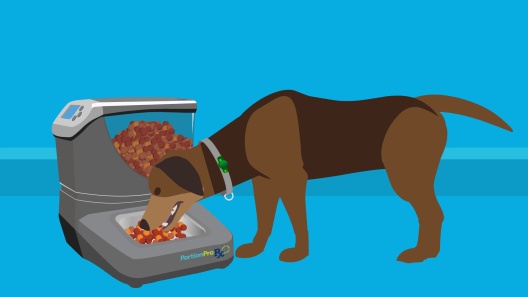 Learn More About PortionPro Rx From Our Team of Experts
---
---
Questions & Answers
12 Customer Questions
---
Does this work with implanted pet microchips too, or does it ONLY work with the provided RFID tags?
Answer by • Apr 20, 2022
This feeder only works with the PortionPro RFID tag. It will not work with a pets microchip.
---
How is this powered (batteries or electric cord), and can it be used outside?
Answer by • Apr 28, 2022
This feeder is powered using an electric cord.
---
If I buy two of these, are the tags specific for their specific feeder, or do the tags work for any feeder of the same model?
Answer by • May 23, 2022
The RFID tags may be programmed for each individual feeder.
---
Does the bowl come with the RFID for the collar?
Answer by • Apr 11, 2022
This feeder includes 1 RFID tag.
---
---
---
By Carmelita on Jul 23, 2022
What a total bummer
This feeder was going to save us from all of the problems we were having. We have one dog that always tries to eat the other dogs food and is overweight because of it. We have another feeder which its flap opens when one dog eats but it still allows the other dog to grab some food at times and it doesn't fill the bowl at certain times. The only fatal flaw to this whole feeder is the size of the microchip collar tag. It is absolutely not going to work for a cat or a small dog or any dog under 45 pounds in my opinion. I have attached pictures to show the actual size (compared to his current feeder tag) as the pictures online do not depict how big it actually is, not to mention the weight of a watch battery. What a disappointment, if this was fixed we would absolutely buy it again but unfortunately had to return it because there was no way that our dog could carry around such a large microchip tag comfortably each day. I hope that they revise this in the future and make their feeders either microchip compatible or have a smaller tag like the other sure feeders.
---
By Sandy on Jul 6, 2022
Overall Very Pleased
I purchased this feeder due to having two cats, one who is on a lower calorie diet and was getting rather plump while the other was getting a bit thin before we realized that one was eating the other's food. Things that I like: 1)The size of the food hopper. 2) The ability to see how much food remains in the hopper. 3) Portion control. 4) It is run on electricity. 5) The ceramic vs plastic bowl. Things that could use improvement: 1)The size of the RFID collar pendant. In my opinion it is far too large for a cat. The images on the product website & shown in the instruction manual are a bit deceiving. The actual pendant dimensions are 1-7/8" long x 1-5/16 tall, and 1/2" thick. See pics 2) A battery backup would be a plus in the event of a power outage. 3) The door closing mechanism is fairly loud. 4) The design of the bowl/dispenser area. For a cat like my plump/piggish girl the bowl/dispenser design would be fine. She eats all of her allotment immediately. For our thin guy, he doesn't finish his allotments, thus when his next meal is delivered the food tends to get backed up in the delivery chute (see pics). Not sure if this will ultimately damage the food dispensing mechanism. Additionally, the food backup does cause kibble to lodge between the ceramic bowl and the chute area. In the pic captioned "Bowl Jammed" I had to remove the lodged pieces of kibble in order to remove the bowl 5) I may have missed this in the instructions but if not, the instructions should reflect that once the door closes there is a 30 second delay before it opens again after the RFID device/cat moves away from the feeder. Initially we had thought the feeder wasn't working properly due to the delay in opening. Overall, the feeder works as hoped but does require attention for a cat that doesn't finish his/her meals all at once.
---
By Sarekov on Jul 8, 2022
Was unsure at first, but love this feeder!
So like the title says, I was unsure about this feeder at first but decided to drop the cash to give it a try. It obviously isn't cheap, but there aren't really any good competitors on the market and this actually allows you to control the amount of food in addition to which pet eats it. Anyway, there are quite a few settings and I settled on it being closed all the time, and only opening when the one cat with the tag gets nearby. Then when she's done eating and leaves, it'll close after a few seconds. I didn't buy any extra tags for the other cats, and so far it looks like I didn't need them so that works. The tags are a bit big, but if you zip tie it to the collar itself, instead of hanging it from the collar, it really isn't that bad at all and my rather small cat isn't bothered by it. I will say that my cat was really timid at first as the noise scared her. But I slowly coaxed her to get used to it by leaving a trail of treats to it, and including treats on/in the feeder for her. Over a few days she finally got over her fear of it, and now she eats out of it normally without being bothered by the noise. So be prepared to train your cat to use it if they're initially terrified of it like mine. So in the end I'm able to give her prescription food without worrying about the other cats stealing it. I may eventually buy more feeders, one for each of the other cats to give them individualized diets. In any case, for now I really recommend this - it turned out perfect IMO.
---
By MaxM on Jun 7, 2022
Fantastic, life changing
I've only had it for a month but so far it is amazing. Takes a little bit of getting them used to it. I recommend letting them just feed out of it without it opening and closing first. I like leaving it open and close for intruders right now. It is less scary for them. 10/10 would recommend Expensive but worth it, especially if you are trying to serve other food, or if you have one who will eat everyones.
---
By Trish on May 19, 2022
Amazing feeder!
We have an adult cat on prescription cat food and a 6 month old kitten who was eating the adult cat's food. We keep the feeder open and the kitten is the unassigned pet. The feeder closes when she approaches and she's gotten used to the "rejection" that she doesn't approach the feeder as much. She also has learned the 3 foot perimeter and stays away when our adult cat is eating! Our adult cat, who's very sensitive, got used to the new feeder quickly. Also portions out her food which is great. Works wonderfully and we no longer have to worry, especially when we're not home. I highly recommend this feeder. The peace of mind is worth the money.
---
By CalliopesMom on May 18, 2022
You Need One of These!!
If you have more than one cat in your home, and one is on a yd prescription diet like mine, you know how expensive that food is! This feeder allows me to feed the cat that needs to be fed the specialty food while keeping the other cat from getting access. It's been both a life saver and a money saver. I'm so glad this is now available on Chewy.com!
---
By Creaturehouse on May 5, 2022
Pretty good
It feeds between 1/2 cup to 4 cups 2 to 6 times a day. It closes the lid off you mess with the food conveyer belt, so your sneaky food thief gets thwarted, although mine is not persistent so I don't know if it will work against the smart and determined. It comes with one tag which will not let me program that tag to close when it is near as I wanted to put it on the food-thief rather than the food-eater. I wish it read microchips rather than tags only as my animals don't wear collars but are tagged. However, it's the best for feeding from a bin, on a schedule -and I've tried a few- plus it has the close function. Still, for the price, it could be better.
---
By Becauseican on May 18, 2022
Worth Every Penny
I bought 2 machines for my cats. One was extremely overweight and the other was at a correct weight. They have been using them for about 2 months and it's fantastic! There is a lot less food waste, and each cat is getting the correct amount of food. I also have an additional tag to keep my dog out of the dishes. Everything works great. This machine is well worth the cost.
---
By Twocats on May 15, 2022
Problem- Solved!
Bought it to keep one very greedy cat from eating more than his share of food. Works like a charm so far. Cats learned really quickly which food dish was theirs. Great product!
---
By Klynn on May 26, 2022
Noise it makes scares our cats
This is good in theory, however the noise it makes when the drawers close terrifies my cats. We had to return.
---