Prevue Pet Products Small Parrot Playstand, Black Hammertone
Temporarily Out of Stock
Get notified when this item is back in stock.
---
About This Item
Features eight toy hoops for hanging a variety of treats and toys
With multiple activity areas including three ladders, perches and a swing for plenty of space for your parrot to climb and move around
Pull-out tray and rounded corner seed guard make cleaning quick and easy
Double cups provide convenient storage for food, water and treats
Caster stand that makes it easy to move the playstand from room to room or indoors to outdoors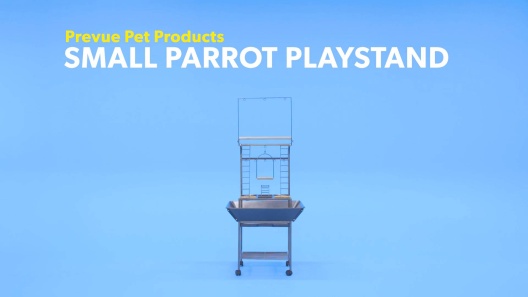 Learn More About Prevue Pet Products From Our Team of Experts
---
---
Questions & Answers
28 Customer Questions
---
Would this work for an African Grey?
Answer by • Oct 31, 2017
This product is suitable for an African Grey.
---
I called and was told the Black Hammertone is paint. Is it anodized or will it chip off? Our African Grey will definitely pick at it if it is not anodized.
Answer by • Sep 12, 2018
Prevue cages use powder-coated paint which is baked onto the steel / iron. This method typically reduces chipping.
---
What's the length of the wood stand and can that be changed out for different material?
Answer by • Aug 07, 2018
The top wood perch on this playstand is 5½ inches in length and ¾ in diameter. The material cannot be switched out.
---
I have a Sun Conure, would this be okay to use outdoors?
Answer by • Sep 03, 2018
This playstand is great to use both indoors and outdoors.
---
---
---
By Serenade on Jun 11, 2022
Worth the buy
I utilize the whole play stand. Our Budgies enjoy the area to play for hours. A must have.
---
By Ashley on Feb 28, 2022
Very customizable, liked it but dad missing screws
I had to go to the store and buy my own screws to complete the assembly. Bowls aren't in a good position being at the bottom and can get pooped it. It's very customizable and my birds are enjoying it, one of the most affordable playstands I have bought. Has to use kite rope to make the wire top piece less slippery for my birds and it was hard on their feet so I recommend anyone purchasing this do the same. Overall it was a good deal and my birds love it.
---
By ConureMom on Oct 18, 2021
Good price, slightly odd design
Easily put together and to move around on casters. But the design is a little strange - look at pics carefully and think about how your bird will use it. I've added accessories like rope perches and a climbing mat, and am not done modifying it to help my bird climb around. Because birds like to be up high, he sits on the very thin top toy holder, not intended as a perch. That's the least sturdy part of the whole thing. Overall, though we're making good use of it, with modifications.
---
By Hayden on Aug 5, 2021
Nice stand, JUST big enough for an African Grey
The stand was relatively simple to build and has enough features and complexity to keep our bird busy for a while. We were a little worried if it would be big enough to accommodate our African Grey, but thankfully Ember seems really happy with her stand so far. Our Conure isn't too interested in it, but that's more his personality than anything. The price was pretty reasonable too. Took 1 star off because the set was missing 1 screw, and there was some chipping & bending on one of the larger pieces, likely from shipping. The shipping damage didn't affect functionality, but took some effort to bend it back so everything would fit, and we have to touch-up the coating now.
---
By Milo on Jul 5, 2021
GCC approved
Our little one loves it! The one thing I'd point out is that the "upper toy arm" (the bar with the loops that holds three hanging toys above the upper perch) is secured solely by tension via two thumb screws on either side. Our green cheek conure enjoys climbing the arm itself to play with the toys from above, so we regularly check that those two thumbscrews are tight enough to hold the arm steady even with his weight plus the weight of the toys that it holds. We are certain that Prevue's engineers did not intend for that area to be a perch however, so we're giving it five stars anyway! He took to it immediately and he will spend hours (quietly) entertaining himself on it - our favorite go-to solution for Zoom calls!
---
By anonymous on Jul 29, 2021
my birds love it
i have a finch, canary, budgie, and a pineapple gcc. they all love this stand! i would highly recommend this playstand for small to medium sized birds. the price is really affordable and i think the quality is fantastic. it wheels around smoothly. i use it for training sessions with my conure and my finch and canary like having another area to sit in my room while they are out.
---
By Nettie on Aug 2, 2021
Hours of fun
This playstand has been great. Yes it takes sometime putting together. I did it in an hour with my two young children "helping" but it was worth it. Our green cheek uses it daily. It keeps her so busy. You can easily roll it room to room. I did add some vet tape to help her get a better grip on the metal.
---
By Nicolee on Jul 15, 2021
Perfect and Love it!
Our 2 Amazon's have had the same old, old stands forever and they were in real need of something new. This play stand is perfect for when we take them outside in the evenings with us. We just got it today and one bird jumped right on and the other will take some time to warm up to it. It's a really good size for just a couple of hours outside and love that you can hang a few toys and has wheels! It was very easy to put together also. I would recommend this stand.
---
By Lexi on Jul 15, 2021
My Sun Conure LOVES it!
My sun conure loves his new perch! It's easy to roll around. There's enough places for toys to be added. The poop shield is enough to help keep his poops and nuts off my floor. (for the most part Apollo is a little messy!) The only thing we do not like about this perch is where the bowls are located. He can poop in his dishes from the perches above.
---
By NancyP on Jul 3, 2021
Love it. Great stand for birds when not in their cage.
Sturdy. Great value. Lots of room for my sun conure, Steve. Wheels easily from room to room so he can comfortably hang out with me no matter which room I'm in.
---