Seresto Flea & Tick Collar for Dogs, over 18 lbs
By Seresto
Save 15% on First Autoship
Must select Autoship for discount to apply.
Autoship
(Save an extra 5%)
Choose Autoship at checkout for regular deliveries.
Why Autoship?
FREE access to chat with licensed vets 7 days a week.
Save 5% on all future Autoship orders.
No fees, no commitments - cancel Autoship anytime.
---
About This Item
Veterinarian-recommended prevention treatment kills fleas and ticks on puppies and dogs 7 weeks and older weighing over 18 pounds.
Starts to repel and kill fleas within 24 hours of initial application and re-infesting fleas within two hours; works on contact with no painful biting required.
Also repels and kills ticks within 48 hours of initial application and re-infesting ticks within six hours; works on contact with no painful biting required.
Easy-to-use, 27.5-inch adjustable collar is odorless and non-greasy; quick-release feature and visibility reflectors provide extra safety.
Water-resistant formula continues working for up to eight months, even after bathing, swimming and sun exposure.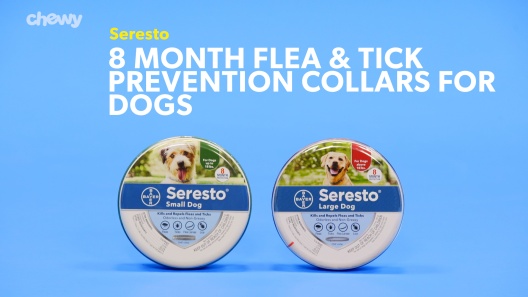 Learn More About Seresto From Our Team of Experts
Important Information
Fleas rise to the top of your pet's coat as they die, so consider it a triumph if you start seeing more fleas at first, after treating your pet. If you're still seeing fleas after application, it may be because your pet has picked up new fleas from the environment, which may include other pets, surfaces and outdoor areas. It may take up to 30 days to break the entire flea life cycle. Additionally, you should also treat sources of new fleas (i.e., carpet, yard, etc.) to ensure complete flea control.
---
---
Vet-Recommended Flea and Tick Protection
Help your dog lead the pack with long-lasting 8 month protection from Seresto. This easy-to-use, non-greasy, odorless collar kills and repels fleas and ticks for eight continuous months with daily wear, and can even help treat and control sarcoptic mange and lice. Get the performance you expect from a monthly treatment in an economical collar for convenient, effective protection.
Continuous Release for Long-Lasting Prevention
With Seresto, fleas and ticks are killed and repelled through contact, with no biting required. The active ingredients stored within the collar release in low concentrations with daily wear and distribute over your dog's skin and coat from head to tail for effective coverage. As the active ingredients wear off over time, the collar continuously replenishes the skin and coat with a new supply, for 8 continuous months.
Why Choose Seresto?
The veterinarian-recommended Seresto collar is non-greasy and helps avoid the inconvenience of applying monthly treatments. If fleas and ticks are repelled, they cannot bite and transmit dangerous diseases. It also helps to treat and control sarcoptic mange and kill lice. Seresto also doesn't interfere with your dog's regular collar and can easily be worn simultaneously.
Protection Your Pet Can Wear
Seresto brings convenience to every pet owner with lasting 8 month protection against fleas and ticks. Plus, Seresto works through contact which means fleas and ticks don't have to bite for the active ingredients to work. It's also available without a prescription, so it's just one less step to take care of.
A Little Water Never Slowed You Down
Seresto is water-resistant and remains effective following a shampoo treatment, swimming or after exposure to rain or sunlight. Under normal conditions, effectiveness lasts for 8 months. In order to maintain an eight-month duration, dogs must not be bathed more than once per month. For dogs that swim once a month or more, the control duration is reduced to 5 months for flea control and reduced to 7 months for tick control.
About Seresto
Seresto is manufactured by Bayer, a leading name in the healthcare industry for over 150 years. Seresto kills and repels fleas and ticks for eight continuous months in one easy-to-use, non-greasy, odorless collar. It effectively kills fleas and ticks and is veterinarian-recommended, so you can feel confident knowing that your pet is getting effective protection.
Shop Seresto
---
Questions & Answers
72 Customer Questions
---
How do you loosen a collar that has become to tight
Answer by • Dec 19, 2018
Seresto is designed with a safety release mechanism. A hard pull causes the ratchet-release mechanism to allow a widening of the collar.
---
Does it work on dogs with long thick hair?
Answer by • May 03, 2018
The active ingredients within this Collar spread from the site of direct contact over the skin surface. In some cases where a pet has a very thick coat, it is recommended to trim their fur so that the Collar has more contact and the ingredients are able to be absorbed.
---
Does this collar kill mites too?
Answer by • Aug 04, 2017
The active ingredients protect from fleas, ticks, and lice. Mites are in the same family as ticks and may be controlled by this collar, but this is not a specified function of the Seresto collar.
---
Is Seresto by prescription only?
Answer by • Feb 20, 2018
A prescription is not required for this collar.
---
---
---
By Sara on May 8, 2022
No change, not worth the cost
I have a German shepherd and a large pit bull mix. We saw A flea on my white short haired dog and bought these to try. The collar claims to kill live fleas and prevent future fleas. I checked my dogs over and flea combed them to only find one on each dog when we placed the collars on so not a huge infestation. We are now on day 3 of use and I have found an additional 2 fleas on my short haired dog and 1 on my long haired. I ensured the collars were snug and fitted as the instructions call for. They have not gotten wet or been damaged in any way. My poor shepherd is digging and digging. I will be buying another product immediately but wanted to give everyone a heads up to save their money!
---
By LeosCrew on May 13, 2022
Nothings Perfect
I was very excited when I heard about this product, ordering it within a week. A collar for my pup that keeps critters off him for 8 months, and under $100? Well, if he gets wet more than once a month (I have a swimmer) then the collars lifetime downgrades to 5 months. Furthermore, even after 2 weeks of wearing the collar I've removed a handful of ticks from him. Less than before the collar, and they are looking more stiff and frozen, but I'm still searching him for ticks daily. So yes it works, but not as originally advertised to me. We'll see how things progress month by month.
---
By FurMama on May 14, 2022
Wonderful Product
I love seresto collars! The upfront cost is a big chunk for a person with an average income, BUT, in the long run it saves sooo much money! No multiple cost of flea drops or having to remember to apply. Also, if your pet does get fleas there's the cost to get rid of the fleas! Not to forget the aggravation and mental/emotional stress getting rid of fleas can be. With seresto collars you don't have to worry about any of that!! So yes a big cost upfront, but wonderful for the apply and go.
---
By Shaggy on May 10, 2022
Not worth it
These things have been awesome in the past the last one I bought a couple of years ago did not work so i said that i would not buy another 1.... But I noticed my dog with fleas early this year and I figured what the heck maybe I got a bad one... Nope not the case I've had it for about 5 weeks now and my poor baby still has fleas... Even with giving a bath once a week... Yes I take it off and wait for her to drive before I put it back on... Sad to sell such a product that doesn't do anything for so much money..
---
By Seresto on May 4, 2022
Dogs still had fleas
We've been using Seresto collars for over a year with no issues, but after a mild winter (even for south GA) the collars did not keep the fleas off our dogs. I purchased brand new ones and after 2 weeks the dogs were covered in fleas. I had to go to the vet and buy chewable flea preventative - which was not cheap, especially after just paid for the Seresto collars. Maybe they would work better in a colder climate, but we will not be getting them again. Not sure what I'll do with the extra one I have (we have 3 dogs, so we bought 2 2-packs and thus have one left over)
---
By Andrea on May 10, 2022
Don't use- would give 0 starts if I could
About a week after using this product, one of my dogs started doing this weird thing with her tongue. After reading reviews for the collars, I took it off and gave her a bath. She isn't doing it as much; however, from other reviews can take several days to get out of their system. Simply not worth the small savings. I'm going back to Brevecto. I never had these problems with that brand. The Soresto collar has ALOT of really bad reviews that I SHOULD have read into before I put on my dog!
---
By FurBabyMomma on May 9, 2022
Dog Diggity
We love the Seresto collars! It's worth the cost and then some. The one thing I would like to see happen is to make the collar easy to remove and/or adjust. The way the collar is currently designed, it tends to be very cumbersome and difficult to adjust. They should make it more like a traditional collar where it works just like a belt. Other than that, there's nothing else that comes close! We're true through and through team Seresto!
---
By BoxerMom on Apr 16, 2022
Undecided...
I wanted tick and flea protection as it's getting warmer, we hike frequently, and he visits with other dogs who occasionally have fleas. My dog(Tater) has not had any fleas before the collar, but we have found ticks crawling(not attached) after hiking. This collar was recommended to me by our breeder and our vet. I read the instructions in the container, applied the collar, made it snug, clipped the excess and applied the reflectors. He scratched off one of the reflectors almost immediately, the other two have stayed put. I have yet to notice any fleas on him, but found a tick attached under his neck/muzzle area after a little over a week of wearing the collar. I do daily tick checks, since we hike frequently. I'm curious to see if I find anymore attached so close to the collar. I was really hoping this would prevent them from tick bites.
---
By TheBoykinLady on Apr 30, 2022
Seresto is a huge win!
This collar was a game changer for us. Nothing was working for ticks and fleas 7 years ago in Eastern North Carolina. We tried this, on the advice of our veterinarian, and haven't looked back. We moved to North Florida 5 years ago and as long as I replace them every Spring,we have no issues. I don't have to worry about dumping 30 days of chemicals into my dogs system, orally or topically, all at once. Seresto is a slow release, low dose, collar.
---
By dogcrazy on May 13, 2022
Don't Buy for Large Dogs
This spring I recently purchased Seresto for my 70lb German Shepard & was hoping it would repel & it seems like he hasn't itched from fleas & I haven't had any in my house, although I just found multiple ticks on him & some were fat. Grrrr!! I live on a farm & wont be purchasing again! Im so disappointed! I'll continue purchasing Nexguard!
---