SmartyKat Chickadee Chirp Electronic Bird-Sound Cat Toy
---
About This Item
Activated by touch, so this chirping chickadee will burst into sound with every swat of your cat's paw
Mimics real bird sounds for added stimulation
Satisfies the instinct to hunt and mimics the unpredictable sights, sounds and movement of a cat's natural prey
Filled with potent catnip to make this toy extra enticing and is refillable for long-lasting fun
Guaranteed safe for pets and fulfills your cat's complete need for hunting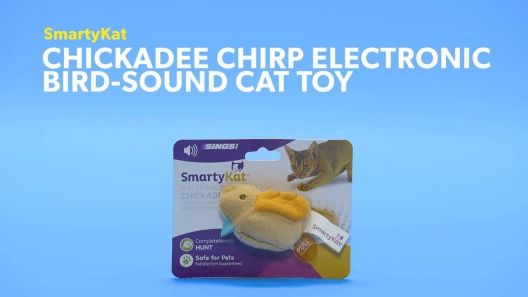 Learn More About SmartyKat From Our Team of Experts
---
Compare Similar Items
| | | | | | |
| --- | --- | --- | --- | --- | --- |
| | | | | | |
| Customer Rating | | — | — | | — |
| Price | | | | | |
| Toy Feature | Electronic, Catnip | N/A | N/A | N/A | N/A |
| Toy Type | Chasers | Chasers, Plush Toys | Chasers, Plush Toys | Chasers | Chasers, Plush Toys |
| Material | Polyester | Polyester | Plastic | Plastic | Polyester |
| Lifestage | Adult | Adult, Puppy, Senior | Adult, Puppy, Senior | Adult, Puppy, Senior | Adult, Puppy, Senior |
| Pattern | N/A | Solid | Solid | Solid | Solid |
| Breed Size | N/A | Small Breeds, Medium Breeds, Large Breeds | Small Breeds, Medium Breeds, Large Breeds | Small Breeds, Medium Breeds, Large Breeds | Small Breeds, Medium Breeds, Large Breeds |
---
Questions & Answers
8 Customer Questions
---
How do you turn it off?
Answer by • Sep 20, 2020
This toy is motion activated. To turn it off, place it out of reach from your pets in a spot where it wont move until the next session.
---
Does this toy come with batteries & what size batteries
Answer by • Dec 17, 2020
This toy includes 2 batteries. The battery in this toy is not replaceable. The expected battery life in this toy is 10,000 activations, so remember to turn it off when it's not being used.
---
Are these toys made in China?
Answer by • Sep 05, 2017
The SmartyKat Chickadee Chirp Electronic Bird-Sound Cat Toy is made in China.
---
what catnip is being used in this toy? My cat loves this toy, but doesn't like any catnip that I bought him so far.
Answer by • Mar 30, 2021
SmartyKat Organic Catnip is used in this toy.
---
---
---
By 3kittymomma on May 6, 2022
Loud and Scares them
I bought this because I thought the cats would have a blast with it. We have three cats ages 16, two, and almost 1. The youngest one is absolutely terrified by this toy and the other two don't like it either. I think it's simply just too loud but every time I tap it he goes running in terror and hides for quite some time before he'll come out again. I suppose if you have a cat that likes toys that make noise and they don't mind very loud sounds than this could be fun for them but none of my three care for it at all. I'm glad it was only four dollars I won't feel guilty tossing it in the trashcan.
---
By Cubbiethecat on May 12, 2022
Apolitical tweets
When I first gave her this toy and it sounded off she kept looking up, because that's where a bird should be, once she got over that disassociation she did enjoy tossing it around. After several months it's still a "go to" toy for brief play periods. The sound and catnip scent keep her interested. I imagine there's a small battery to power the chirp but it has shown no sign of depletion and there's no way to replace it anyway, just as well.
---
By Jamie on Apr 17, 2022
Elderly cat's favorite!
Got this little guy for my mom's elderly cat. Wasn't expecting much because she's never much for toys, but she reacted well to one of my guy's toys that squeaks. Certainly wasn't expecting this little old lady to start acting like a kitten! It's the only toy she's really taken to. She bats and toats it around the house and it's honestly just adorable. She's had it for MONTHS at this point and it still gets some play time when she's in a mood. The sound is like an actual songbird (not a squeak or chick chirp) and a good size for her to carry. Part of the reason we think she likes it is because she was originally a stray that was rescued as an adult, so it might be a good fit for a similar cat too.
---
By Dawn on May 5, 2022
PITIFUL Chirp
The chirp can only be heard by bionic ears! I got this and the chicken toy that chirps. The chicken toy is loud enough that not only can I hear it, but other cats come running when being played with. The Chickadee Chirp can only be heard if you literally hold it right next to your ear! (and even then it's barely audible!)
---
By Bird on May 15, 2022
Chirping Bird doesn't chirp
I bought this because my cat loves stuffed toys that squeak or chirp. This one makes no noise, even after removing the plastic piece. So she has no interest in it at all. I hope it's just a fluke because I really want to try another one. Squeaky toys are her favorite.
---
By Ales on Apr 17, 2022
Cats loved them.
I purchased 2 that were similar and both cats loved both of them. They played with them exclusively for over a week, which is beyond their normal attention span. Truthfully though, they did love the other one slightly more, I suspect because this one doesn't have the bright feathers. But it's chirp is a much better in volume. Not too loud, like the other one.
---
By Hailey on Apr 1, 2022
Cat loves it
First one I got was defective, and didn't sound when I pulled the tab, Chewy was nice enough to send me a replacement, which at first didn't work, but when I threw it to the ground, it started working and my cat immediately took notice and pounced. Carried it around the house, betting it around. The sound can get irritating, especially if it's night time and you're sleeping, otherwise, I knew my cat liked toys that made sounds and he definitely loved this one!
---
By Flora on Apr 8, 2022
Non-chirping chickadee
Nicely made but cat wasn't very interested so I guess it wasn't smelling much of catnip when it arrived. It has also never chirped so was defective before sent as the packaging was not damaged. If it chirped I could write a different review. I put catnip on it so it is just like the other cheaper toys but bought it for the chirp so not impressed.
---
By Chimom on May 2, 2022
My chihuahuas LOVE these chirpies!
Each of my babies have at least 1 chirpy under their bed, in their stash of favorite things (sticks, chewies, etc) <3 .. My husband and I laugh when we hear one chirping in the middle of the night.. We know someone is checking on their treasures..
---
By CritterMom on Apr 4, 2022
Daily Workout
After 12 rescue's breakfast, I remove this FUN Chirp Electronic Bird-Sound Cat Toy from the kitchen drawer where it is stored overnight enabling you to get some sleep. ALL the cats and kittens love this stimulating bird and it serves to provide the daily "workout" an indoor cat needs so to help keep weight under control. Remember to pick up before going to bed, though!
---