Suitical Recovery Suit for Cats
By Suitical
---
About This Item
Comfortable, stress-reducing alternative to the traditional cone is recommended by vets.
Snug fit with rear fastening prevents the pet from wiggling out, and allows for normal litter box use.
Covered areas are kept clean and dry, which prevents bacteria and dirt from causing an infection.
Made from a non-toxic, breathable, 4-way stretch fabric that is machine washable for reuse.
Allows air to circulate around the wound for healing, with built-in pockets for gauze pads.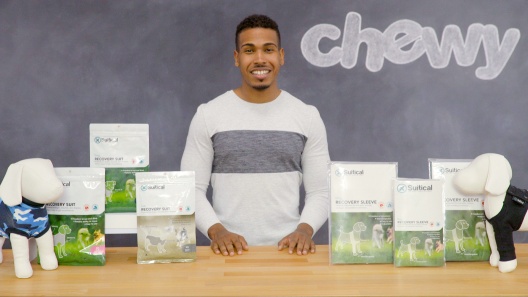 Learn More About Suitical From Our Team of Experts
---
---
Questions & Answers
26 Customer Questions
---
Would this be good for my cat who has open sores from scratching her skin raw?
Answer by • Nov 07, 2017
This product is designed to keep a tight hold on your kitty's skin, it won't keep claws out though.
---
DOes it come in ANY other color? my kitten is a girl and not exactly the camo type.
Answer by • Oct 04, 2017
This suit is only available in one color.
---
Would this be okay to leave my cat in after being spayed when I go to work?
Answer by • May 03, 2019
We'd recommend supervision the first couple of times wearing the suit to see if your cat will be comfortable if left alone.
---
How do I know I did not put it on backwards? Does the tag inside go on the back like human clothes?
Answer by • Mar 23, 2018
The best way to tell this item is not on backwards is that the leg holes are all facing down and your pet steps into the suit.
---
---
---
By Zebra on Apr 27, 2022
Lifesaver!!
My cat was spayed and the vet put one of those plastic cones on her. She took it off three times within 2 hours at home. I took her back to the vet they provided one of these vests similar to the one I just bought here and the cat was much more comfortable. So I ordered the one on chewy and she wore it for 2 weeks and loved it. It's perfect because you do not have to take it off for them to go to the bathroom. They can eat freely without wrestling the cone. I don't know why the veterinarians don't recommend these up front. If any of my other cats have to have surgery I'll definitely be buying this item again.
---
By Bethlovescats on Apr 21, 2022
Much better than the cone of shame!
My cat had one of her kidneys removed and needed to be prevented from licking incision that ran the whole length of her underside for 3 weeks. She hated the cone and so I purchased this recovery suit. I followed the measurement guides listed and ordered the XXS. It was too tight to be comfortable. Chewy was amazing about sending me the next size up and no extra charge. The XS was too big but did the job. It took my cat about a day to adjust to the suit but after that she was so much happier. It was easy to get on and easy for her do all her daily activities in without being able to lick her incision. My only critique is that I wish there had been a size in-between for her. Highly recommend.
---
By Vest on May 14, 2022
Best Vest Ever
My little girl Dolly was a stray that I picked up. Of course she had to be spayed, but I wanted her to be as less stressed as possible. I couldn't find anything for her to wear besides that awful neck comb, until I saw this surgical vest. It was heaven sent for Dolly. I am also so pleased with the delivery time when I order items from Chew. Chew is this best online store in the world.
---
By Rachel on Apr 5, 2022
Tumor removal on nape of neck, perfect for unusual surgical site!
My cat, Sabrina, had to get a tumor removed from the nape of her neck, which made finding a recovery option harder than usual. The vet recommended a turtleneck sweater, something to cover her neck without irritating it. I did a fair amount of research before stumbling upon this. I highly recommend this for just about any post-op recovery. It covers just about everything and doesn't get in the way when she needs to use her litter box. She's not a fan, still walks around like a marionette, but it serves its purpose well! Sizing advice: my girl was in between x-small and small. I ordered both and tried them on before her surgery. Definitely recommend sizing down if in between sizes, like they recommend on this site. Bonus: Vet staff thought she looked very cute in her suit! -I agree :)
---
By Kathie on Apr 11, 2022
Great alternative to a cone
I bought this suit after my cat ate something that caused an intestinal blockage and had to have surgery. We tried the cone, but it was way too easy for him to get off and he wouldn't leave the incision site alone. This suit saved my sanity, because there is no way he can get to the incision now. It also protects the incision area from being exposed and potentially irritated. I'm not a cat but I have given birth (to a human) and it seems like the lined pocket area would provide nice support while the muscles heal too. I am writing this review 15 months after purchase because the cat ate ANOTHER item that caused an intestinal blockage AGAIN. Already having the suit relieved a lot of stress with the recovery this time, because it was one less thing I had to worry about. The cat is 12 pounds and I bought an X-small, which fits perfectly. I am eternally grateful to the makers of this suit so I don't have to supervise my cat 24/7 to keep a cone on or stop him from licking the incision while he recovers. I really hope this is the last time we have to use it though!
---
By Cece on Apr 18, 2022
Had my little Calico Evangeline spayed
The item was so wonderful after her surgery the poor baby was still able to get around the pillow neck cone to her belly. The Suitical had an opening that was easy for her to use litter box, but overall it was apparent that she is not a clothing cat lol. no signs of skin/ wound irritation while wearing. So, as always chewy to the rescue. They had what my kitten needed and it fit well, slightly restrictive but she is quite slippery so it was necessary. Did remove a few times a day for full body scratches and some grooming. Is now back to her zoom zoom self with siblings.
---
By HappyInLA on Apr 21, 2022
Love this suit!
Took my 5 month old kitten to be spayed. The plastic "cone of shame" did not fit on her tiny neck so I had to find an alternative. This recovery suit worked beautifully. She still had freedom to run around, play, and use the box. I even recommended it to a friend who's large dog had surgery. If my older cats ever have surgery and sutures need to be protected, I will buy this again. Wish it came in other colors/patterns.
---
By Addison on Mar 27, 2022
Super Suit for Kitties
I followed the measuring instructions and bought according to the size chart. It came quickly and when I first put it on Addison she fell to the side unmoving and looked pitiful. I was then afraid that it didn't fit and reached out to the company direct to see if I needed to exchange it. I found out with their help that it did fit, she just hated it. Well, too bad for Addison! I put it back on her after her spay and she wore it for 10 days. She ran, played, ate, and used the litter box perfectly fine and healed better than my other kitties who previously had cones.
---
By Noahcat on Mar 26, 2022
Small is too big for my 1 year old cat
I found a kitten... tiny.. starving last year. I figured she was 4 or 5 months old... took her to Vet. She's a year old. But has small organs and didn't go into heat until 13 months old.. that is late. She's delayed due to outside conditions and lack of food but making up for lost time now. Need to spay her..hoping this garment would cover the stitches .. but it's 2 or 3 sizes too big. Will donate to a shelter. Maybe good for a small young dog.
---
By PAFarmGirl26 on Feb 20, 2022
I Like This BUT...
For a female cat getting spayed this would be my personal choice, however, you need to be able to wash it regularly so you either need multiples or another form of protection for the surgical site. I had no issues with sizing like people mention in the reviews and for a male cat getting neutered this wouldn't do anything. I had no issues with my female kitten using the litterbox with the Suitical. The major downside is the cost for owners that only need it once. I'm going to donate this to a rescue once I'm done with it, the cost isn't an issue for me but needing multiples would be prohibitive to a single pet owner so this would be perfect for rescues or foster homes that have multiple cats that need surgery routinely.
---