Super Bird Creations PVC Forager Bird Toy, Large
---
About This Item
Made from natural materials, this multi-textured toy gives your birdie a lot to explore!
Different textures bring physical and mental stimulation to your birdie as he climbs, perches, explores and chews.
Great for medium to large parrots including Small Conures, Quakers, African Greys, Small Amazons, Mini Macaws and similar sized birds.
Destructible toys satisfy a bird's instinctual drive to chew and promote good beak health.
Assembled in the USA with bird-safe materials you can trust.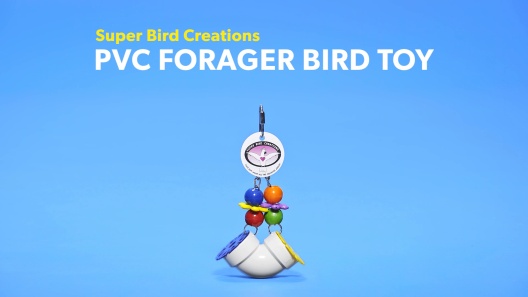 Learn More About Super Bird Creations From Our Team of Experts
---
Compare Similar Items
| | | | | | |
| --- | --- | --- | --- | --- | --- |
| | | | | | |
| Customer Rating | | | — | | |
| Price | | | | | |
| Bird Type | African Grey, Amazon, Cockatoo, Macaw, Conure, Parrot, Quaker | African Grey, Macaw, Cockatoo, Amazon, Parrot | African Grey, Amazon, Cockatiel | Budgie, Conure, Amazon... | Budgie, African Grey, Amazon... |
| Material | Plastic, Chain, Coated Metal, Metal | Plastic, Coated Metal, Metal | Plant Material | N/A | N/A |
| Toy Type | Chew Toys | Chew Toys | Chew Toys | Chew Toys | Chew Toys |
---
Questions & Answers
5 Customer Questions
---
Could I put treats or food in this for my rat? Unless something on this item could be harmful if chewed, I feel it would be fine.
Answer by • Jun 11, 2018
This product is not intended for small pets. This toy is great for medium to large parrots including Small Conures, Quakers, African Greys, Small Amazons, Mini Macaws and similar sized birds.
---
I have a destructive cockatoo. I am looking for something to keep her busy for more than a couple hours. How is the quality of this product? How long would this toy be expected to last? Do you have any recommendations for high quality bird toys that will last for a while?
Answer by • Jan 07, 2019
Since this toy is made out of plastic, chain and coated metal, it'll last longer than wood toys. However, destructible toys satisfy a bird's instinctual drive to chew and promote good beak health. The amount of time the toy would last depends on your bird's habits.
---
Where is this product made
Answer by • Apr 02, 2020
This toy is proudly assembled in the USA. While Super Bird Creations gladly source as many components from the USA as possible, they also source parts and materials from other regions of the world like seagrass, vine balls, coconuts, balsa, plastic toy components and hardware. Many things they need to make their toys most interesting to birds are just not produced in the USA. They strictly control the sources for these materials to ensure that our products meet our safety and quality standards as well as to deliver value to their customers.
---
Could this toy be used for a cockatiel?
Answer by • Mar 26, 2019
This bird toy can be used by cockatoo's and cockatiel's.
---
---
---
By LTWeezie on Apr 3, 2022
TAZZIE LOVES THIS!
Tazzie, my Citron-Crested Cockatoo, loves toys...unfortunately they don't last long. I have been buying human baby toys and they see to last longer than most bird toys. He goes through wooden toys like a chain saw. So far so good on this one! SO GLAD you have bird supplies as well as four-legged kid toys !
---
By thiagosmom on Mar 4, 2022
Love this!
Great addition to my Conure cage. My bird was very interested in this toy right away and he loves opening the foraging doors to discover what I have tucked inside as a surprise. The doors are light plastic discs that lift away easily on the rings, but the PVC elbow is thick and heavy. Sturdily built and a nice substantial size, so it swings a good bit during play - highly recommend if you have a medium or large bird.
---
By BuffsMom1 on Feb 7, 2022
She loves it
Mine lasted for a while with an African Gray it still even works to this day even though she's nipped the edges away from the yellow. I'm buying her another today and hope the go back on sale soon
---
By Evey on Dec 24, 2021
Great toy for birds
My conure LOVES this toy! She uses it as a foraging toy but also she likes to spin the beads on top and I frequently see her hanging upside down with her feet clinging to the metal chain. I wish the flaps were more durable and easy to replace. I got this toy 2 months ago and the plastic is worn down in places. My girl would be devastated if she lost her favorite toy so I will be getting a new one soon.
---
By 1Brunobaby on Sep 4, 2021
Not worth money
This toy lasted my umbrella cockatoo less then a day. I wanted to get her something new to play with but this didn't work out at all.I wouldn't recommend this toy .
---
By Adrianna on Oct 15, 2021
Foraging toy
Not as big as I imagine a large bird toy would be but she is playing with it happily.
---
By Lizag on Jul 29, 2021
Parrot Forager Toy
This toy states it is for medium to larger parrots. Other then the PVS pipe the rest was destroyed in one day by my African Grey. Thought it would last a little longer by the description
---
By Steph on Apr 2, 2021
Great for our Caique!
Cai absolutely loves this toy— she lifts the side parts up with her foot and sticks her entire head in to forage for treats. Great for enrichment, but it also doubles as fun for play. She likes to hang upside-down and attack the beads on the top.
---
By Holly on Apr 10, 2021
CAG has fun
My Congo African Grey loves this toy. I thought it would be too easy for her but it's a challenge to try and hold the disc up at the end and reach In for her treat.
---
By TeriC on Mar 29, 2021
Our Mitred Conure loves this
Although he was not amused when I switched his peanut supply from his bowl to this toy to make him work for it a bit! Good quality product that can be cleaned easily!
---