ThunderCap Calming Cap for Dogs
Frequently Bought Together
---
About This Item
Behavior management aid designed to lessen a dog's anxiety, fearfulness, or aggression in high-stress situations
Helpful during vet visits, encounters with other dogs, grooming, car rides, walks, and travelling
See-through, single-panel sheer fabric reduces provoking visual stimulation but allows ample vision for your dog to confidently maneuver around
Soft fabric and elastic fit for maximum comfort
Two adjustable straps for easy on/off and a custom fit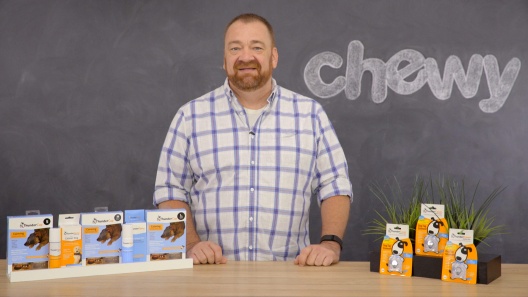 Learn More About ThunderCap From Our Team of Experts
---
Compare Similar Items
| | | | |
| --- | --- | --- | --- |
| | | | |
| Customer Rating | | | |
| Price | | | |
| Breed Size | Extra Small Breeds, Small Breeds, Medium Breeds, Large Breeds | Large Breeds, Small Breeds | Extra Small Breeds, Giant Breeds, Small Breeds... |
| Closure Type | Pullover | Slip On | Buckle, Slip On |
| Lifestage | Adult | Adult | Adult |
| Health Feature | Calming | Calming | Calming |
| Top Ingredients | — | — | Analogues of Dog Pheromone 5%, Inert ingredients 95%. |
---
Questions & Answers
9 Customer Questions
---
How do I measure my dog to get the correct size?
Answer by • Aug 01, 2017
You'd need to measure the snout circumference and the distance from eyes to collar. Under the size tab is all of the measurements on the items page.
---
Would like to know the country of origin (where made and manufactured) for the "calming cap"
Answer by • May 20, 2020
ThunderCap Calming Caps are manufactured in China.
---
Can the dog see through it?
Answer by • Jul 10, 2021
The calming cap reduces the visual stimulus that can make a dog agitated by filtering his/her vision. Your dog will still be able to see, and can easily navigate their surroundings, however the sheer fabric reduces the amount of light / visual stimulation your dog receives, helping them to remain calmer in stressful situations.
---
Can a dog eat treats while wearing this cap?
Answer by • May 26, 2018
Pets will be able to eat while wearing this cap.
---
---
---
By mrosez on Oct 27, 2022
great training tool!
My 2yo Pitt mix has become more and more reactive over the past year or so and nothing was working or helping, until this cap! It hasn't "cured" him, but with this cap and a bunch of positive reinforcement he has improved SO much. He went from lunging and barking incessantly at any dog that walked by to just lightly whining if he even notices the dog at all. Highly recommend!!
---
By Kerrie on Sep 22, 2022
the best for reactive dogs!
My dog reacts badly to every dog we see on a walk. She has major anxiety when walking, her head going back and forth always looking around for something to bark at. She is also very scared. Once she was trembling by a leaf that blew by. Anyway, she is so relaxed on walks with this and we can even walk by other dogs at about 25-30 ft away and her not realizing. What a game changer!
---
By LGiff on Sep 11, 2022
Wow!! We can leash walk on our street again!
Our ten year old spaniel has been a reactive dog all of his life. He barks and screams whenever another dog is in sight while on his leash. I can slip this over his eyes and he passes dogs feeling comfortable and without any reactive stress barking. Great product!
---
By Dawn on Mar 11, 2022
Ok for aggressive dog
I bought this for my very reactive dog as a tool (in addition to thousands of dollars of training) to stop her from seeing/reacting to dogs on walks. It does work. She doesn't mind wearing it and normally she hates anything I put in her. She can still see out of it but just not as good. The only issue that I have with it is that it doesn't allow for panting. She can only open her mouth a very small amount so it's not practical for what I really need it for but I guess it's fine for dogs that are in a calmer state/not panting.
---
By Nathan on Apr 2, 2022
Life-changing
I have a very large (about 115 lbs.), very reactive dog. I live in a dense city and walking him had been highly stressful - he'd freak out whenever he saw a dog, rat, squirrel, etc. In the week or so that I've had the thunder cap, I've had zero issues. Going for a walk no longer fills me with stress!!
---
By Rhonda on Feb 7, 2022
Absolutely fantastic
I bought this for my dog that absolutely hates being groomed. If he can see the brush or nail clippers coming his way he throws a fit! I tried this thunder cap to cover his eyes and it was absolutely amazing! Worked like a charm! He was calm the entire time and let me brush and clip his nails without a problem! Highly recommend!
---
By Donna on Nov 22, 2021
Nope. Poor execution make this thing UNUSABLE
I measured my dog and ordered accordingly. However, the elastic that goes around her muzzle fits MUCH too tight. The part that goes over her head will NOT reach a regular collar without pulling too tight over her eyes. I could use it with a collar fit right behind her ears, except that piece is also too wide for her and pushes her ears out to the side. [That's the kind of thing that will make it unpleasant for her to wear this despite any amount of conditioning I will do.] The designers also made very much the wrong choice in the way that the velcro is applied. If you need to leave part of the velcro uncovered (for example, in order to reach the collar it is supposed to attach to), the exposed "aggressive" portion of the velcro is going to snag on and ruin any and every piece of fabric that it touches (including the cap itself). What a shame. Overall, I do not think this thing is worth the amount of money that it costs. I might be able to use it, but that will require a lot of labor from me to modify it to work properly. I don't have time for that and needed to start conditioning the item for use ASAP. And the issue with the velcro really stinks. P.S. to CHEWY: Why in the world won't you allow extra carriage returns in these reviews?!
---
By Kate on Oct 31, 2021
Enjoy Car Rides Again!
Our recent rescue dog Bentley reacted to seeing other dogs while riding in the back seat. Whether they were being walked on a sidewalk or riding alongside in a car Bentley would pounce on the window, bark aggressively, and run and spin on the seats. At 80 lbs, he was uncontrollable and unsafe to the driver. We tried seatbelts, positive reinforcement with good behavior, and brisk walks to wear him out before getting in the car. Nothing worked. We even thought of blocking out the windows but he would still be able to look through the windshield! We talked to our trainer and she suggested the ThunderCap. What an amazing difference! He doesn't seem to mind it and he's still able to look around and remain calm.
---
By Tayham on Jan 28, 2022
Useless for dogs with anxiety
My dog had this off in 30 seconds. It did nothing to help calm her down, and may have even added to her anxiety.
---
By SatoMama on Sep 16, 2021
Miracle Mask
After spending thousands of dollars of training on my dog-reactive 4 year old rescue pup, this is the only thing I have tried that made a meaningful difference. I was close to tears from sheer pride in my dog's success. I feel like I have a different dog.
---