Tiger Tough Platform House Playground 59.8-in Faux Fur Cat Tree & Condo, Grey
---
---
Try This Similar Item By Chewy
---
---
About This Item
Deluxe cat tree playhouse provides nearly five full feet of fun for your feline friend to explore.
Soft, plush carpet covers the five platforms in luxurious lounging comfort; available in two neutral colors to match any décor.
Three sisal-wrapped posts let him stretch and exercise his claws, an instinctive behavior designed to mark territory and reduce stress.
A fuzzy ball on a spring-y wand and a hanging plush ball provide added fun and entertainment.
A comfy and cozy hide-away house on the second level provides added privacy and security for a peaceful nap.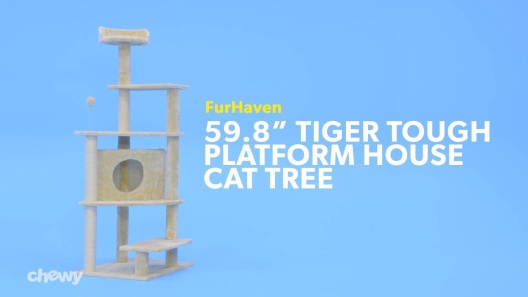 Learn More About Tiger Tough From Our Team of Experts
---
Compare Similar Items
| | | | | | |
| --- | --- | --- | --- | --- | --- |
| | | | | | |
| Customer Rating | | | | | |
| Price | | | | | |
| Cover Material | Faux Fur, Sisal, Plant Material, Synthetic Fabric | Faux Fur, Sisal, Plant Material, Synthetic Fabric | Faux Fur, Sisal, Plant Material, Synthetic Fabric | Faux Fur, Sisal, Plant Material, Synthetic Fabric | Faux Fur, Sisal, Plant Material, Synthetic Fabric |
| Furniture Features | Condo, Hanging Toys | Condo, Hanging Toys, Anchoring Kit Included | Condo, Hanging Toys, Removable Bed, Anchoring Kit Included | Condo, Hanging Toys, Removable Bed, Hammock, Anchoring Kit Included | Condo, Hanging Toys, Hammock, Tunnel |
| Furniture Frame Material | Engineered Wood, Wood | Engineered Wood, Wood | Engineered Wood, Wood | Engineered Wood, Wood | Engineered Wood, Wood |
| Height Range | 60 inches to 69 inches | 31 inches to 59 inches | 60 inches to 69 inches | 60 inches to 69 inches | 60 inches to 69 inches |
| Tools Included | Yes | Yes | Yes | Yes | Yes |
| Number Of Condos | 1 condo | 1 condo | 2 condos | 1 condo | 1 condo |
| Furniture Mount Type | Free Standing | Free Standing | Free Standing | Free Standing | Free Standing |
---
Questions & Answers
10 Customer Questions
---
How do I get replacement posts (legs?) with scratching material... mine are gone but the rest of the tree is fine
Answer by • Mar 02, 2018
At this time, the manufacturer does not carry replacement parts.
---
Would this tower and tunnel support a weight and size of 17 pound cat?
Answer by • Nov 28, 2018
These cat trees have no weight limits; however, they are not intended for dogs or children. They are made to be very durable and sturdy to hold multiple cats.
---
How big is the top perch? How big is the enclosed part? My cat is 14#. Thanks.
Answer by • Nov 01, 2018
The top perch measures 12 length x 12 width x 4 height in inches and the cat house measures 13.5 length x 13.5 width x 12.5 height in inches.
---
Which dimension is the width?
Answer by • Dec 31, 2020
For all the dimensions of this cat tree, click the "Size" tab, next to the "Description" and "Instructions" tab, just under the product photos.
---
---
---
By Madison on Oct 22, 2021
my cats love this. 200% recommended!!!
I think it is very nice. The only problem I had was with the shaker ball. The part it was supposed to be screwed into was put on the wrong side but that's okay. More space for my bigger cat. They're both on it and scratching it all the time. I see people saying it wobbles, they probably just need to tighten their screws. You should definitely get this!
---
By Micky on Sep 14, 2021
Great for our large cats!
We have two cats, two big boys about 16lbs who use this tree. Puck, our tuxie, uses it the most. I was worried the little bed on the top would be too small but they can fit comfortably enough to sleep. The one thing I don't like is that the base is positioned in such a way that it won't sit flush with the wall the way I'd like it to, but it hasn't been a huge issue. We've had it for a year and as you can see from the pictures it's holding up very well.
---
By MarcoQueen on Oct 3, 2021
NOW THE BIG DOGS CANT REACH ME!
I had recently bought a German Shepherd Puppy. He was getting so tall, that he could reach the 16 yr old cat on the sofa. So, we ordered this to allow cat to get up high! Worked perfect and easy to assemble!
---
By Jean on Sep 23, 2021
Instructions
This is a good cat tree but do not follow the instructions. The written instructions are all wrong for the item. We followed the pictures and the picture on the box when we put it together.
---
By Heidi on Jun 11, 2021
Best Tree & Cat Condo Choice! Kitty loves it and designer snob seal of approval
I recommend the Tiger Tough Platform House Plaground 59.8" in Faux Fur Cat Tree & Condo to any cat owner resisting one because of personal home design tastes. It not only past my good design seal of approval, more importantly it will give your kitty everything it needs all in one. This cat tree & condo healed a street rescue into being a confident little kitty with tons of playing, sleeping, bird watching, and hunting time all in one. Read my mini essay (lol) to learn more about our experience ..... I resisted buying a cat condo for my beloved late cat, Manuel, for years. I had decided they were hideous, and my designer tastes were too good to have in my home lol! However, when my sweet little Lilah came into my life–a rescue kitten scared of everything and needing rehabilitation–I decided it was time to bring a condo into our home. Not knowing one month in if she needed to be high up or covered and low to the ground to feel safe, I found the Tiger Tough Platform House Playground had all of these elements. As far as design goes, it past my snobby designer tastes! The light grey covering with light ivory scratching posts, I found, complimented my neutral walls, red curtains, and maple dresser drawer. The perfect location was in my bedroom tucked into a corner next to a window. In this spot, she could peer out the window on the top shelf, play hide n' seek in the middle compartment, and hide comfortably on the floor bottom shelf keeping her eye on whatever little spider creature seemed to be there all night long! Additionally, since I put it in my bedroom, she found comfort sleeping in the same room with me on the top shelf. I found over time that it reduced her anxiety by being high, and built a strong relationship between us. We found that all of her stuffed toys piled on the middle shelf were the best location to not only keep our home tidy, but fun playtime. Lilah found she could hang over the above shelf and wickedly knock them all off. Over the years, she has found many ways to climb her way up to the top. Which there are several options from the creatively designed stair step method, to pulling herself up on the ivory ropes, or jumping from the bed to the top shelf. It was a wonderful feat to see her build up her confidence and finally make that first leap. The look of "I did it" that she gave me was priceless! It was easy and fun to put together, as well. After nearly 3 years, there shows no wear and tear, and has been easy to vacuum. Last but not least, this price can't be beat, and I did shop around. All in all, thank you Tiger Tough for making a great product that contributed to the healing and confidence building of my now 3 year old kitten.
---
By StephC on Mar 2, 2021
Good item BUT not the size they claim
Just got this and got it assembled ... it's a good cat condo, well built, easy to assemble if you've done these before. My big complaint is that the assembled size is NOT the 59.8"x23.6"x19.3" that's listed in the description and on the product itself. That's because two of the rectangular platforms are offset so they're angled in different directions (something that's hard to see in their photos). The ACTUAL footprint for this piece is more like 59.78x30"x31", which is a big difference if you're talking about a small space. There's no flat side you can place against a wall, and it definitely doesn't fit into a corner. We're currently trying to decide if we can saw off about 3" on one piece to at least get it a little narrower.
---
By Matthieu on Mar 29, 2021
Great tree with a few downfalls.
I ordered this back in 2018 and it has lasted pretty long. After 3 years, its wear and tear is certainly showing but it still holds strong. My only complaints is that it's a really odd shape and that the gaps between the house and tree are just a good enough size that my cat was able to get stuck between them. Likw, the size is great but the tiers are at different odd angles that it cant be placed flush with the wall which is horrible if you have limited space to work with. Absolutely great for the price though!
---
By AlbrowPets on Jan 5, 2021
Great Product For Price
I was hesitant to buy this only because my cat has never been a big fan of these sort of things. But within an hour of assembling it he made himself at home. It was easy to put together, it's sturdy (our cat is about 25lbs and it doesn't wobble at all), and the grey color fits in so well with everything else in our house you almost forget it's there. Our neighbors liked it so much they bought one for their cat.
---
By Regina on Feb 9, 2021
Loved it after a couple days!
It took my cat two days (and some cat nip) but he loves it now. He sleeps in it & also loves that he can run away from his brother. The little nook was smaller than I pictured, but he definitely likes it.
---
By Leasha on Feb 16, 2021
Great starter tree
Bought this tree three years ago, and it is still going strong! Be careful, because the base is square, not a corner piece, so it can be a tad awkward to place in a room. But the size is great, and my cats still love it!
---