Tough-1 Knotted Rope & Twisted Crown Training Horse Halter, Black
---
About This Item
A thin, sturdy rope head gear with a twisted crown and nose with knots at pressure points on the nose for better control during training
It's the perfect halter to lead your young horse on a trot or a walk
The secure hold helps to ensure your horse feels safe and can focus on various commands as well as stand still to be tied
It is medium soft and is sized for an average horse, but because of the design, it will fit a large range of horse heads
Measures 3/8" for extreme durability, even for the most stubborn horses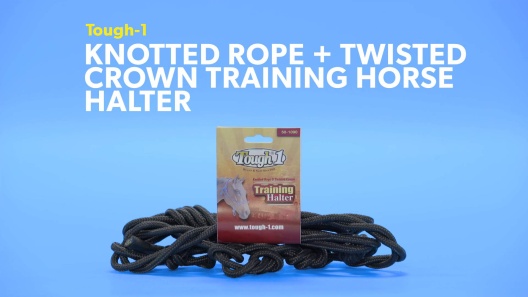 Learn More About Tough-1 From Our Team of Experts
---
---
Questions & Answers
4 Customer Questions
---
Does this come with the lead rope as well?
Answer by • Nov 06, 2017
This training halter does not include a lead rope.
---
Will this fit an average size quarter horse? 4yr +
Answer by • Feb 12, 2019
This Halter is sized for an average horse, but because of the design, it will fit a large range of horse heads. The halter may be adjusted.
---
Is this adjustable for different sized horses I have a pony mix and she has a small face will I be able to adjust it for to fit her
Answer by • Oct 24, 2019
The halter may be adjusted to fit a wide variety of horses.
---
Does it leave rope marks at all?
Answer by • Jun 04, 2018
This hater does not leave rope marks.
---
---
By ILoveTheCountry on Mar 6, 2022
As advertised
This halter was effective in training, fit well on my 2 year old quarter horse and is made of quality materials. I expect to get long life out of it because it's got slack enough to fit any size horse I might acquire.
---
By Nice on Sep 28, 2021
LOVE THIS!
One of my FAVORITE halters! I am always grabbing for this one when I need a halter. It is thick and sturdy. Knots on nose and twist on poll are also placed well so it will help teach a colt some respect. Very well made and I cannot recommend it enough! Buy a paracord lead rope (custom braided) when you purchase this (without a snap) and you will NOT have a horse break away from the post. I promise.
---
By Eddiethegirl on Jul 2, 2020
Nice training halter at a great price
This halter is well made and both twisted & knotted to provide touch where needed for training. It's a bit stiff out of the package but is softening with use.
---
By Kenzie on Nov 28, 2019
Highly recommend
Material was great and easy to tie, not stuff like some you buy other places
---
By RogueHorse on Jun 11, 2018
Hard to find training halter!
I am one of those people that actually enjoy groundwork and these 4 knot halters are great when you are working with a green horse. The knots help get their attention and this great price got my attention. Bought two! These are a great size to fit under a bridle when trail riding too
---
By meowzie on Aug 11, 2018
dissatisfied with
not worth sending back but i was not happy with the quality
---
By Robin on Mar 7, 2017
Made very cheap
The rope used is to flexible. Which makes it knot up to easy. In the area where you tie the halter if the horse pulls back it's over, you'll never be able to use it again. Where it tires, it becomes to tight to get the loop out. Also this halter is only good to have if you have a horse with a smaller face. The nose area is small and the loop where you hook your lead is very small. It's only good if you need to grab something quick that will just do. If you sale horses and you don't want your good halters to go with the horse it's good for that.
---
By BonnieSue on Feb 4, 2017
Great training halter
This halte worked great for training a spoiled pet. It puts pressure at all the right points. Just a few minutes and I had a balky horse moving when asked.
---