TRIXIE Natura Rabbit Hutch With Sloped Roof
Frequently Bought Together
---
About This Item
Made from solid wood with a weatherproof finish inside and out for years of use with little maintenance.
Non-slip ramp provides safe travel between the two levels, with a hatch door to restrict access when you want.
Wood paneling at the back protects against wind and there's a retreat area on the upper level.
Hinged roof with locking arm opens from above and the pull-out plastic tray offers quick and easy cleaning.
Features three doors and a metal slide latch.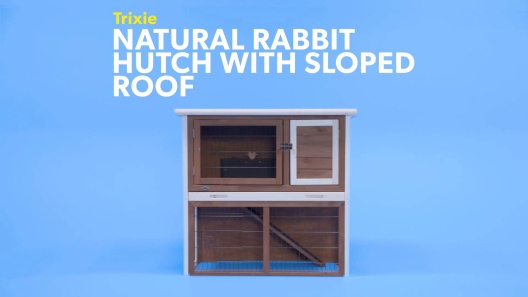 Learn More About TRIXIE From Our Team of Experts
---
Compare Similar Items
| | | | | | |
| --- | --- | --- | --- | --- | --- |
| | | | | | |
| Customer Rating | | | | — | — |
| Price | | | | | |
| Small Pet Type | Rabbit, Guinea Pig | Rabbit, Guinea Pig | Rabbit, Guinea Pig | Rabbit, Guinea Pig | Rabbit |
| Features | Removable Pan, Waterproof, Outdoor | Outdoor, Waterproof | Removable Pan, Waterproof, Outdoor | Waterproof | — |
| Material | Wood | Wood | Wood | Wood | Wood, Steel, Metal |
---
Questions & Answers
36 Customer Questions
---
Is there a bottom I can purchase for this hutch
Answer by • Jul 24, 2017
At this time the manufacturer doesn't make a bottom for this hutch since it's intended for outdoor use.
---
This looks like what I want for indoor use, but am concerned about the weatherproof treated wood, as my rabbit will be sure to chew on it.
Answer by • Dec 10, 2018
The sealer used on this containment item is a non-toxic human use grade water based coating.
---
What kind of wood is this made from? I have a bunny who has an allergy to pine
Answer by • Sep 13, 2018
Trixie rabbit hutches are made of glazed pine.
---
How long will this last?
Answer by • Jun 06, 2020
This hutch is made from solid wood with a weatherproof finish inside and out for years of use with little maintenance.
---
---
---
By Erjk25 on Jul 18, 2022
Bunny Hutch
Purchased this hutch because I needed one quickly. However it lacks a wire floor over drawer so that the bunny isn't sitting/standing in his own waste. For how quickly we needed a hutch it works but I am already modifying it to better suit our needs. It is also very lightweight and the bottom door latch seems to be very loose to the point I haven't let the bunny to the bottom portion of this hutch. Most likely will replace it with a better designed one.
---
By Annie on Aug 4, 2022
No wire in top section
There is no wire in the top section so there is no way for waste to fall through. Poor design. Not noticed until we put it together so no sending it back. I have never seen a bunny cage without a tray with a wire covering.
---
By Tori on May 24, 2022
Not the greatest
First off, if you're looking for an indoor hutch, you might want to reconsider this one, because it doesn't have a floor, so if you have hardwood or carpet, it's going to be ruined. I just put a bunch of puppy pads down. I literally JUST got this today, and I'm already not loving it. It's 'okay' in the sense that it's sturdy and it's a house for my rabbit, but definitely NOT worth almost $200. One of the wooden slats on the inside was broken and split right out of the box, so I had to glue it back and a whole pack of screws was left out, but luckily my dad had some spares of the same size. The pull-out tray is wood with a plastic inlay, and the inlay had become completely detached and I had to glue that back as well. The tray is also not as big as it seems in the video, but maybe that's just me. Like I said, it's a safe and secure house for my bun, so I'm grateful. Just, be aware of what you're buying. It's coming from Germany, which means it'll be handled a lot, and with that tends to lead to the product getting banged up. I also feel like the instructions could be a little clearer and more in-depth, but again, maybe that's just me. I'd send it back, but after the 3 1/2 hours of putting it together, it's not worth it.
---
By Makenzie on Apr 12, 2022
Poorly Made & Broken Pieces
I'm really disappointed with this product. I bought 3 of these hutches, that I received today & started putting them together. The first one was okay; it had some pretty big chips but it wasn't in too bad of shape. But the second one was a nightmare. The door to close off the ramp was broken off & the screws are missing. The piece inside that holds the dividing wall up was also broken. I'm going to have to buy wood to make the wall stay up. The second one was also much more unstable...the drilled holes to show you where to screw & put the wooden tabs didn't line up very well. The inside trays have gaps that the first hutch didn't. The final hutch's pullout tray would not fit nor slide into the hutch on the one side. I had to unscrew everything and make new holes to create enough space to fit it...even then it doesn't fit like it should. Overall, they are just poorly made and don't meet Chewy's normal amazing quality. I'll just have to try to fix the problems and enforce the hutches as I'm in a bit of a pinch & need something now. But I would not recommend them to anyone & will just build my own hutches from now on.
---
By Newbunnyowner on May 19, 2022
Meh you get what you pay for.
This hutch is stylish but very flimsy. The hinges on the top bent right away. (We put new door hinges on it) The wood is weak and when constructing, it split in many places. This hutch will be a short term fix until we can build something stronger.
---
By bubby on May 14, 2022
It was kind of smaller though than what I thought
I think it was a lot smaller than what I thought it would be in the top layer is really small and don't have a lot of room
---
By Buck on May 30, 2022
Rabbit hutch
Ok size for small rabbit but poop tray is plastic and no wire so bunny just walks in poop poor design
---
By Jennifer on Feb 10, 2022
Great for Netherland Dwarf!
I - an unskilled 42 year old woman - was able to assemble by myself. Has lasted a year so far. It's nice to be able to put down the trap door, to trap my rabbit, and scoop my rabbit up from the top, instead of opening a door and reaching through the cage. The side doors are convenient for my younger kids. They can open the doors and pet the bunnies.
---
By waffles on Feb 20, 2022
frizzier rabbit hutch
This rabbit hutch isn't very good at all very very cheaply made. After a month my rabbits had already chewed half the ramp and all the edges inside. This definitely won't last very long at all save your money and buy something better
---
By DenMom on Dec 30, 2021
Good but not great
I have two French Angora's that are fairly large as far as medium size rabbits go. This hutch is barely big enough for them. They are a long-haired breed and the openings are snug for them. They constantly rub the sides going to the second level and I had to cut the hole larger in the divider for them to pass through. It was still snug for both to fit up top, so I never use the dividers. It is made well enough. I actually keep my rabbits in a partially enclosed area as well as indoors. I do not see this being able to stand up well to exposure to the elements. I had to create a playground for the rabbits using a puppy playpen. This gives my rabbits room to stretch out and play. The reason I only give this a 3-star rating is because the tray for the upper part is deep enough, but it would be much better if it had a wire grate over the entire floor so poop could fall through to the tray and into some sort of litter which would keep the rabbits from being in peep and poop. I cannot use the shredded litter because of the length of hair of my rabbits. So it would also be nice if even Trixie made a waterproof and odor-controlling hutch pad for this model that could be used. I ended up ordering puppy pads, cutting them to fit, and sewing them up. It was a little bit of work, but it makes cleaning and managing the volume of poop and pee a bit easier. I also built a wire floor to assist with the management of the poop and pee in the upper part. The wire-grated floor allows the rabbit pee to pass through and onto the pellet litter. Thi sway the smell is better managed and I don't have to wash the pads as often. Plus it keeps the rabbits from eating the litter pellets. Still not a bad hutch, but I would love some of the mentioned accessories and upgrades.
---