Ultra Paws One Adjustable Pulling Dog Harness
Must enter code FALL2022 at checkout to redeem
---
---
Try This Similar Item By Chewy
---
---
About This Item
Ideal for pulling in light to medium activities such as skijoring, cani-cross, in-line skating, pulling a sled, bike or wagon
Padded through the neck and chest area with soft fleece for added comfort
Fully adjustable through the neck, back, chest, girth and belly for a great fit
Floating O-ring puts less stress on the dog's hips when pulling at an angle
Belly strap restricts the dog from backing out of the harness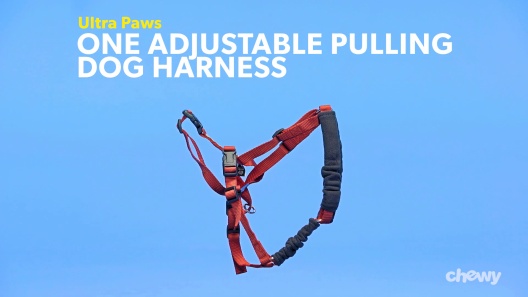 Learn More About Ultra Paws From Our Team of Experts
---
---
Questions & Answers
2 Customer Questions
---
Is there any harness padding?
Answer by • Aug 23, 2018
This harness is padded through the neck and chest area, with soft fleece for added comfort.
---
Could I use the back 2 rings and the front 2 rings to attach 2 dogs together?
Answer by • Jul 19, 2021
This harness is not designed to connect a dog to another.
---
---
By Kolin on May 5, 2022
Excellent, especially for extra large dog
Using to train my new adult Great Dane and it gives excellent control. He cannot pull me away with this harness, which is a big deal because he weighs almost 120 lbs!
---
By Bear on Dec 1, 2021
Great Product!
I ordered this harness, received it within a week n a half. I was happily surprised to learn that pretty much every piece is adjustable. It now snugly fits my St Bernard mix and we use it all the time!
---
By Chelle on Dec 2, 2021
These worked great
I purchased 2 of these, one for a 130 lb great dane and one for a 165 lb dane and they fit both perfectly
---
By dogmomma94 on Jul 28, 2021
Universal Harness
These are fantastic - I have had such a hard time trying to find a comfortable harness for my 120 pound German Shepherd (he's just a big guy). We've tried 10 other brands and this one is comfortable on him even with the belly strap. He's not a puller so not worried about the clips breaking due to his size. We got this for him to be comfortable and it passed! Thanks Again Chewy For Yet Another Awesome Product! Will be buying this for every dog in future if available!
---
By Lz97 on Jul 29, 2021
Sizing (medium-large dogs only)
Ordered a small and large for my dogs. Small was a good fit for my heeler (50lbs) and large fit my deep chested gsd (85 lbs) with room to spare. I don't think small would work very with dogs under 40 lbs.
---
By Harness on Jul 11, 2021
Great for Pulling Dogs
The harness really works. I have a medium size shepherd husky mix and was always pulling. This harness made it so she walks normally and doesn't pull any longer. Sizes are large. So be careful with size ordered. Highly recommend this harness!!
---
By Unhappy on Feb 24, 2021
Sizes are sooo messed up!
I have found that harness sizes in general are usually inaccurate, so I always purchase a size smaller than recommended. I bought two of these: a small for my 40lb Aussie and a large for my 70lb pitbull. Got them promptly in the mail (only reason this is not a 1 star review), and the "small" was just barely too big for my pitbull when adjusted as tight as it could go. The "large" looked as if it would be too big for a St Bernard. Idk if they were labeled wrong when they were made (the tags claimed these were the correct sizes), but these are insanely big and I cannot use them. And because I had to open the plastic to try them on my dogs, Chewy refused to take them back. Ridiculous.
---
By Jeff on Nov 24, 2020
Less than a month
This is my second one. The first one broke and chewy was awesome. Sent me a replacement and on our 3rd bike journing trip we were just barely moving and my dog stopped and when the tension hit the harness the back strap broke again just like the first one. I was barely moving and it wasn't that much pressure put on the harness. I wouldn't recommend this to anyone that actually planned to use it for what it's advertised for. I also wouldn't even recommend it to people with active dogs that plan on just walking them because I wouldn't trust it to hold.
---
By Stevie on Sep 13, 2020
Great idea for larger dogs
Really wanted this harness to fit but it didn't. My shiba inu is a chronic puller and escaped from her leash. I thought having the lower two straps would be easy to place but I was wrong. Her neck strap was too loose and could not be tightened. The idea is wonderful but maybe for a 50 lbs dog with a thick neck.
---
By Tracey on Jun 14, 2020
Escape artist no more
Aspen is a master at backing out of harnesses. We've tried a couple. But with her large girth she's always able to back out of them. we also live in a climate that's a hundred plus degrees. We needed an harness that would be cool for her. This one has worked great and she's cool. It doesn't rub under her front legs like the previous one did. She loves it She also doesn't sit very well for pictures
---