Underwater Galleries Assorted Cichlid Aquarium Stone Caves, 15 count box
---
Temporarily Out of Stock
Get notified when this item is back in stock.
---
About This Item
Man-made ceramic stones are hand-glazed and made to look like naturalistic replicas of actual caves.
Individually-poured so each one is unique, and is fish and plant-safe with zero resins, petroleum-derived materials or lead-based paint.
Hollow, spacious interiors are great for fish to hang out and breed, and won't displace your aquarium water.
Helps keep fish healthy by encouraging exploration, providing a safe hideout, and secure breeding niches.
Great for a variety of live-bearing tropical fish like African and South American cichlids, guppies, mollies, platies, swordtails, Endler's livebearer, and others.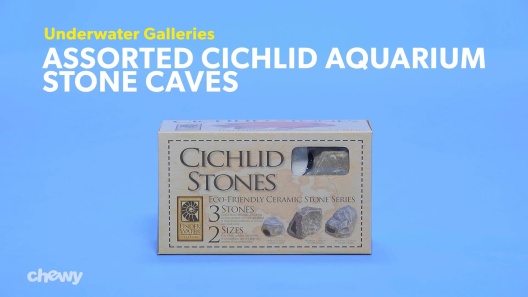 Learn More About Underwater Galleries From Our Team of Experts
---
---
Questions & Answers
10 Customer Questions
---
The openings look small, I have Red Blood Parrot Fish, do you think they could fit inside without getting stuck, they will be 5-6" when they get grown?
Answer by • Mar 07, 2018
The opening for the small rocks are 1 inches, the openings for the medium rocks range between 1.5 and 2 inches, and the openings for the large rocks are 2.25 inches.
---
how big of a tank is recommended for all the stones?
Answer by • Sep 30, 2018
The amount of stones that can be used in an aquarium greatly depends on the amount of fish in the space. With this in mind, all 15 stones should not be placed in an aquarium smaller than a standard 38 gallon tank.
---
The color of the stones are on gray or beige?
Answer by • Aug 17, 2018
This stones are grey in color.
---
Any idea how much space this would take up if I stacked them up three levels in my 55 gallon? Would it be enough to give the look of the final picture of the advertised piece?
Answer by • Mar 14, 2019
The stone caves in the picture include the 15 count. The space it would take up would vary depending on how you decide to stack the stones. You can find each stones dimensions in the description by clicking on the size tab.
---
---
---
By VRyan on Feb 7, 2022
These Will Do
Firstly, let me start off by stating that they do look beautiful in the tank. Shipping is always fast and they were packaged well. They are easy to stack in many ways and my fish love them. I have a 40 gallon breeder tank with three female convict cichlids. They range in size from just an inch to two inches in length and varying degrees of height. Having said that they couldn't fit in most of the smaller (over half of the rocks) and I had to modify them all. I didn't see a point in returning them as I'm good with tools. I simply took my corded drill with a hard sanding bit, used a little water (to keep the dust down) and bored the holes out that needed it. Now they can fit and actually use all of them. One was broken but I just sanded the crack down. I didn't mind this so much as all of the holes are a little too uniform and this allowed me to customize the aesthetic. Due to the small holes I wouldn't recommend these to cichlid owners unless they only have juveniles that don't get taller than an inch. Most cichlids do.
---
By Beautifulceramicstones on Nov 30, 2021
Great collection.
Really cool ceramic fish hides, I did get the order delivered the next day after placing it and I had 2 of the caves arrive broken. I called customer service and they replaced my order that also came swiftly. This time it was placed in a smaller box and they all arrived safe. I barley did any cleaning as they were fairly clean and just yesterday I placed them all in my 55 gallon tank. Definitely a beautiful addition when added with plants.
---
By Samie on Feb 12, 2022
Rocks for cichlids
Perfect packing! Not a nick or break in any of them!
---
By Ronald on Jul 23, 2021
Cichlid Aquarium Stone Caves
I ordered these Underwater Galleries Assorted Cichlid caves to place in my 55 gallon Yellow Lab species specific aquarium. Chewy had the best price on the internet! Ordering was simple and I received it days before the estimated time of arrival. I will definitely be ordering from Chewy again for all of my aquatic needs.
---
By Tucson on Jul 21, 2021
Better than expected!
Larger than expected! Very happy cichlids! Fast delivery with nothing broken or missing.
---
By Dawson on Jul 23, 2021
Not to bad
One came in shattered but other than that it they look good.
---
By jleclaire on Jul 26, 2020
Great Customer Service
I had two orders delivered to me damaged(which were replaced) and the best customer service I got was from Debbie. She made sure my third order was delivered in perfect condition. She was also friendly and actually held up conversation with me while fixing the issue. I love the way it looks in our tank.
---
By Kath on Jan 9, 2020
You won't find these at the pet store
I am so pleased with these caves! They are far superior to what you will find at the local pet store. I waited a long time before buying them because of the price. But they are a better value than what I've bought previously and look and feel far more natural.
---
By Aqua on Nov 10, 2019
Best value!
This turned out far better than expected, ordered a second for other tanks! This set up is Great for 30-55 gal cichlids
---
By Etex on May 1, 2019
Awesome addition and a must have
Recently bought these and introduced to my African cichlid tank. They absolutely love it! Will buy more when I upgrade to a bigger tank soon.
---