Vetnique Labs Profivex Probiotics 5-Strain Pork Pet Digestive Health Probiotic, Prebiotic & Fiber Powder Dog & Cat Supplement
See 'Details' tab for instructions to redeem
Autoship
(Save an extra 5%)
Choose Autoship at checkout for regular deliveries.
Why Autoship?
FREE access to chat with licensed vets 7 days a week.
Save 5% on all future Autoship orders.
No fees, no commitments - cancel Autoship anytime.
---
About This Item
Crafted in the USA with pork liver and sweet potato.
Formulated with digestive enzymes and probiotics to promote digestive and immune system health.
Contains two probiotics, including FOS and sweet potato, for added fiber and nutrients.
Suitable for both canine companions and feline friends.
Specially made with five probiotic strains for your furry family member.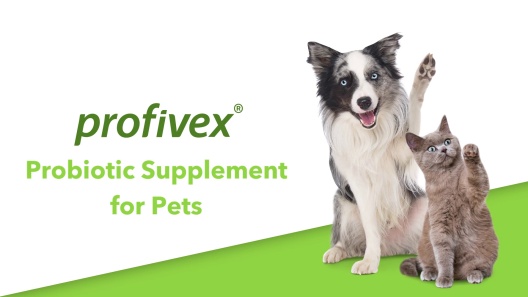 Learn More About Vetnique Labs From Our Team of Experts
---
Compare Similar Items
| | | | | | |
| --- | --- | --- | --- | --- | --- |
| | | | | | |
| Customer Rating | | | — | | |
| Price | | | | | |
| Autoship | | | | | |
| Top Ingredients | Desiccated Pork Liver Powder, Rice Flour, Sweet Potato Powder... | Prebiotic- feeds "good bacteria": FOS (Fructooligiosaccharide)., Probiotics- 2 Billion CFUs per scoop: Lactobaccilus Acidophilus, L. Brevis... | Beef Liver Hydrolysate, Digestive Enzymes (Papaya Extract), Prebiotics (Inulin & Pectin)... | Fructooligosaccharide, Dried Aspergillus Oryzae Fermentation Product, Dried Aspergillus Niger Fermentation Solubles... | Pumpkin Seed Powder, Beef Broth Powder, Jeruselem Artichoke Powder... |
| Breed Size | Small Breeds, Medium Breeds, Large Breeds... | Small Breeds, Medium Breeds, Large Breeds... | Large Breeds, Small Breeds, Medium Breeds | Small Breeds, Medium Breeds, Large Breeds... | Large Breeds, Medium Breeds, Small Breeds |
| Lifestage | Adult, Senior, Puppy | Adult, Puppy, Senior, Kitten | Adult | Adult, Senior, Puppy, Kitten | Adult, Puppy, Senior |
| Health Feature | Digestive Health | Digestive Health | Digestive Health | Digestive Health | Digestive Health, Immune Support, Recovery |
| Food Form | Supplement | Supplement, Food Topping | Supplement | Supplement, Food Topping | Supplement |
| Packaging Type | — | Bulk | — | — | — |
---
Questions & Answers
15 Customer Questions
---
Will this help with cat hair balls?
Answer by • Jul 07, 2021
Profivex is not targeted towards helping hairballs. However, it can certainly help with the digestive upset that hairballs can cause.
---
Grain free?
Answer by • Jul 07, 2021
This supplement is not grain-free, as it contains Rice Flour. Please refer to the attached photo for the complete ingredients list:
---
Does this help with anal gland seepage? My dog has seepage daily or twice daily. The vet has checked her out and there are no problems, but it REEKS to high heaven. She gets them expressed once a month at a groomer. But I was wondering if this product might help her not seep out everywhere?
Answer by • Apr 17, 2019
Probiotics can help support a healthy digestive tract, which in turn helps to support healthy anal glands. We encourage consulting your Veterinarian to see what supplement is best for your pet.
---
Can you sprinkle on dry food?
Answer by • Jun 19, 2019
This supplement can be sprinkled on dry food.
---
---
---
By Kimscats on Jul 30, 2022
Awesome Probiotic!
My cats ran out of their previous probiotic, so I shopped around for a better price. I found this one on Chewy, and I am so glad I did! I opened the package in the vicinity of my cats (not even intending to use it right then), and they went nuts. These are semi-picky cats (not annoyingly so, but they won't just eat anything). They loved it. I tried to sprinkle some on their dry food (I never do that because I'm afraid of wasting food if they refuse it), and they went to town! One of them even started licking it off the counter. To say the least, I would consider this a win.
---
By Tmarie on Sep 18, 2022
Great Product
My dog has had bad gas, bad breath and low energy. About a week in her breath is better, she has way less gas and more energy. I just do one scoop even though she is 60 pounds. 2 scoops seemed to make her gassy.
---
By Kath on Jul 19, 2022
Really works!!
Our rescue dog, in spite of having run the streets in her first year of life, had a sensitive stomach. We had a couple of bouts of blow-out diarrhea and others of loose stools. Something had to be done and this stuff has done it! She still gets eats things she shouldn't, but now she has normal stools and she loves the flavor it adds to her breakfast. I'll be setting up an automatic order for this!
---
By MrsP on Sep 16, 2022
IT REALLY HELPS!
They didn't love it right away, but it grew on my cats, and it has REALLY helped my older guy. He was having a heck of a time with constipation but is doing great!
---
By Phil on Sep 8, 2022
Good product
4 stars because did not contain as many strains as some more expensive products. Good product for the cost and works ok.
---
By SueB on Jun 30, 2022
I found the jar of POWDER.
I never looked at a powder probiotic. What do I do with a powder? My dog will barely eat the solid form. I'm so tired of the orders I get from Chewy!
---
By JacksonHarem4 on Jan 14, 2022
Absolutely Impressed and Grateful
I have one cat with UC (Ulcerative Colitis). I've had her on FortiFlora since rescuing her and it just seemed like she was having so many flare-ups. So I did some research, came across the product and decided to try it for her. OMG! Night and day difference and I am just tickled that it is working. It hasn't eliminated her flare ups, which will always be part of her life, but it has decreased the number and the length of time they last. Like 2-3 days, versus 7-10. My vet and I were at the point of using steroids to calm the flare ups because she won't do oral meds and I was not ready to put a 1yr on transdermal steroids. So I tried it and I am elated. I would highly recommend it and hope that it can help others. I will also add some to my other cats food, as they can have random digestive issues. One will lick it right off my finger, the other two need it mixed up with wet food, which they all eat fine that way. Worth noting that I did a very gradual increase, over 10 days and I only use half of the scoop. If she has a flare up, I will use closer to a full scoop, but she has been maintaining with just a half scoop, one time a day. Hope that helps!
---
By redgarnet54 on Dec 31, 2021
Seems to work and my pups love it.
I feed this to my 3 pups, each are under 25 pounds. I was previously feeding the chewables of same brand but they are hard to find. Decided to try the powder and although a little messier than the other, I always add a little amount of canned food to their dry kibble (which already contains pre and probiotics in the kibble) each morning so I have no issue mixing the powder with that, then they get their normal dry kibble for dinner. Feeding 3 pups though, I am not sure whether I will get 30 days out of each large container so I would have to buy more often, and am unsure whether this is cost-effective. Their stools are firm and none have gas issues so they seem to be tolerating this supplement fine. At this point I will continue with the powder knowing exactly how much fiber my pups are eating where with the chewables I wasn't sure of the quantity of pre and probiotics ingested and whether they were getting unnecessary added calories. When I find anything that all 3 of my pups will eat, I tend to continue with it. My 24 pounder is a finicky eater and sometimes turned her nose at the chewables.
---
By DaisysMom on Jan 2, 2022
Dogs love it, noticeable improvement in gas/stools/anal glands/nihilism
I started my dogs on this after adopting an 11 year old that had recently finished a round of antibiotics. His farts made my eyes water, and I could not sleep in the same room with him because I felt like I was going to get a lung infection from breathing in his farts. I'm in medicine and I know that you can't get pneumonia from breathing farts, but his farts made me question my medical school education, science generally, and the meaning of life. Enter Profivex. Within a day of starting it, Albert's gas had almost completely resolved. I was so impressed I started my other 2 dogs on it as well. My little guy, Sir Poops A Lot, has chronic soft and frequent stools, and my big girl has anal gland issues. Well Sir Poops A Lot had normal poops for the first time since I can remember after starting this, and my big girl's anal gland issues resolved - no more butt licking or fishy smell. My existential crisis abated. The problems recurred when we switched to Zesty Paws Probiotics, so we recently switched back to this product. Even at half the recommended dose, this is an effective product. Highly recommend.
---
By shirley on Dec 13, 2021
Best formula for price!
I have 3 furbabies, 2 cats and 1 dog. Let me tell you, we go through a lot of food and supplements. By far, this is the best formula for price for multi-species, and multi-life stages. I've tried Vetriscience, Fortiflora, Zesty Paws, and one more I can't remember. This by far is the best probiotic that is well loved by all my animals and the price is very fair for the size. How I knew this product worked was they all started on the Profivex and one of them developed diarrhea during puppy stage and then we went on the non-flavored ones such as Vetriscience bc this formula worked for both cat & dogs. Well, within 1 month of getting off Profivex, my 3.5 year old cat started throwing up every 3 days, we thought it was allergies with the food. It was not after we went on 3 months of testing. We reintroduced the puppy, who is now an adult back on it. No diarrhea AND the cat doesn't throw up anymore eating all his normal foods. It's been about 1 month month of Profivex for all my boys and it's a success in both flavor and no more tummy issues. Big win for this momma!
---