Walky Dog Plus Bicycle Exercise Dog Leash
---
About This Item
Features a military-grade, rot-resistant leash and high-carbon stainless steel wand that has 550 pounds of pull strength.
Internal shock-absorbing system allows for the dog to make sudden movements without pulling you off the bike.
Short leash keeps your dog close to the bike and prevents him from getting ahead or behind the bike; add 6.5 inches by taking out 2 springs.
Installs on any bike in virtually minutes with a quick lock and release capability that allows for easy switching between bikes.
Patented quick release allows you to disconnect your dog from the bike immediately. Works with dogs of all sizes!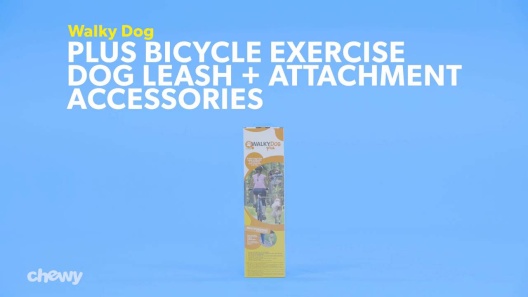 Learn More About Walky Dog From Our Team of Experts
---
Compare Similar Items
| | | | | |
| --- | --- | --- | --- | --- |
| | | | | |
| Customer Rating | | | | |
| Price | | | | |
| Breed Size | All Breeds | All Breeds | Medium Breeds | All Breeds |
| Material | Stainless Steel | Nylon, Neoprene | Rope | Polyester, Synthetic Fabric |
| Leash & Collar Feature | N/A | Traffic Handle | Adjustable | Reflective |
| Pattern | Solid | Solid | Ombre | Solid |
| Closure Type | Bolt Snap | Bolt Snap | Bolt Snap | Quick Release |
| Leash Length | 6.5 feet | 7 feet | 7 feet | N/A |
| Leash Type | Hands-Free | Hands-Free | Hands-Free, Slip Lead | Hands-Free |
---
Questions & Answers
13 Customer Questions
---
When do you expect to get the Walky Dog Plus back in.
---
The cord has degraded and ripped off. Can the cord be replaced?
Answer by • Apr 03, 2018
The cord can be replaced easily.
---
Is there a certain harness or collar recommended for it?
Answer by • Mar 01, 2018
The Walky Dog Bicycle Dog Leash does not require a certain harness or collar.
---
My dog requires the use of the gentle leader when being walked. Is is safe to use the gentle leader with this?
Answer by • Sep 07, 2018
This dog leash should not be used the a head halter as this allows for the dog to make sudden movements and sudden movements may hurt your dog when using a head halter.
---
---
---
By Offthegrid on May 16, 2022
Disappointed
This really was wonderful; kept my dog from pulling me all over creation, I felt much more stable as the dog was hooked to the bike seat, and the springs worked well to absorb the dog's tugs. However, on the second outing, the screw-on cap came off, and the leash, along with the springs inside the tube all came out and was lost. My dog was lost as well. It does say in the instructions to check these things and be sure everything was tight, but I didn't think that I needed to do that on the second outing. Had I checked it and tightened it, all might have been fine. I would recommend putting a piece of duck tape around that cap once it is the way you like it, to keep this from happening to you. I found my dog, but not the leash, springs and cap. Someone must have picked it all up.
---
By DCB56 on Mar 31, 2022
Walky Dog Plus
Works very well for our 14 month old German Shepherd. Easy to attach under bike seat. We removed 2 of the springs to allow extra lead. Got this for my husband who was riding his electric bicycle around our field with the dog on a leash (against my better judgement). They practiced on our leash 3 days in a row BEFORE the Walky Dog Plus was attached to the bike. 7 trips around the field which was going remarkably well on our leash. So off they went down the driveway and up the street into neighborhoods on an electric bike. 9 MPH. 2 1/2 miles and they were home. The dog seems to enjoy it ! They have done 3 trips in 5 days.
---
By Sdun on Feb 24, 2022
Bike dog walker
Love the item. I have small dogs so make sure to get the separate attachment for back wheel. Min pin, pug, chiweini. Chi.
---
By Heidi on Sep 20, 2021
Great item but not for a wheelchair
Great for a bike but, unfortunately did not work for my wheelchair, even though the representative and I had hoped it would. I was so impressed with how well this was made and was hoping it would work for my wheelchair but there was too much torque. But if you want this for a bike, I'm sure you would be very impressed.
---
By Jenn on Aug 17, 2021
Love this for my active dogs
Just purchased this for my 2 active Labrador Retreivers. The older lab(3yrs) is very active and will run for hours. This has been great for her. She picked up within 5 minutes how to run next to me on a bike. Even my 7 month old boy picked up very quickly on how it works. I typically don't use a harness to walk them but really recommend using a harness rather than just a collar. Both were tired puppers after our excursion. I am considering buying a second for a second bike so both can go together.
---
By Jhasircoglu07 on Aug 14, 2021
Game Changer
This leash is awesome! Truly a game changer for me and my pup. After taking up bike riding during the pandemic I thought it would be fun to include my GSD, for us both to get a great workout. Sadly we are still working on his leash manners, and biking together before getting this product resulting in a not so pleasant crash (everyone was fine, just a bit shaken up). I had given up that I would ever be able to include him during my bike outings until I stumbled across this leash while searching on the Chewy for something else. I was really sceptical, seemed too good to be true. I did additional searches on multiple review sites, which all included this product. Figured okay let's try it, I can always return it. As soon as I received this however I knew it was a keeper. Even with with my bike's XS frame size and having a very large GSD it totally works! He definitely tries pulling (unsuccessfully) but I am able to stay the course. Things to note, not to use this with children. I have 2 children under 10 who want to take him along on their bike ride, but when my dog pulls I feel only an adult would be able to handle those situations. Also make sure the piece that attached to the bike fits right and it tight. I made those mistakes but is simple enough, switch the location or tighten it more to stay in place. A bonus I've discovered is this leash forces your dog to stay focused on you and not other dogs, so the times he pulls is decreased considerably. Basically a super fun way to strengthen your bond with your pup.
---
By TEDDY on Apr 7, 2020
Well it worked
My dog loves being around me on my bike, but I think this walky dog keeps him too close to my bike for his (and mine) comfort. We are beginners so we probably just need more time. It works well, he is a pitbull, 70 lbs, lively when he wants to be and it springs enough not to kill us, haha. The metal bar attachment will not stay in place sticking directly perpendicular to my bike, if Teddy is pulling us forward, the bar will slowly move forward. I think maybe I don't have it tight enough. We're learning, like I said. I would recommend it to dogs and their parents for biking because I feel like it is safe and effective and worth the money for its durability.
---
By Nancy03 on Nov 26, 2019
Good way to introduce your dog to bicycle exercise
My 11 month pup responded well to moving along side my bike with the help of the Walky Dog. I like that it kept him next to me, so I could encourage him and that it kept him from going for the tires. We are still getting used to it, but I wanted him comfortable before we did some faster exercise and until he is older and bones are fully developed. It is going to work out quite well.
---
By Reshi on Sep 2, 2019
Completely changed our dog-biking game
We had always biked our dog with a harness and a regular leash just held in our hand. However, it became less fun since our arm would get tired and it was hard to translate her pulling energy into forward movement on the bike. With the walky dog, she will pull us for miles and we could focus on navigating the bike. We like the quick release component and we can order just the attachment for another bike for quick swapping. I only have two complaints: if you don't tighten the bike attachment enough it will eventually rotate forward. At times, I hit the bike attachment with my leg during regular biking but I haven't tried a different mounting position for the walky dog. I recommend this to my other dog owning friends whenever dog exercise comes up.
---
By Carrie on Aug 30, 2019
Great way to exercise your dog!
I'm still getting my new dog used to walking along side my bike and I'm sure after some training she will enjoy it. We had one with a previous dog and it worked beautifully. Some days I just don't have the energy or time to walk my dog enough to satisfy her. This solves that. With a leisurely pedal around my neighborhood doggie is tired and happy.
---