Whisker Litter-Robot 3 WiFi Enabled Automatic Self-Cleaning Cat Litter Box
---
About This Item
Self-cleaning litter box with unique process for sifting waste provides a fresh pan every time your little pal goes.
Features an enclosed and carbon-filtered waste drawer to reduce unpleasant odors.
Removes the need to scoop and reduces litter usage by 50 percent.
Connect app lets you keep an eye on waste levels, get notifications and troubleshoot.
One unit can support up to 4 feline friends.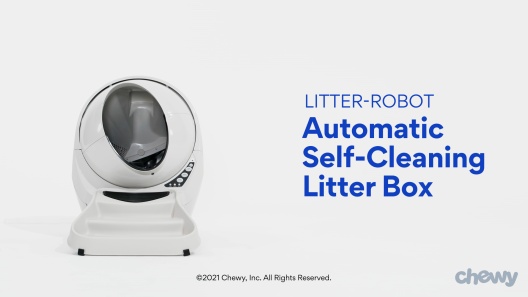 Learn More About Whisker From Our Team of Experts
---
---
About Litter-Robot 3 Connect
The Self-Cleaning Litter Box of Choice
Litter-Robot 3 Connect is the WiFi-enabled automatic litter box preferred by cats and people alike. With the Litter-Robot 3, your kitty will always have a clean place to go, and you never have to scoop cat litter again.
Don't Be a Scooper
Litter-Robot's proprietary sifting process automatically separates waste from clean litter and deposits the clumps into a drawer below the unit. This process helps reduce odors and keeps the box clean without manual scooping—simply empty the waste drawer when it tells you to and add litter as needed!
Smarter Litter Box, Better Pet Care
Self-Cleaning
Litter-Robot is fully automatic, using a sifting process that begins just minutes after your cat exits the unit.
Odor Control
The prompt sifting action and the carbon-filtered, fully enclosed waste drawer help to greatly reduce unpleasant odors.
Cleaner Paws
Say goodbye to dirty paws that track litter everywhere—Litter-Robot gives your cat a clean bed of litter every time.
Multiple Cats
One Litter-Robot can handle up to four cats, and the consistently clean litter bed is ideal for territorial felines.
Get Connected
Monitor your litter box right from your phone. The Whisker app allows you to view Litter-Robot's waste drawer level, get notifications, troubleshoot and see recent usage history for insights into your cat's health.
About Whisker
Whisker, formerly known as AutoPets, is the maker of Litter-Robot and Feeder-Robot and the company behind Litterbox.com. Launched in 2000, Whisker is an international leader in connected pet care and refined pet accessories. They build solution-oriented products that are beautiful, enjoyable and intuitive to use, with a focus on delivering meaningful insights for those who use them. Whisker proudly designs, assembles and services its robots in the USA.
Shop Whisker
Compare Similar Items
| | | | | |
| --- | --- | --- | --- | --- |
| | | | | |
| Customer Rating | | | | |
| Price | | | | |
| Litter Box Type | Automatic, Covered | Covered, Self-Cleaning, Automatic | Automatic, Covered | Self-Cleaning, Automatic |
| Material | Polypropylene, Plastic | Plastic | Plastic | — |
| Compatibility | Wi-Fi | Plug-In Power | Plug-In Power | Wi-Fi |
| Cleaner Type | Litter Box | — | — | Litter Box |
| Lifestage | — | Adult | — | Adult |
| Technology Feature | — | — | — | Programmable |
---
Questions & Answers
35 Customer Questions
---
do you have to use special litter, specific for this, or can you use regular clumping litter ??
---
Is there a warranty on this or a trial.
---
What do you use for bags?
Answer by • Dec 07, 2020
The Litter-Robot does not require special bags or liners for the waste drawer. As long as it fits, you can use it. The dimensions of the waste drawer are 16 inches high x 12.5 inches wide x 5 inches deep. Customers often use 10 to 13 gallon kitchen garbage bags or large plastic grocery bags.
---
Where is this product manufactured?
Answer by • May 03, 2021
This litter box is manufactured in the United States in Wisconsin.
---
---
---
By ProfBarbie on Sep 18, 2022
Only Works for Awhile
Chewy should not carry this item. It lasted about a year and then got stuck with the red and yellow lights flashing. No support. Call Litter Robot Company. You will see. They are taking no calls. Filled out online trouble ticket. No reply. Five days and counting. You cannot get help. Going back to regular litter box. Worked great for a year but for this price, expect more and expect support. I took it apart twice according to litter robot site and it did not help. I then found a site with reviews that voice the same problem going back months Considering taking legal action.
---
By Rebecca on Sep 20, 2022
Litter Robot -3
For the most part... I love this litter box, but I have not been able to get it to connect to my wi-fi as it asks me for my Network name and password. I put in my password but it tells me it is incorrect. I have my wi fi and blue tooth on but it still does not connect. I do love that it dumps the clumps and the clean up is easy. I have a senior kitty and a 1 year old kitty. Both took to it right away.
---
By Laura on Sep 9, 2022
Hallelujah!!!! Best Letterbox EVER!!!!! EVER!!!!
We have several cats. Somehow, the litterbox cleaning duty has become my sole responsibility. Like you, I find it to be a highly unpleasant experience. Until now. I saw this litterbox on tv and requested it as a birthday gift. I know that's weird-- but so be it. Anyhoo, my request was granted, and shortly thereafter a large box arrived on my doorstep. With cautious optimism, I unpacked the litterbox. Let me just say. Set up was super easy, and my cats took to it immediately. I LOVE....so many things about this litter box! In no particular order, here they are: 1. The litterbox is so efficient in the way that it uses and disposes or cat litter, that a 20 lb jug of cat litter easily lasts a month. 2. The typical smells of two cats using a litter box are now gone 3. The Whisker app (on my phone) lets me know with specificity when the litter box was last used, when the litterbox was cleaned (both manual [ i.e., pushing a button on either the litterbox or app] or cat-triggered) 4. The litterbox has a blue night light in it, and though I never turn off the light in the area where I keep the litter box, I still love this feature nonetheless 5. When the time does come that you need to empty the drawer into which the waste is dumped, it is super easy, and does not require special bags (I use regular kitchen trash bags for this and roll them down to fit the waste box). 6. I love the fact that when I'm out of town, I can completely check the status of the litterbox through the app on my phone and (if the mood strikes) can clean it at whim. With the touch of a button!!! Yes! You can be relaxing on a tropical beach AND cleaning your cat litter box hundreds of miles away!!! Crazy, but true! My one and only downside (and really, it's not, because it was fully disclosed from the start.... ) is that my cat who weighs less than 5 lbs doesn't trigger the cleaning cycle. So, it's a moot point, really. All in all, this was money well spent. Whoever invented this fabulous litterbox deserves every penny they make from this!!!
---
By ginaf on Sep 10, 2022
Couldn't live without it, don't agree with complainers
I didn't understand how anyone could give this product a negative review until I read what these users said. I am a rescue foster. I own 3 Litter Robot 3s and am waiting on the delivery of my first Litter Robot 4. As I have become familiar with these, I have experienced each of the issues people have complained about. These are very easy to resolve by checking the troubleshooting tips at the Whiskers site. Most are caused by your cats - jumping on the globe and knocking it out of alignment. Simple fixes. And the one true functional issue was quickly resolved by the company sending a replacement unit. Customer service has been AMAZING! That being said, I can't give them 5 stars. The price is just too outrageous, not just for the robot but for anything else you need or want to buy. The robots are worth every penny to me and have paid themselves back in litter costs (I HATE scooping) but all of their add-ons and accessories have bloated prices. The most infuriating was having to buy a 'protected' power cord after my cat chewed through the cord. If they sell a protected cord, they acknowledge the issue with cats and cords and on a product that costs as much as these do should be part of the normal configuration. I wish I could give 4.5 stars, because that would accurately reflect my opinion.
---
By Pamela on Sep 16, 2022
Very convenient
This litter robot is so clever. Once our cats (kittens) figured out how to use this and we set the recycling timer to a longer interval, this item worked like a charm!
---
By Rich on Sep 8, 2022
Doesn't work
it literally wastes ALL of my litter. it doesn't filter the waste it filters literally everything and my entire bag fills up after 1 cycle. biggest waste of money i have ever spent.
---
By catmomma on Jul 16, 2022
Don't waste your money
I bought 2 of these for my 4 cats; I was traveling during the 30 day return window so I wasn't able to return them. They're poorly designed; my 15 lbs cats do not trigger the cycle so I have to constantly trigger the cycle manually, which defeats the purpose. I have called customer service and they guide you to take it apart to clean the sensors; even after meticulously cleaning the sensors my cats do not trigger the cycle. Save your money, these are over complicated and not worth the money.
---
By Arlene on Aug 13, 2022
Brilliant and time saver
Very clever design and easy to operate. Haven't tried disassembling yet for cleaning so cannot comment. Works well as long as you do not overfill the litter. I used hefty brand 10-13 liter trash bags and works fine.
---
By Bravo97779 on Aug 13, 2022
Perfect design (2 can handle 14 cats)
I bought two of litter robots because my wife complained that she can't do anything around the house because she always cleaning litter boxes. Two litter boxes cut down on over 95% of the work! My wife still doesn't do anything.
---
By Morgan on Jun 22, 2022
Perfect for us
Our 3 cats love this. Watching the ever turning robot scoop their waste away has been the highlight of entertainment for 6 months now, encouraging them to simply use it again to watch the magic. Not that their habit of filling other litter boxes in a day is anything new. With this being the only litter box they choose to use, we are emptying it every other day. The bags we use are standard 10 gallon bags, bought in bulk, and it works great. Minimal effort on our end in comparison to their regular, non motorized, cat box. All is good, and we do not regret this in the slightest. Now for why 4 stars: First is the noise. Nothing you can't learn to ignore, but if you have a quiet house you will hear it, ever so slowly and methodically turning, the gears whirring with the weight of litter for about 2 minutes. And if your cats are like ours, everyone needs a turn in setting off the sensor. Again, it's nothing we can't get used to, but this is by no means a quiet litter robot. The other reason it's 4 stars is the slight malfunction we've stumbled across during its cycling phase. (As a note, we do not use the App for this device, so if there is an error code, we do not see it.) Once or twice a week the litter bot will suddenly just stop spinning 1/4 of the way through its cycle. No extra lights, no sounds, it just stops, helpless in how to correct this action. The fix, however, is simple. An unexpected power cycle (unplugging it and plugging it back in) does just the trick. All we do after that is hit the cycle button and the job is completed. Nothing too extensive, but it can be inconvenient at midnight when one of the cats discover it and proceed to scream at us for help. Despite this, we highly recommend this product, as do the cat council of our house.
---