Whisker Litter-Robot 3 WiFi Enabled Automatic Self-Cleaning Cat Litter Box
See 'Details' tab for instructions to redeem
---
About This Item
Self-cleaning litter box with unique process for sifting waste provides a fresh pan every time your little pal goes.
Features an enclosed and carbon-filtered waste drawer to reduce unpleasant odors.
Removes the need to scoop and reduces litter usage by 50 percent.
Connect app lets you keep an eye on waste levels, get notifications and troubleshoot.
One unit can support up to 4 feline friends.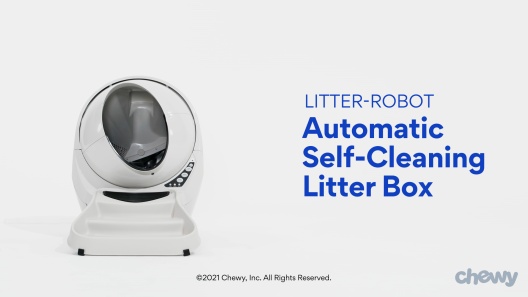 Learn More About Whisker From Our Team of Experts
---
---
About Litter-Robot 3 Connect
The Self-Cleaning Litter Box of Choice
Litter-Robot 3 Connect is the WiFi-enabled automatic litter box preferred by cats and people alike. With the Litter-Robot 3, your kitty will always have a clean place to go, and you never have to scoop cat litter again.
Don't Be a Scooper
Litter-Robot's proprietary sifting process automatically separates waste from clean litter and deposits the clumps into a drawer below the unit. This process helps reduce odors and keeps the box clean without manual scooping—simply empty the waste drawer when it tells you to and add litter as needed!
Smarter Litter Box, Better Pet Care
Self-Cleaning
Litter-Robot is fully automatic, using a sifting process that begins just minutes after your cat exits the unit.
Odor Control
The prompt sifting action and the carbon-filtered, fully enclosed waste drawer help to greatly reduce unpleasant odors.
Cleaner Paws
Say goodbye to dirty paws that track litter everywhere—Litter-Robot gives your cat a clean bed of litter every time.
Multiple Cats
One Litter-Robot can handle up to four cats, and the consistently clean litter bed is ideal for territorial felines.
Get Connected
Monitor your litter box right from your phone. The Whisker app allows you to view Litter-Robot's waste drawer level, get notifications, troubleshoot and see recent usage history for insights into your cat's health.
About Whisker
Whisker, formerly known as AutoPets, is the maker of Litter-Robot and Feeder-Robot and the company behind Litterbox.com. Launched in 2000, Whisker is an international leader in connected pet care and refined pet accessories. They build solution-oriented products that are beautiful, enjoyable and intuitive to use, with a focus on delivering meaningful insights for those who use them. Whisker proudly designs, assembles and services its robots in the USA.
Shop Whisker
Compare Similar Items
| | | | | | |
| --- | --- | --- | --- | --- | --- |
| | | | | | |
| Customer Rating | | | | | |
| Price | | | | | |
| Litter Box Type | Automatic, Covered | Automatic | Self-Cleaning, Automatic | Self-Cleaning, Automatic | Automatic, Covered |
| Material | Polypropylene, Plastic | Plastic | Plastic | — | Plastic |
| Compatibility | Wi-Fi | — | Plug-In Power | Wi-Fi | Plug-In Power |
| Cleaner Type | Litter Box | — | — | Litter Box | — |
| Lifestage | — | — | — | Adult | — |
| Technology Feature | — | — | — | Programmable | — |
---
Questions & Answers
37 Customer Questions
---
What do you use for bags?
Answer by • Dec 07, 2020
The Litter-Robot does not require special bags or liners for the waste drawer. As long as it fits, you can use it. The dimensions of the waste drawer are 16 inches high x 12.5 inches wide x 5 inches deep. Customers often use 10 to 13 gallon kitchen garbage bags or large plastic grocery bags.
---
Where is this product manufactured?
Answer by • May 03, 2021
This litter box is manufactured in the United States in Wisconsin.
---
How litter does it hold and how often do would I have to replace litter
Answer by • Mar 18, 2021
Fill the globe with approximately 8-10 pounds of litter, until it meets the raised fill line on the black rubber globe liner when spread flat. If there is too much litter in the globe, it will be expelled into the waste drawer during the first few cycles. Since the waste clumps are removed during each cycle, there is no need to put excessive litter in the globe. The Litter-Robot uses litter very efficiently since the patented sifting system only removes the clumps. We recommend checking the litter level against the raised fill line (on the black rubber liner of the globe) each time you empty the waste drawer, which is about once per week for a single cat or twice for multiple cats. Be careful not to overfill the globe.
---
How do I completely empty the box to put in new litter?
Answer by • Jun 26, 2021
Empty all of the litter from the Globe by pressing the Empty button. The Globe will rotate in the opposite direction of a Clean Cycle, allowing the litter to fall through the waste port, into the drawer. If litter remains in the Globe, sweep the granules toward the Waste Port. Press any button to return the Globe to the Home position.
---
---
---
By Shaindel on Nov 11, 2022
A really amazing product!
I've had my Litter Robot since 2018, and it is still going strong! I'm on the board of a no-kill animal shelter, and we were gifted a Litter Robot for our free roam cat room, and I loved it so much, I bought one for myself! I have had to repair it a few times -- free of charge, Litter Robot will send you parts. It's not an easy repair, but I consider it a wonderful company that they support their products so well instead of pressuring you to buy a new one. Everyone at the company I have communicated with is very nice and helpful as well! I'm happy to recommend this product to others. I have four large male cats, so my Litter Robot probably gets a lot of use compared to an average home.
---
By GrammyCin on Nov 16, 2022
Cats Ignored IT
We wanted to love this, but our cats thought it had been dropped off by the devil himself. Not one of the three darkened the door, even when we let their one remaining litter box get nasty and tried to tempt them to use it. Unfortunately, we had to send it back, and Chewy, as always, was quite gracious about giving us our refund. I should note that the leader of the cat pack is 12 and pretty set in his ways. The second cat showed no interest in it whatsoever, and the third cat is a feral we've taken in for the last four years who won't let us get near her yet. Since she is afraid if everything, we're not surprised this didn't work out for her. We even ordered the stairs, and no one even attempted to climb them. I'd love to be more positive, because I love the concept, but it just didn't work for us.
---
By Lorena on Nov 13, 2022
The best invention ever!
The Litter Robot Connect helped my life so much as a cat owner. I got the Open Air model back in 2016 and I converted it into a Connect device by installing the Connect kit. I have to say that this unit is so well-made that it still works! My cat loves it and uses it with no issues whatsoever. The Litter Robot can be managed with the Whisker App so you can create extra rotations on your phone if you need. You can also see when it's time to empty the waste drawer. Excellent solution for a busy cat owner!
---
By Chey on Nov 7, 2022
Life Changing Product!
Got the Litter-Robot 3 Connect a couple months ago and I have absolutely loved it. My significant other was not interested in scooping litter so always disliked the idea of getting a cat! After showing him this product we now have happily added a new furry friend to our family without the hassle of scooping! 12 out of 10 recommend this product! It is a must have!
---
By SadCatMama on Nov 30, 2022
Not worth it
I have had this for 1 year and 2 months. It recently stopped cycling. I have watched every video and tried every recommendation to get it to work again. Sadly, nothing will work. Of course the warranty is only for 1 year and I just missed it. Not worth the money to only last a year.
---
By aech on Nov 10, 2022
Low expectations
I bought a little robot 10 years ago and the first model is better than this third model connect. The timing sensor, weight sensor, and cycle functioning have all been malfunctioning since about 2 days after the litter robot was received. Would I buy this again for $600? No, no I wouldn't. It's not even as good as the first model 10 years ago.
---
By 1year on Oct 29, 2022
1 year review
It STINKS. I have two cats. Not having to scoop litter daily is amazing, but up keep is a pain. Even with it the plastics still absorb the smells over time and I can't seen to find a way to make it any better. I've tried all the different cleaning tricks that I dont perform during regular maintenance. I've tried different litters, deodorizer, different carbon filters, nothing seems to help. Also if your cats excessively scratch they will really mess up the rubber lining inside which could be my problem. It was a lot of money to only last a year. I wouldn't recommend it to anyone to be honest. I am going back to a traditional cat box since my cats refuse to even use this thing anymore.
---
By Bridgette on Nov 1, 2022
So far so good!
We have three cats and recently had an issue with one of them not wanting to use the litterbox and peeing around the house. I won't lie, I'm not a cat person. My husband is. I tend to our other 7 animals and he does the cats. Or is supposed to. I figured whoever was peeing around the house was doing so because he doesn't tend to the litterboxes enough. I cannot live in a house reeking of ammonia so in order to find a solution before I booted him and his pee buddies out I ordered this. Sure enough I haven't had anyone peeing on my table anymore. Only two have used it in the couple weeks we've had it but that frees up the other boxes from not getting as bad as quick. The bag got full in about two weeks and thata after two cats using it several times a day. It's a very expensive machine which we truly couldn't afford but it saved my home from the horrid smell of cat urine.
---
By drjustinelee on Nov 11, 2022
LOVE my Litter-Robot
As a veterinarian, I adore and love my Litter-Robot. I use it for my own personal cats, and it's been a game changer in providing a clean bed of litter for my cats EACH time they use the box. Dramatically reduces the smell of CAT in the house, which I love. 2 thumbs up from this veterinarian.
---
By Emrys on Oct 22, 2022
RUN AWAY FAST
Do not spend your money on this. As someone who has had an LR3 for years, you'd think I'd recommend it. No. You WILL spend hundreds on repairs. I've maintained my unit properly, and still have had to pay 100+ a year on average for repairs. Customer service will be awful in responding. Here's a list of some specific issues I've had Some examples- -Units being held together/repaired with tape. Just straight-up scotch tape. (look at videos such as "motor repair" to see proof that this is an official technique) -wiring and sensitive circuitry exposed to the waste drawer, causing rapid corrosion/ sensor failures as moisture inevitably collects -sensors sitting too high in the unit, causing them to be triggered/ tripped every time a bag/liner is slightly moved (which happens often since the unit literally rotates) - Waste piling up on one side of the collection drawer (since the opening is only on one side) causing false "drawer full" indications constantly when the drawer is barely a quarter full since it's only going to dump in one place - waste collecting outside the liner due to rotation/ biased deposit, defeating the purpose of the liner in the first place-assuming you *don't\* get a drawer full indicator, you will instead have waste piling up so high in one section that it begins to smear into the dome itself, causing feces, litter and other debris to get into the gears and scratch the plastic - multiple screw inlays that also will collect litter and debris in such a way that it cakes up if not noticed, and then overflows -cheaply made parts- the engine, for example, is composed of some metal, but many plastic components (such as gears). The plastic of the motor then gets worn down/damaged, causing it to no longer work. The gears are also poorly lubricated which leads to loud motor sounds, and further wear and tear of the engine over its inevitably short lifespan.
---