Zilla Heat Mats Reptile Terrarium Heater
By Zilla
---
About This Item
Zilla heat mats are ideal for desert and tropical reptile species.
Provides an ideal external heat source for amphibians and arachnids, too!
The carbon filter gives off uniform heating with zero hot spots, plus it's energy-efficient and made without hazardous wires.
Designed to help regulate your pet's body temperature for overall health and well-being.
Comes with adhesive mounting that allows you to place the heat mat on the side of the terrarium or underneath it.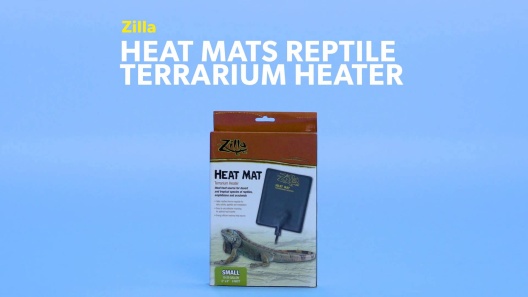 Learn More About Zilla From Our Team of Experts
---
---
Questions & Answers
30 Customer Questions
---
About how big is each one and is it good for leopard geckos?
Answer by • Sep 27, 2017
The dimensions for the 8 watt is 6 x 8 inches (10 to 20 gallons) and for the 24 watt is 8 x 18 inches (50 to 60 gallons). Also, this product can be used for Leopard Geckos along with other reptiles, amphibians, and arachnids.
---
can this heat mat be put in breaded dragon tank under the liner.Tank is 50 gallon and I have a hard time keeping my baby warm as my room has no heat source
Answer by • Oct 31, 2017
While this works great to give your bearded dragon some added heat, it should be placed underneath or on the side of the terrarium, not inside. It shouldn't be used to substitute your beardie's basking light, as that is their main source of heat.
---
I have a five gallon tank for my small hermit crabs. Is this heating pad safe for them?
Answer by • Aug 21, 2019
This heater may be used with a hermit crab habitat. It is generally recommended they be housed in a habitat with a temperature no lower than 75°F. The 4-watt model is suitable for tanks from 1 to 5 gallons.
---
I have my tank for hermit crabs on a wood table I just want to lay pad on table and then put my glass tank on top of it Can I?
Answer by • Aug 29, 2018
It's not recommend to us this product with acrylic,wood, metal or fiberglass.
---
---
---
By Joan on Jan 21, 2022
Don't trust this product.
Reptile heat mat worked for three days. No help with the order. Not happy about that. Product was installed correctly.
---
By kkuli12 on Jul 23, 2021
Leo's and Dogs
I really like this mat. It fits nicely on my 67 gal terrariums and even my 37 gal. I would like it to have a bit more heat though as my room stays very cold so it's harder to keep the heat correct on Leopard Geckos. Otherwise it's a nice mat.
---
By Tasia on Apr 19, 2021
They r not what expected
They are small n weak they don't get that hot n my gecko n my dragon don't draw to them. I brought one it didn't work properly second one was to small for my tank
---
By michelle on Dec 11, 2020
not a good heater
I ended up buying two of these. I have two critter keeper containers that have Madagascar hissing cockroaches. I attached this to the shorter side of each container. It is slightly warm to the touch, but does not properly heat the containers and I'm pretty sure they're 1 gallon containers, so I got the four watt ones. It does not raise the ambient temperature at all and only warms about 5 inches from where the heater actually is, so I put their hides right beside the heaters so they have a warm place to hang out. I would really not recommend this product.
---
By Jess on Jan 30, 2021
Disappointing
I've now ordered two of these heat mats. Not only is the distribution of heat VERY poor, but the mats don't stick to the tank for more than an hour before peeling off. This absolutely will not keep any animal warm. 0/10 do not recommend.
---
By Cass on Mar 29, 2021
Looks good
Looks good working well I'm hoping it lasts longer than another major brand
---
By Heat on Apr 16, 2021
Works great
Lestat the corn snake absolutely loves her new heat mat
---
By Julio on Jan 3, 2021
Weak Does not heat
This pad is disappointing. Doesn't get hot. I want a refund.
---
By Rorytheterrier on Jun 8, 2020
not sure about this
I've had my heating pad for about a week now and it doesn't seem to make a difference in my bearded dragons tank. I was worried about the temp dropping too much at night, so I added the heating pad and a small thermometer to the bottom of the tank and there has been no change. The temp still drops at night, even with the pad plugged in and on.
---
By marichards on Apr 5, 2020
Zill Heat Mat Not a good Product
I bought this Zilla Heat mat for my water dragon enclosure and it worked for 1 day and went out! Not a good product
---