Zilla Micro Habitat Terrariums with Locking Latch Arboreal
Frequently Bought Together
---
About This Item
Great for small reptiles, amphibians or invertebrates.
Designed with a 360-degree view thanks to the clear acrylic walls.
The locking handle helps keep your pet secure.
Easy to assemble and disassemble for storage when the habitat is no longer needed.
Has a convenient stackable design and a molded base to hold water and substrate.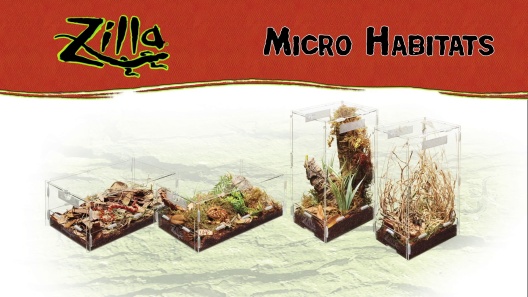 Learn More About Zilla From Our Team of Experts
---
---
Questions & Answers
11 Customer Questions
---
is this good enoge for a chamelon?
Answer by • Jun 09, 2021
This habitat is suitable for small reptiles and amphibians or invertebrates and measures 4 inches long 4 inches wide 8 inches tall and the Large habitat measures 8 inches long x 6 inches wide x 14 inches tall.
---
Is the air opening small enough to keep fruit flies from escaping?
Answer by • Mar 27, 2021
Fruit flies would be able to escape from this habitat.
---
Does this open from the top or front
Answer by • Sep 05, 2021
This habitat opens from the top.
---
How manny gallons is this? Could I use it for a tree frog?
Answer by • Mar 17, 2021
The Small habitat measures 4 inches long 4 inches wide 8 inches tall and the Large habitat measures 8 inches long x 6 inches wide x 14 inches tall. At this time, gallon size is not available. We recommend the Zilla Vertical Tropical Kit for a tree frog instead.
---
---
---
By Lauren on Jun 17, 2022
Poor Structure
I was originally really excited to purchase this habitat for my jumping spider. When I began to unbox it with my boyfriend, he noticed there was a scratch on the base portion. No biggie, stuff happens and I was willing to look past it. After putting the entirety of it together, we quickly realized that the structure seems as though it didn't go together. The design had left holes within corners and the wall that comes out has a hard time meeting the base. Luckily, our jumping spider is not small enough to fit through the holes, however its prey is. After several days of use, the latch popped off and I popped it back on. That was just the last little touch of not wanting to purchase this type of habitat anymore. Being in college, this is the best I can do for now. But, this will be one of the few times I invest in a habitat like this again. Super disappointing, especially after such rave reviews. :(
---
By Jenna on Jan 19, 2022
not 100% what I was hoping
Sadly mine arrived a bit broken. It's a pretty flimsy material with small bits that can break off easily. Also, the inner dimensions are smaller than I needed (I'm using it for moss and my pitcher plant. Was hoping to also fit a venus fly trap or sundew too but it's definitely too small for that) because the inner bottom tray is smaller than the walls.
---
By Corissa on Oct 17, 2021
Great for the price
Not sure why everyone is saying it's "cloudy" the instructions step one clearly state to remove the protective film. And yes it's hard to see because when things are laser cut it's cut with it on there. It's easy to put together, nice and crystal clear. The large one at least the front drops open. Not sure how the small one opens. But will probably order one soon just to check. They are a little bit flimsy. Bit they are micro habitats made for tiny animals so it really shouldn't be an issue. Only thing i wonder is how long the O rings that hold everything together will last for before drying and cracking.
---
By JulieBee on Oct 3, 2021
Small Arboreal
I have two of these for my wild caught Tan Jumping Spiders and they're the perfect size! I was able to fit a 6inch cholla wood and some artificial leaves along with a rock, leaf litter and a small skull! One side opens up for the door so it's easy to feed them or mist the enclosure. These pieces also have a protective film on BOTH sides. It will look frosted until you peel both sides off! It's a bit difficult to find where to peel but they come off clean! You either need another set of hands or patience to put this together but it is not difficult. There are just a few pieces to juggle so it holds together long enough to get the bands on.
---
By jasmine on Jul 26, 2021
pretty good
tbh it was kinda hard to build (maybe im just a little slow tho) but the cage is pretty effective. if you dont want a vertical door with an h-ring, dont get this. im lowkey scared my frog is gonna jump out when i try feeding it one day but im chilling for now. really effective for the price point tho !! im getting a smaller one for my mantis.
---
By Leaves on Apr 26, 2021
Used as spider home
We really like this enclosure. We're currently using it for a small, tan jumping spider. We love that it's visible 360 so that our kids can observe. It has stated pretty clear too so far. We're getting another one for a bold jumping spider we just found. This only thing that has been difficult is that she is very small and one of the door hooks is far enough away from the door that she can squeeze out of it. It seems like perhaps a small design flaw, but if she was bigger it wouldn't be an issue. We just put a small piece of wood in there to keep it closed. Pictures included.
---
By Nick on Jun 21, 2021
Awesome little enclosure!
I love this thing! It was easy to assemble, is sturdy for its size, and the locking mechanism is easy to use. Can't wait to get my little spooder in it!
---
By Spider on Jun 25, 2021
tarantula habitat
Appears to be a clear plastic structure. The habitat is in frosted plastic . Not as pictured. Quality of habitat only fair.
---
By Turtlehobbist on Jun 4, 2021
Good keeper for cleaning
Good to use for cleaning day of their big enclosure so they are safe, but too small for any thing else useful unless you are catching bugs.
---
By Brii on May 12, 2021
Works great for spiders!
I got this for my jumping spider and he absolutely loves it! The front opening makes it very easy to get to everything inside without disturbing him too much
---