Zilla Micro Habitat Terrariums with Locking Latch Terrestrial
---
About This Item
Great for small reptiles, amphibians or invertebrates.
Designed with a 360-degree view thanks to the clear acrylic walls.
The locking handle helps keep your pet secure.
Easy to assemble and disassemble for storage when the habitat is no longer needed.
Has a convenient stackable design and a molded base to hold water and substrate.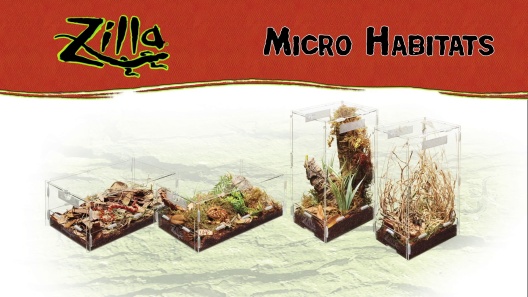 Learn More About Zilla From Our Team of Experts
---
---
Questions & Answers
23 Customer Questions
---
Will this be good for single leopard gecko?
Answer by • Mar 13, 2021
An adult leopard gecko needs at least a 20 gallon tank or similar amount of space.
---
Would this be good for a bearded dragon
Answer by • May 25, 2021
This habitat is too small for a bearded dragon. The Small size measures 9.25 x 5.34 x 2.165 inches and the Large measures 15.43 x 9.44 x 2.68 inches.
---
Can you use a heat lamp on top of the enclosure?
Answer by • Mar 22, 2021
Heat lamps should not be place on top of this enclosure.
---
will the large work for a pacman frog
Answer by • Jul 04, 2021
This habitat is too small for a Pacman frog. A 20-gallon tank is recommended for one of these frogs.
---
---
---
By HeatherS on Nov 30, 2021
Love it!! Perfect for isopods!
I originally bought this as a new enclosure for a tarantula, however the air holes were too low on the sides (for a terrestrial species that burrows a lot.) So I ended up using it to raise ispods and springtails. It works wonderfully and it really is crystal clear. I saw a complaint above that it wasn't--and I think that person forgot to peel off all of the protective film. :)
---
By Rosy on Dec 13, 2021
These are garbage. Invest in good satellite containers and drill holes.
I just received these. I bought 3. The first and second ones I tried to assemble parts broke off. These do not handle any pressure at all. I'm so disappointed and the worse part is I really needed them to transport my snakes. I will be returning all three.
---
By Phillip on Aug 28, 2021
These are awesome!!
Ignore the one guy who couldn't figure out that you need to peel the protective covering off. These are so clear and are perfect displays for your animals. I use these for my tarantulas and they're incredible. Awesome for a display animal. I'm buying one for each of mine.
---
By Heather on Aug 26, 2021
Perfect Enclosure
Perfect Enclosure, love it, just remember that you have to take the plastic off all the sides of the panels so it's see through instead a smokey glass.
---
By AUtumnJude on Apr 15, 2021
Perfect for my needs
Walls are ultra clear, the holes are adequate. The only draw back is that the lid's tabs are a touch too delicate and one came to me broken. A little superglue for plastic fixed this though. I bought two and only one was slightly damaged. I suspect this happened in transit, though. Over all it didn't affect the function of the products and my mealworms and dubia roach nurseries are thriving.
---
By Yhnaffit333 on Apr 25, 2021
Cheap. Not see through.
The only part you can see through is the base. The rest is smokey so you'll never see your cool exotic friends. Depending on how difficult the return service is on chewy ... it could just end up in the garbage. And the pieces don't even fit together. It just keeps falling apart.
---
By Char on Apr 29, 2021
love this for my tarantulas
I bought one for each of my 4 tarantulas and I'm really happy with them. I bought the large ones and love the fact they have 2 different size openings at the top.
---
By Sabs on Apr 30, 2021
Perfect for little critters
Enclosures were easy to assemble and very clear, perfect for observing my jumping spider and leaf bugs.
---