API Ammo-Lock Freshwater & Saltwater Aquarium Ammonia Detoxifier
By API
Autoship
(Save an extra 5%)
Choose Autoship at checkout for regular deliveries.
Why Autoship?
FREE access to chat with licensed vets 7 days a week.
Save 5% on all future Autoship orders.
No fees, no commitments - cancel Autoship anytime.
---
About This Item
Comes with 1 API Ammo-Lock Freshwater & Saltwater Aquarium Ammonia Detoxifier.
Detoxifies ammonia in both aquarium water and tap water.
Helps make your aquarium water safe for your finned friends instantly!
You will be able to see a reduction in ammonia levels when you test the water with any API Test Kit (sold separately).
For best results, dose freshwater and saltwater every 2 days until the ammonia is no longer detected.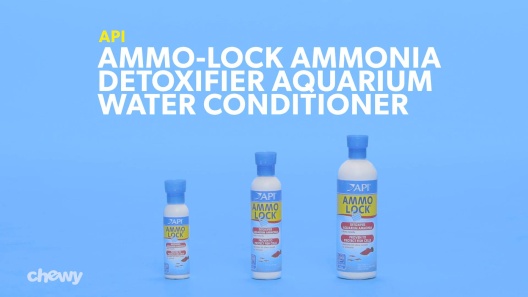 Learn More About API From Our Team of Experts
Special Note
4-oz bottle treats up to 230 gallons.
8-oz bottle treats up to 470 gallons.
16-oz bottle treats up to 940 gallons.
Test the ammonia levels in your freshwater or saltwater aquarium with API's Ammonia NH3/NH4 Test Strips and Test Kit.
---
Compare Similar Items
| | | | | | |
| --- | --- | --- | --- | --- | --- |
| | | | | | |
| Customer Rating | | | | | |
| Price | | | | | |
| Autoship | | | | | |
| Fish Type | Tropical Freshwater, Betta, Cichlid... | Tropical Freshwater, Betta, Cichlid... | Tropical Freshwater, Betta, Cichlid... | Tropical Freshwater, Marine Fish | Tropical Freshwater, Marine Fish, Goldfish, Cichlid |
| Aquarium Type | Freshwater, Saltwater | Freshwater, Saltwater | Freshwater, Saltwater | Freshwater, Saltwater | Freshwater, Saltwater |
| Top Ingredients | — | N/A | N/A | Wheat Starch, Fish Meal, Dried Yeast... | Sodium Hydroxymethane Sulfinate. |
---
Questions & Answers
3 Customer Questions
---
Does this work as a water conditioner?
Answer by • Aug 01, 2019
This formula helps to detoxify ammonia, breaking it down, and removing chlorine and chloramines from your water.
---
Dose it reduce the smell from the water
Answer by • Oct 02, 2017
This product helps reduce fish stress caused by ammonia levels and promotes healthy gill function, not with smell.
---
Safe for crustaceans and snails?
Answer by • Aug 16, 2021
Ammo-Lock can be used with crustaceans and snails.
---
---
By Lizz on Nov 28, 2021
Do not recommend
I was having an ammonia spike in my new 36 gallon aquarium according to my local fish shop. Used this product when I did a water change. When I got home from work the next day, my tank was so cloudy & all my fish were at the top gasping for air. 2 of my neons did not make it, so I transferred the survivors to my 10 gallon tank. Have since cleaned the 36 gallon and starting over. Apparently the ammonia is in my tap water. Called another fish store & was informed the ammonia will always test positive since it's in my tap water, but as long as I use prime my fish will be fine as prime neutralizes the ammonia. Fish have been doing fine ever since. Will not use the remaining bottle of this product.
---
By Ammolock on Mar 2, 2021
Ammo-lock works
There isn't a lot to say about an aquarium additive but it works as it should at a fair price.
---
By Leesh on Jan 10, 2021
I think it's works.
I think this works but hard to tell because ammonia will always read the same even if it is working. Fish are still alive.
---
By Kallen on Nov 10, 2020
Leads to more Cleaning
Made the water so unbelievably cloudy after just one dose, I had to completely change out the water again after we just cleaned it. Don't recommend!!
---
By AmarIsSmart on Aug 6, 2020
Great But Makes Water Cloudy
I recently had an ammonia spike and this helped out very much just be careful this does not remove ammonia it detoxifies it. It also makes your water cloudy but it's not that visible.
---
By Carey on Aug 17, 2020
Kept my fish alive!
Without thus product a lot of my fish would have died. I am new to the hobby and my ammonia levels were out of control. This product saved my fish!
---
By Nikki on May 12, 2020
It's Great
Some of the people here will mention how it makes you water cloudy, but that is usually because you added too much. Another reason this can happen is if you don't have enough water circulation and you need to stir it around a bit. I love it though, I have only had it cloud up on me once when I was using it with a betta with a low flow filter. It's easy to use and really helps with the ammonia.
---
By 001paintabs on Dec 27, 2019
Decades of experience. Happy customer.
Started up a new tank after taking time off to deal with health & family issues. Of course I got new tank syndrome... As long as you use the right additional supportive products in tandem with the Ammo Lock it works perfectly. I don't even get cloudiness. EVER. If there it's a tinge of the water not being perfectly clear that's usually from the other things I'm adding with it & it all goes away immediately. Be wise with your dosing. Forexample, if you are dosing for a 10 gallon tank, don't measure exactly for 10 gallons of water... Subtract your rock, decorations... Everything that takes up space and you'll probably only need to dose for 7 gallons. Make sure you're using it as directed, every two days while you're ammonia is spiked. My fish started to get ill from the ammonia and within 24 hours I noticed a huge difference in their health. It made it so that I didn't need to add even more chemicals to treat illnesses. Get a REALLY good live bacteria (or two) and use the Ammo Lock every two days. Test your PH & Ammonia every single day. Do water changes accordingly. Push that bacteria, oxygen and filtration... Someone said raise you're temp to 85°... I DO NOT recommend doing that while your ammonia is high. The higher the temperature the more toxic the ammonia is. Once you have your ammonia in check you can safely raise it. But
---
By AvaandMarkiz on Jul 1, 2019
Works like it's supposed to.
I use this every time I do water changes for my 20 gallon and 55 gallon tanks. It works instantly and my fish and snails are able to adapt quickly. I do not have the best results when using API's Quick Start solution on its own - and usually I'll always have to add Ammo-Lock along with it. However, the Ammo-Lock Detoxifier works great on it's own and personally I do not recommend adding another solution unless it's API Stress Coat (which helps repair a fish's slime coat). I have not encountered the cloudy water problem that others have mentioned, it usually disperses quickly in the tank and clears out.
---
By Brenda on Mar 17, 2018
Cloudy water
Not sure if it detoxified the ammonia but the water is so cloudy now and I can't get it to clear. I have to empty all the water and refill the tank. Ugh
---