Aqueon Flexible LED Aquarium Bubble Wand, Blue
Frequently Bought Together
---
About This Item
Create a decorative bubble curtain accented with LED lighting
Provides a soothing ambient light and decorative accent to your aquarium
Made to bend easily around your existing aquarium décor
Bends around aquarium décor
Energy-efficient blue LEDs, perfect for fresh or saltwater aquariums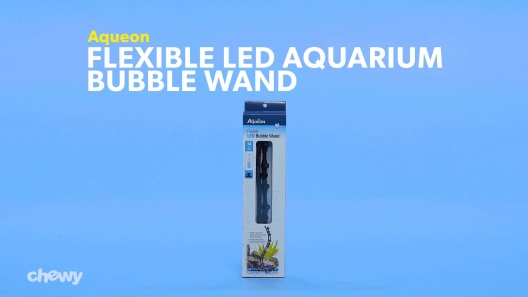 Learn More About Aqueon From Our Team of Experts
---
---
Questions & Answers
11 Customer Questions
---
What all do you need for it to work or dose it all come with it
Answer by • Jul 30, 2017
This wand will come with the power cord that operates the LED lights. For the bubble function, you'll need to connect air hose to a pump which are not included.
---
Does this come with the cord to plug in to the wall
Answer by • Oct 09, 2017
This only includes the bubble wand with a female connector. An additional male connector is required along with other accessories.
---
Is it weighted to stay submerged?
Answer by • Nov 08, 2017
It's not weighted but it does contain suctions cups for secure and versatile aquarium placement.
---
What size air pump would work best for this?
Answer by • Apr 27, 2022
We need to take into account on where the air pump will be in proximity to the bubble wand. If the pump will be on the floor, you will need more pressure (bigger pump) to push up and then down and then through. My suggestion would get a larger pump and use an inline valve to adjust the airflow to your desired outcome. One option is the Aqueon size 40 Quiet Flow airpump.
---
---
---
By Abbegael on Dec 31, 2021
Love This!
The Aqueon Flexible LED Bubble Wand is exactly what I wanted! It's beautiful! I have a 5 gallon Betta tank with a Corydoras catfish and 2 snails and wanted a little more movement...this is perfect. Because it's a small tank I added a valve to control the airflow and buried the wand under the gravel to suppress the brightness of the LED. I couldn't be happier with the results! It would have been easier to install in a new set up, but who knew? Definitely recommend! Love it!
---
By Wick on Dec 26, 2021
pretty, but.....
The lights themselves were very pretty, but as a bubble wand...very few bubbles come out. Disappointed and do not recommend.
---
By GottaCatchEmAll on Aug 4, 2021
GLO REACTIVE Bubble Wand ACTUAL Description (Q&A's section misleading)
Nice and flexible, so you can shape it how you want. However, the more you mess with it, the more likely the plastic clips will pop off of the lights or bubbler part. Not broken, just annoying to get it bent just right and then have to pick it up again to reattach them (my ONLY complaint). . . . Also, I read a review, before I bought this product, that spoke about how it won't stay anchored to the bottom. I found that the suction cups work REALLY well on the bare tank, or digging a trench in your gravel, placing the bubble wand in the trench and then burying most of it with just the lights and bubble tube showing will keep it anchored as well. . . . Another thing, the 2 functions of this product can be used INDEPENDENTLY. The LED just needs to be plugged in (WALL PLUG INCLUDED) and the bubbler NEEDS an AIR PUMP and TUBE that also gets plugged in. So if you don't want the lights on the whole day, you can plug just the lights into a timer while the bubbles can be always on by plugging that part into a normal wall socket. BONUS: The blue LED lights reacted with my glow decor for a cool nighttime effect!
---
By Cooltank on Dec 30, 2021
Bubble wand
For this application. in the beta falls tank, I would not recremend.
---
By Nanna on Sep 29, 2021
Didn't blow bubbles, but...
Always had good results from this brand before. The lights worked but didn't blow bubbles. Am returning item for an exchange. Confident new item will work for me.
---
By Candi on Oct 10, 2021
Pretty & Useful
I love this bubble wand! The blue lights are beautiful & the bubbles work great for oxygenating the aquarium water!
---
By Deysi on Aug 1, 2021
I absolutely Loved it!!!
I loved the lights they look very nice when the top lights are off. Gives my fishes some sort of light without having them in full darkness.
---
By Ethuna on Mar 28, 2021
Really neat!
This product is really neat! It was easy to install and has suction cups that attach to the tank to keep it from floating. The led lights are bright and it produces many bubbles. It's nice that it is flexible, so I can place it around my other decorations and also give my tank some depth visually with the bubble curtain it creates. I've only just installed it, so I can't comment on the longevity of the product.
---
By vacationlovinmom on Sep 20, 2021
Skip this choose another
The lights never go off and the item wont stay sunken.
---
By Nation on Apr 4, 2021
This is awesome!
This is by far my fish's favorite thing in the aquarium! He loves to hang out in the wall of bubbles. And the blue light is very cool!
---