Python No Spill Clean & Fill Aquarium Maintenance System
By Python
---
About This Item
A complete, ready-to-use system that adapts easily to most faucets and makes changing your aquarium water a breeze
It drains as well as fills aquariums, and will not disturb fish or plants during routine aquarium maintenance
This system eliminates the need for buckets, siphons and tank tear-downs that lead to bigger messes
Includes a hose, gravel tube, switch, hose connectors, faucet pump and brass faucet adapter—everything you need for easy aquarium maintenance
Simply attach to your faucet to use water pressure to clean and fill aquariums with minimum disturbance to your fish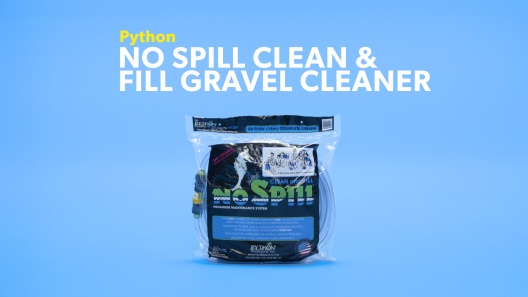 Learn More About Python From Our Team of Experts
---
---
Questions & Answers
56 Customer Questions
---
Does the water from the faucet have to be on the entire time you're draining the tank or does it just "prime" the siphon and then you can turn it off and have the water still drain? I want to conserve water...
Answer by • Oct 27, 2017
This Python maintenance system does require your facet be on while cleaning your tank, using cold water to power the system. When filling your tank back up with water, make sure the faucet water matches the temperature of your aquarium. It eliminates the need for buckets, siphons and tank tear-downs and won't disturb your fish or plants during routine aquarium maintenance.
---
Does the 50 ft system come with the green plastic return hook (fits over edge of aquarium) that python shows in the video making it easier to fill
Answer by • May 23, 2018
The Python HOOK is sold separately. The system contains a hose, gravel tube, switch, hose connectors, faucet pump, and brass faucet adapter.
---
Can this be used with sand instead of gravel ?
Answer by • Apr 10, 2018
This can be used with sand instead of gravel.
---
Will this siphon still take out and in water even if your tank is on the floor? Majority of siphons require your tank to be above floor level because it uses gravity so I was wondering if this siphon requires that since my tank is on the floor. Thank you.
Answer by • Jan 16, 2019
This siphon uses gravity. To use this as a siphon, the aquarium would need to be level or higher than where the water is emptying into.
---
---
---
By Jim1226 on Apr 8, 2022
Game changing
The Python Aquarium Cleaning system is a great investment for Aquarium enthusiasts. This product has simplified and enhanced my ability to enjoy fish keeping. My Aquarium is healthy and vital because I can keep up with the water quality without hassle. Water changes with the Python are quick and spill free. No more buckets of water to wrestle with makes water changes a snap. Check out a video on the Python to see just how easy Aquarium upkeep can be. I highly recommended this product. This product has given me the ability to find new enjoyment in fish keeping. Thank you Python.
---
By Jess on Apr 4, 2022
Best ever for cleaning
This is the best ever I ever used. No more poping off the faucet or flooding the floor like the old one. The hise was gray and hard to see if the water was dirty. This one was so suprized how much black I got out of my gravel and I thought I cleaned my tank good. Money well spent!
---
By Treedog on Feb 20, 2022
Great product
Picked this up for mainly my 600gal fishpond. Worked well and easy to operate. Does well picking up dirt in tank and love the easy way to reverse flow to fill. I do recommend the longer attachment, so you don't have to stick hand in tank. Only problem was attachment for sink did not fit but not an issue. I also wish that the longer suction cone was included in main package as an option and didn't have to buy it. If you suck up large debris sometimes it gets stuck and suction stops but just reverse flow to clear. Great product.
---
By Latte on Apr 11, 2022
Python aquarium maintenance system
I have had this product before and it has been excellent in draining and refilling an aquarium. It is important though that it is connected to a faucet with proper water pressure to work successfully.
---
By Peter on Mar 26, 2022
Leak Machine. Hose material is real thin, cheap.
Disappointed. The faucet connection is leaking & it will not stop. Watched enough u-tube, still leaking. I had an old python, hose was a lot thicker. This new one is thin, doubt if this will last. Save your money and buy another brand.
---
Love my python
I have had a python for over 15 years BUT I let go of the fish hobby 5 years ago and at that time I thought I was done with the hobby, so I sold all my equipment, well I should have known better than that knowing that I was just going thru a phase. Last month, I got a new fish tank and I knew I needed to find a new python. Thank god for Chewy having such amazing prices. Everything with this pandemic has gone up so much and it is so nice for chewy to still offer prices we can afford to keep all our pets happy. There is no way I could have a fish tank if I didn't own this hose. It is extremely easy to connect to your sink and a no brainer to either clean or fill the tank. My fish and I are totally happy! I ordered the 25' one and it is more than enough for my space. The copper sink faucet connection is also a nice addition. (My old one didn't have that)
---
By Mamaof4 on Jan 14, 2022
It's cool but
This item didn't work for me. Even though I spent $13 on an adapter we never got a good enough seal for the suction. We had to leave the water on and running the whole time (which is super wasteful), and had to keep restarting the suction process because of the air bubbles that kept accumulating in the hose. I loved the ability to refill my 75gal but for $85 that's not worth it for me. I will buy a pump and hose and do drain and refills that way. Chewy made the return of this item very easy and I do appreciate it. I really wanted this item to work.
---
By Sarah on Feb 5, 2022
Will never go without it!
Cleaning out my tanks was an absolute nightmare before this! I have them upstairs and the sink is downstairs, so it was a lot of buckets (40 gallon tank and a 15 gallon tank!). I had to get an extra bit of tubing (from Lowe's) but it now reaches from upstairs to my bathroom sink and emptying and filling the tanks are a breeze! I love this thing!
---
By Winston on Jan 24, 2022
Game Changer
All I can say is if you are on the fence about buying a Python, just do it. I have had it in my cart so many times I lost count. I simply couldn't pull the trigger due to the cost. As a life long fish keeper and 5gal bucket user, I am totally in shock how simple this product is to use. I should have ordered the refill hook at the same time but I thought I could get away without it - it is handy to have.
---
By ReneeH on Jan 4, 2022
This hose has made my weekend so much better -save your back
I love this. You really just hook it up to the sink and turn the water on. It powers it so that it sucks the water out of the tank. Then you turn the valve and fill the tank. It was great!! My husband and I are getting older and the turtle may outlive us so I am so grateful not to carry gallons of water anymore.
---