Aqueon LED Fish Aquarium Starter Kit, 10 gallon
By Aqueon
---
About This Item
Comes with a 10-gallon glass aquarium made in the USA.
The low-profile top features LED lighting to brighten up your aquarium and bring it to life!
The QuietFlow LED Pro Filter is designed with a red LED light on top that flashes to indicate it's time to change the cartridge—that means no more guessing for you.
The preset heater helps keep your finned friends' water at a constant temperature.
Comes with an easy-to-use setup guide.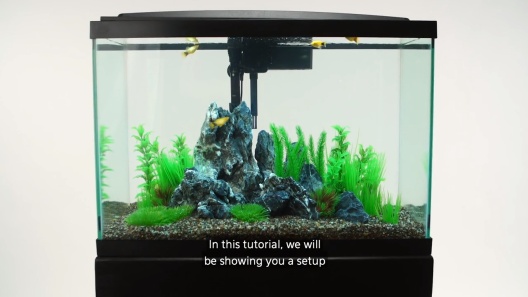 Learn More About Aqueon From Our Team of Experts
Because this starter kit contains glass, it will be shipped in special packaging for added protection.
---
Compare Similar Items
| | | | | | |
| --- | --- | --- | --- | --- | --- |
| | | | | | |
| Customer Rating | | | | | |
| Price | | | | | |
| Fish Type | Marine Fish, Tropical Freshwater | Tropical Freshwater, Betta, Goldfish | Tropical Freshwater, Betta, Goldfish | Tropical Freshwater | Betta, Tropical Freshwater |
| Capacity (Max) | 10-gal | 7.5-gallon | 5-gal | 5-gallon | 3-gal |
| Material | Glass | Glass | Acrylic, Plastic | Glass | Glass |
| Aquarium Type | Freshwater, Saltwater | Freshwater | Freshwater | Freshwater | Freshwater |
---
Questions & Answers
56 Customer Questions
---
What are the dimensions of this fish tank?
---
I'm interested in purchasing this, but is the filter suitable for a betta? I heard that bettas need low filtration that's not that powerful, and I was wondering if the filter provided would be okay?
Answer by • May 31, 2019
The filter has a higher flow rate to ensures a higher dissolved oxygen content for healthier, more active fish. The filter might be too powerful for betta fish.
---
Does the filter system come with a pump and tubing? If not, what size do I need? Thank you.
Answer by • Jan 14, 2020
This starter kit includes: Low profile LED full hood, QuietFlow 10 LED PRO power filter with medium cartridge, 50W preset heater, premium fish food, water conditioner, fishnet and a stick-on thermometer.
---
Would this be a good size for 2 baby turtles???
Answer by • May 01, 2019
A 30-gallon tank is the suggested size for smaller species measuring between 4 and 6 inches. For turtles between 6 and 8 inches, a 55 gallon tank is appropriate. And for turtles measuring more than 8 inches, tanks in the 75 to 125 gallon range are a better choice. If you start with a younger, smaller turtle, a smaller tank is acceptable as long as the enclosure size increases as your turtle grows.
---
---
---
By ladylmo2 on Jan 3, 2022
What a great fish tank!!!
This fish tank comes with almost everything to start a beautiful freshwater fish tank! The tank comes with a very quiet, easy set-up filter, heater, tropical fish food, ( make sure to buy the right fish food for your fish if it is a coldwater fish :), a stick-on thermometer strip, a net, water conditioner, the tank and lid with a convenient feeding door and LED lighting. We are putting two fantail goldfish in it and are sure they will live long, happy lives. The only other thing we had to buy was cleaning supplies, bacteria supplement, goldfish food, and decor. So excited to put fish in this wonderful tank!
---
By Autumn on Dec 5, 2021
So far so good
You get the minimum needed to start with. The filter media you can get cheap, doesn't have to be the Aqueon cartridges. I use Aquaclear filter media (foam, bio-max, etc), they're cheap and work just as well.
---
By EisleyXD on Oct 14, 2021
Great beginner's tank
I bought this tank so I could take my boyfriend's dwarf gourami from a community tank where he was being a bully, it arrived on time and the heater constantly heats to 78°f. My only two complains are that I wish the lights had a low light setting, and like other reviewers, my tank does have some uneven silicone.
---
By Lucyny2000 on Oct 5, 2021
Nice aquarium.
I really like this aquarium. This is my first time fish keeping, and I enjoy it very much. But I did change the filter to an internal one. I believe the water became clearer within one day.
---
By Heather on Jul 29, 2021
Great starter tank
I love this tank. It comes with everything you need to get started (except decorations and a water test kit.) I have used it as a community tank for small fish and now that they've moved to my 29 gallon I have a betta and a snail in it. The filter isn't too strong for my betta as I added a lot of floating plants. The LED light is very nice also.
---
By Megan on Jun 16, 2021
An okay setup
The tank comes with everything you need to set up an aquarium, minus gravel, plants,and fish, but just as a heads up, the lights stop working on a very regular basis. With the way the hood is set up, if the contacts for the lights get wet, the lights stop working. If you fill the tank up all the way, the contacts will likely get wet. If you knock into the tank stand and the water sloshes, the contacts will get wet. If it is humid, condensation will form and the contacts will get wet. When you change the water in the tank, if water gets on the hood, the contacts will get wet. At this point you have to unplug the light and hope that after a few days the contacts will dry and your tank will get light again. The plastic on the hood is super cheap and cracks easily. So it's a decent setup, but don't expect the light to work on a regular basis, which is kind of a let down since you want to be able to see your fish, and don't expect any durability from the hood.
---
By dude on Aug 27, 2021
A great buy
I wasn't too thrilled about the filter. However, it does it's job and the tank/heater work. Not a bad bundle for the price.
---
By Freddie on Jun 20, 2021
Good tank, but…
The filter worked for about an hour before it died. The rest of the tank/kit is great didn't have issues with excess sealant like others did. Really like the set up just wish the filter wasn't junk.
---
By AnnaB on Apr 21, 2021
happy with product
The tank came nicely packaged with all the things needed to get it started. I bought my own gravel, plants, and decorations. It came with a heater, filter, temperature sticker, fish food, net, and water softener. I used two bags of gravel and it covered it nicely. If you have lots of things to cover may need three bags. The tank is in good shape. No issue who to much silicone around the edges. I am happy with the purchase.
---
By bswih on Aug 15, 2021
great buy for any setting
comes with everything you need, everything works correctly, very satisfied.
---