Cat Mate Electromagnetic Cat Flap, White
By Cat Mate
---
About This Item
Suitable for doors and walls and has a built-in brush strip and magnetic closure to help protect your home from the elements.
Comes with a magnet that doubles as an identification tag to attach to your cat's collar giving her full access to the cat flap.
The 4-way locking system allows you to choose between unlocked, locked, in only and out only.
The transparent flap is made from tough polymer and gives your pet visibility.
The silent action flap won't startle your pet or you!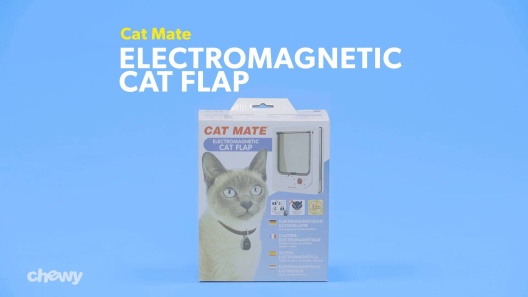 Learn More About Cat Mate From Our Team of Experts
Give the rest of your pets access to this flap with additional [Cat Mate's Collar Magnets] (https://www.chewy.com/cat-mate-cat-collar-magnets/dp/103184).
Shop Prescription Medications from Chewy Pharmacy
---
---
Questions & Answers
24 Customer Questions
---
Will this work in a metal door?
Answer by • Nov 07, 2017
This pet door is made to be installed in wooden doors, plastic panel and walls. Installing in a metal door can pose an issue with magnetic pet doors. Also, the hardware supplied isn't meant to be used in metal doors.
---
Could a small ten pound chiuahua fot throigh this comfortably?
Answer by • Jul 29, 2018
It's recommended to measure your dog 1st to ensure he can fit through the pet door. The pet door is 6 5/8 inches wide and 8 5/8 inches tall.
---
Can I order just the cat collar? We lost the one that. Came with our cat mate flap door.
Answer by • Dec 24, 2019
Replacement magnets can be found on our site listed as Cat Mate Cat Collar Magnets for Electromagnetic Doors.
---
Can this Cat Mate electromagnetic cat flap go into a wall instead of a door & if so do I need to get extra parts like the cat mate wall liner?
Answer by • Dec 17, 2019
This cat flap is self lining to 60mm (2 3/8 inches) thick.
---
---
---
By DavidK on Feb 6, 2022
Keeps the strays out!
i had a really old (20+ years) version of this in a steel exterior door. The magnetic feature hadn't worked in ages, which was fine because our cats at the time hated collars, kept shedding them, & new magnets and collars get expensive after awhile. But recently a stray cat started coming in several times a night. I turned the selector to in-only so the next time it came in it couldn't get back out & I could scare it a little. Well after I chased it around the kitchen it hit the door so hard it broke the flap in 3 pieces. This is almost a direct fit; just drilled a few new screw holes and it fit the existing cutout. Chester and Casper don't mind their collars and I love hearing the stray bumping it at night but failing to get in. Pay attention to the front and back on the collar magnets - it makes a difference.
---
By CatMom on Aug 10, 2021
Poor Design
The latch that catches the door to prevent the door from opening for a stray, gets hooked on the door if something without a magnet pushes on the door or if your cat tries to get through to quickly. Ones it's hooked the latch won't release even with the magnet. Also, the door is harder to push open than a regular flap so if you have a timid kitty or an unmotivated kitty they may just give up. So between being more difficult than their previous cat door and unreliable, our cats won't use it on their own. I'm really disappointed.
---
By DATx on Dec 12, 2021
Does not work
The magnet and the locking mechanism are a joke. It can even be opened by a cat pawing at it.
---
By NoStrays on Jun 25, 2021
Magnetic cat/dog door
I ordered this door for my cats. I was leaving town a lot & finally realized that while I was gone, I had several strays coming in my house through the old cat door, hanging out, eating my cats food, etc. Yikes! I read some reviews on this and was skeptical. I LOVE THIS DOOR! The only thing we had to adjust was putting a small weight on the inside of the flap because it wasn't shutting completely after the cats would come in. Easy peasy. It works like an champ & now only MY cats can get in and out :) Also, the magnets on the cats collar are small. My cats are 8 years old, have never had a collar & the magnet does not bother them at all:)
---
By Quantumnal on Feb 17, 2021
Speedy Delivery
Our Cat Mate cat door was over a decade old, so we were glad to find the exact size we needed on Chewy. Took about 5 minutes to install. The winter wind isn't blowing right in anymore. It took a few tries for the cat to figure out that he had to push a little harder since the magnet is so strong on the new one, but he got it.
---
By IrisAndDaisy on Dec 3, 2020
Secure Enough
The magnetic release is simple technology but enough to secure the flap from unwanted critters such as raccoons or even other cats (who aren't also wearing magnets on their collars). The only thing that I'd like to see, that is standard on a lot of other cat and dog flaps, is a solid cover that you slide on that completely covers the flap. There is a 4-way locking switch where you can lock the door in both directions, but I hate to see the poor cats banging their heads on the flap trying to get out when I lock it.
---
By Monnie on Oct 7, 2020
Only works in one direction.
I purchased this to allow only two of my three cats to go out into the cat pen. The diagrams sure seem to indicate the choices are 1) fully locked, 2) fully open, 3) exiting only, or 4) entering only. But in fact this will not let you control which animals can exit your house, only which animals can enter. That's fine if all you want to do is keep out intruders. But if you want to control which animals can exit, then this is NOT for you. (Thankfully, I received full refund with no hassle from Chewy.)
---
By Juju on Apr 12, 2020
Don't bother
I love the idea of this. And for some this may work great. But for my cat Chloe this didn't help her at all. First of all, there is a delay in the unlocking of the door and you have to get the magnet just right for it to work and open the latch. It would be better if when the cat came closer, the door would lift up and stay up for 3- 5 seconds so the cat to go inside.
---
By Jean on Apr 7, 2020
Works as expected BUT
I installed 4 months ago. Takes about a week to train cats and works as expected. My cat went running out and it ripped the door right off and I can't find replacement flap. I will buy another one because it really does work well. Beware though, it does not fit in exterior walls and there is no extender that fits this model.
---
By SunnyGirlCo on Dec 31, 2019
Don't waste your money
It has lock, unlock, in, and out dial options. The unlock works going out with a loose swinging door, but to come back in they need the fob on their collar, which would be great if it didn't make a loud clicking sound that makes my cats jerk back scared, which locks the door again, only to repeat the cycle, and the cat never makes it back in. They also have to have their head really, really close to the bottom of the opening or it re-locks. I would recommend possibly trying a more expensive brand? It may have been just the way I read it, but I thought the fob would auto open the door all the way for a few seconds, it only makes the lock button go down so that they could push through, IF they weren't afraid of the sound. Bummer!!! I'm going to try lowering the fob on their collars and see if that makes a difference. It's still going to make that sound though..
---