Comfortis Chewable Tablet for Dogs, 10.1-20 lbs, & Cats, 6.1-12 lbs, (Orange Box), 6 Chewable Tablets (6-mos. supply)
Autoship
(Save an extra 5%)
Choose Autoship at checkout for regular deliveries.
Why Autoship?
FREE access to chat with licensed vets 7 days a week.
Save 5% on all future Autoship orders.
No fees, no commitments - cancel Autoship anytime.
This item requires prescription approval.
---
Medications ship separately. Delivery times may vary.
---
---
Temporarily Out of Stock
Get notified when this item is back in stock.
---
---
More Options for Flea & Tick Protection
---
About This Item
Comfortis is a chewable medication prescribed by veterinarians for dogs and cats to help treat — and possibly even prevent — flea infestations for up to one month. These flavored tablets can be added to your pet's favorite food and only need to be given to your canine companion once a month to help combat fleas.
Proudly sourced directly from the manufacturer or their approved distributor. Guaranteed genuine and backed by the manufacturer.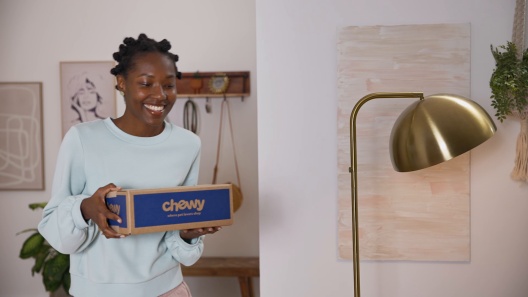 Learn More About Comfortis From Our Team of Experts
Dosage Chart
| Color on Box | Weight Range | Strength | Dosage | Product Page |
| --- | --- | --- | --- | --- |
| Pink | Dogs 5-10 lbs / Cats 4.1-6 lbs | 140 mg Spinosad | Give orally once a month | ✓-Click Here |
| Orange | Dogs 10.1-20 lbs / Cats 6.1-12 lbs | 270 mg Spinosad | Give orally once a month | ✓-Click Here |
| Green | Dogs 20.1-40 lbs / Cats 12.1-24 lbs | 560 mg Spinosad | Give orally once a month | ✓-Click Here |
| Blue | Dogs 40.1-60 lbs | 810 mg Spinosad | Give orally once a month | ✓-Click Here |
| Brown | Dogs 60.1-120 lbs | 1620 mg Spinosad | Give orally once a month | ✓-Click Here |
---
---
---
By Mindy on Apr 18, 2022
Only thing that works!
I have been using this on both my cats and dogs. It states to give it monthly, but I normally give it to them at the beginning of flea season and it seems to last. I have noticed that some are complaining about the animal not being able to keep it down. I (at the recommendation of my vet), crush it up, add water and use an eye dropper to give it to them. So much easier and my cats seem to tolerate it well.
---
By Tammy on Mar 1, 2022
faithful user for 15 yrs
Used whatever my vet recommended for years then one of my dogs had seizures from the A brand back in 07 switched to this brand and never had an issue with any dog or cat when they made for cats!
---
By Judysstudios on Oct 22, 2021
Very safe but for fleas only
I've used this for years very safe people are put off because its for fleas only. But ID buy this because its Proven safe and works unless you have a real tick problem ID always use this For ticks their are other products to use. Much safer than trifexis bravecto etc...
---
By PommyMommy on Oct 23, 2021
Flea and tick contol
The only flea and tick protection I trust for my sweet Pom. The topicals applied were causing mini seizures but we did not know that until we moved to Florida and needed a stronger formula. Chewable given once a month and I feel confident.
---
By Sriley on Oct 13, 2021
Does not work!
I bought this for my indoor cats after they somehow got fleas even though they don't go outside and no other animals come inside, no dog either. My cats still have an infestation of fleas and it has been weeks since they were given this product, nothing seems to help!
---
By Ohio on Oct 1, 2021
Works like a charm!
Collars or liquid flea control methods never worked for my cat. Cold weather hardly slowed fleas down either. But then along came Comfortis. What a great product! Works quicker & better than expected. I didn't even have to pill her, I just broke the tablet up to the same size as her kibble & voilá she ate it up no problem, no vomiting either. I highly recommend this product if liquid or collars don't work on your pet either. Expensive, but totally worth the cost. Very happy customer!
---
By Carrie on Sep 10, 2021
First time user!!
This was my first time using this company and I love them! My friends and family have said so many amazing things and finally I said I'll try them. I ordered flea meds for my cat and they contacted my vet to get the script and within a couple days we had it at our door step! So much easier then calling the vets and then driving there to get it. I love this company!!!
---
By Crystal on Aug 25, 2021
I can't believe it!
I have tried everything topical! All of the best.... even vet prescribed topicals to try to get my flea situation under control. The fleas are resistant in my area to topical treatments. Just an hour after administering the medication I went to go check on one of my Maine Coon cats who has been miserable. I had him laying on a white pillowcase and all around him were dead fleas. None of my three cats vomited like others reported, thankfully! I called the vet's office ahead of time to see if I could just cut the pill in half and give it to him orally instead of crushing it up and they said that would be fine. Too expensive to waste in a mashed up food fail. I read online that it kills 100% of fleas on dogs in a controlled lab setting within an hour and killed 90% of fleas within an hour for cats. This actually went above for my cat's I did not comb out one live flea or see one live flea on any of them. They were all dead! This is well worth the money that you're going to waste on topicals that don't perform. I did not take giving my cat's an oral treatment lightly! But it's been a very positive experience. I'm glad my vet gave me plenty of refills and now I will treat my home and yard to be extra careful. If your animals are suffering from a flea infestation and your at your wit's end this is the medication for you!
---
By Hummingbird on Oct 17, 2021
Will continue to use
Works great at killing fleas fast. Both cats were scr.atching before restarting Comfortis. Stopped itching by next am. Have used lasr year, but had stopped for 6 months because they had no fleas present. Will keep using because topicals don.t work for us. We have a feral cat and a purebreed on the Comfortis. Works great!
---
By LAMB on Oct 25, 2021
COMFORTIS FLEA MEDS
THIS IS A PRODUCT I USED TO GET FROM MY VET WHO NOW DOESN'T CARRY IT AND I'M VERY GREATFUL THAT CHEWY HAS IT - IT WORKS GREAT ON MY TWO DOGS
---