Frisco 48.25-in Heavy Duty Faux Fur Cat Tree & Condo
Frequently Bought Together
---
About This Item
48.25-inch design with lots of comfortable spots to scratch, play, nap, relax and perch.
Features five partially wrapped sisal scratching posts, a roomy kitty condo, two platforms and a high, penthouse perch.
High perch has a removable, machine washable cover and a dangly pom-pom toy attached.
Covered in soft faux fur all around that kitties love to rub and nestle against.
Available in a light, neutral gray and a dark charcoal to fit your home décor.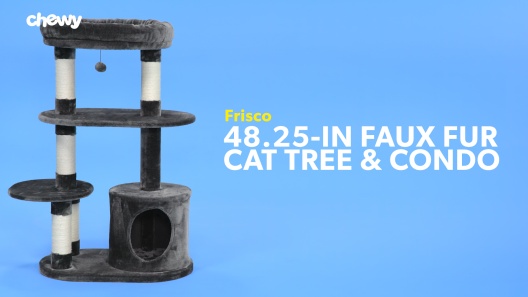 Learn More About Frisco From Our Team of Experts
---
---
Questions & Answers
7 Customer Questions
---
What is the max weight size my cat is 17 Ibs and most trees are either too wobbly of too small for her I rent so I can't go drilling holes into my apartment.
Answer by • Dec 08, 2021
Frisco cat trees are made for cats of all sizes and life stages. They are tested to ensure standalone stability.
---
What are perch measurements?
Answer by • Jul 28, 2021
The perch measures 24 inches in Length, 19 inches in Width, and 4 inches in Height.
---
Does this come assembled?
Answer by • May 16, 2021
This cat tree does not come assembled, however, all parts, tools and step-by-step assembly instructions are included.
---
What is the maximum weight for this cat tree?
Answer by • Feb 16, 2022
Frisco cat trees are made for cats of all sizes and life stages. They are tested to ensure standalone stability.
---
---
---
By Kathyelee on May 27, 2022
Not my fav
I LOVE Frisco cat trees. They are sturdy and well built without cutting any corners. My very large cat loves them and they never wobble when he jumps on them. I have had many Frisco trees and still use most of them. Having said that I bought this one for our beach house. It is the most difficult tree to assemble I have ever had. Especially the condo. In fact the assembly was not easy anywhere. But after assembling it my cat had trouble climbing on it. Most of the cat trees have staggered perches so he can hop on one then hop on another. The perches on this one including the condo and lower perch are all in line so it was very difficult for my 13 year old cat to jump from one level to the next. He finally had to jump from the bed onto the various levels. I love Frisco but this is certainly not my favorite.
---
By MotherofPudd on May 11, 2022
He LOVES it!!
I bought this for our cat (male, ~11 lbs)last week and I am so happy we did! It was easy to assemble and a perfect fit for our front window where our cat would usually sit on the windowsill to watch the neighborhood. This tree was also a nice height in that it's high enough for our cat to get some quick separation from our dogs, but also not so tall that it's overwhelming the room. Since adding this cat tree, he has been spending the majority of his time in the bed portion at the top level. An added bonus is that we haven't had any spraying incidents since we bought this tree; our cat seems very happy now that he has a space exclusively reserved for him.
---
By PixiesMom on May 29, 2022
The cats love it
I have 13 lb & 9 lb cats. They are "rough & rumble" boys, so I needed a tree that could handle their shenanigans. The large base helps keep it stable. There are several spots to lay down and the top portion is cushioned. It comes with a wall anchor for added stability (we elected not to use it at this time). So far, so good!!
---
By Luchia on Apr 15, 2022
Great for my 15 and 16 pounders
Cosmo and Trinket are brother and sister that were rescued as tiny kittens. Now at almost 2 years old, they are 16 and 15 pound balls of energy- complete with Kitty Crazies (usually at 3AM), chasing each other through the house and taking synchronized dives onto their Trees and perches. This tree is perfect for them! They have not toppled it over yet and i have not had to anchor it or add weight to the bottom base. It comes with a tethering option if you need to anchor it but we haven't needed it. This is one solid tree! It holds their weight easily. The platforms are big enough for them to lay on them and one can fit through the hole in the apartment area with room to spring out and attack the other. They both love sisal and it has been holding up. The tree comes with all the needed hardware, pre-drilled holes, that wrench thingie, and diagram instructions. Relatively easy to put together -the hardest part is setting up the apartment supports. 1 person can put it together but if you have someone to help hold the pieces in place while the other assembles it; might be easier. This was my first Frisco item but it will NOT be the last! I am a big fan of this product line!!!!
---
By Casper on Jun 3, 2022
Fun to climb
Assembly instructions clear and assembles easily. Very attractive and acceptable to my wild man. Top cushion not a great fit but will hopefully stretch a bit with time to fit smoothly. Would give a full 5 review otherwise. Overall very pleased.
---
By Samantha on Jun 27, 2022
Beautiful but won't touch
I've only had it for a couple of weeks and my cat won't use it. she sits on the side of it. it's beautifully constructed and well made, sad. Might have to get another model.
---
By Jordan on Mar 12, 2022
Good size/quality
It's actually a very sturdy cat tree, and is good for adult size cats. Most products of cat trees I see are of kittens cropped into the photo of the cat tree, and the reviews usually say that it's too small. This one is actually big enough and is surprisingly sturdy, the hardware is very big which makes it all the more sturdy. It is taller than I thought, which is good, but the perches don't give the cat very much room to get up and down, there's only a few inches for the cat to move up to the next perch or get back down from. Other than the near vertical perch gap I'd say this cat tree is defanetly quality, the size is great, and even looks nice. Im giving 5/5 because its quality, and no false advertising.
---
By Lily on Mar 24, 2022
For Large Cats
This tree is almost too big for my small/average sized cat, but I do like it. Better to be a little too big than to be too small. It was a bit tricky to put together, but it is really sturdy and well-made. The very top level is a tiny bit wobbly, but not enough to bother my cat. The material is so soft. She has enjoyed all the levels so far. I'm pretty happy with it so far. Plus I think it was worth the price, and the shipping was super fast.
---
By Jenn on Mar 21, 2022
Okay, but not great
So, we bought this for our senior cat to replace his tall tree. We have started feeding him on his tree, due to a new puppy and wanted a bigger flat surface for him to eat on. While the tree is sturdy and easy to assemble, it was hard for him to get onto the top level as it is not very offset from the middle one and the top level is close enough to force him to hunch under the top when eating. Our solution was to remove the top level and posts to give him a greater amount of space. We are sad he has lost so much hight but happy he has a better space.
---
By Michelle on Apr 3, 2022
My little Walle loves it
As you can tell by the photos, he's very happy with his cat tree. He couldn't even stay off it when we were putting it together! It's hard to find a cat tree that is sturdy enough to handle him jumping around on it without wobbling. I feel my cat is a decent size and this tree really works for him.
---