Frisco 35-in Heavy Duty Sisal Cat Scratching Post with Toy
By Frisco
Compare Similar Items
| | | | | | |
| --- | --- | --- | --- | --- | --- |
| | | | | | |
| Customer Rating | | | | | |
| Price | | | | | |
| Furniture Features | N/A | Hanging Toys, Modern | Anchoring Kit Included | Hanging Toys | Hanging Toys, Modern |
| Furniture Covering Material | Sisal | Sisal, Felt | Faux Fur, Sisal | Faux Fur | Sisal, Faux Fleece, Jute, Felt |
| Height Range | 31 inches to 59 inches | 31 inches to 59 inches | 31 inches to 59 inches | 30 inches & under | 30 inches & under |
| Tools Included | Yes | No | Yes | Yes | Yes |
| Furniture Frame Material | Engineered Wood | Cardboard | Engineered Wood | Engineered Wood | Cardboard |
| Number Of Condos | N/A | N/A | N/A | N/A | N/A |
| Furniture Mount Type | Free Standing | Free Standing | Free Standing | Free Standing | Free Standing |
---
About This Item
35-inch, vertical design gives cats of all ages and sizes a great place to scratch and stretch.
Satisfies a cat's natural scratching instincts and helps keeps their nails healthy.
Features sisal wrapping all the way up the post for lots of scratching, stretching space.
Includes a pom-pom toy attached to the top for even more kitty fun and excitement.
Available in a light, neutral gray and a dark charcoal to fit your home décor.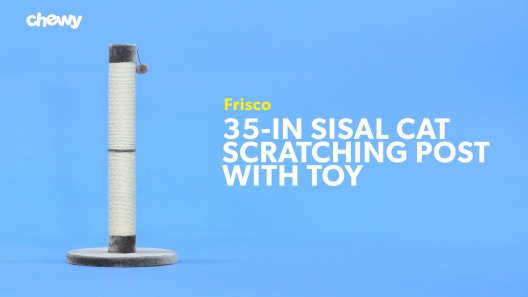 Learn More About Frisco From Our Team of Experts
---
---
Questions & Answers
10 Customer Questions
---
How sturdy is the base? Can it take a 22 lb cat without falling over?
Answer by • Oct 28, 2021
Frisco cat trees and scratching posts are tested to ensure standalone stability.
---
How much does it weigh?
Answer by • Nov 17, 2021
This toy weighs 11.66 pounds.
---
Does this pole smell like chemicals when received?
Answer by • Jun 09, 2021
The wood and glue used in all Frisco cat furniture has been tested and are compliant to CARB Phase II standards. They are below the limit of the strict emissions regulations.
---
Can you flip the post as the wear and tear on one side?
Answer by • Dec 13, 2021
The post is not designed to swap the top and bottom.
---
---
---
By Isabella on May 8, 2022
Sturdy and tall
I got this about 4 months ago, and made sure to COVER it in catnip before introducing it to my cat (it was his birthday, so it was a special treat). Definitely an upgrade from the 1 1/2 foot one he had long since outgrown. Here's the rundown after a few months of use. PROS: Heavy base, my 10lb cat throws himself at it and climbs up it and it doesn't budge. Thick post, good for climbing and playing around, I wrap his favorite shoelace around it and he chases it in circles, he also likes to chase his tail when he sees it around the post or stand on the top. Wide base, big enough for him to sit on or lean back when he scratches. Soft fabric, my cat really likes this texture! CONS: Make sure you pay attention to which color you get! I got the Gray because the fuzzy piece in the middle is thinner, and my cat prefers to scratch sisal rather than the fur. The Dark Charcoal has a thick connecting piece in the middle. If that doesn't bother your cat, fine, but mine is real picky. Also, the fur sheds. When my cat stretches to scratch at the top, tufts of fuzz come out and get stuck on his claws. I wish that there wasn't a connecting piece in the middle and it was just solid sisal, and the fuzzy section at the top wasn't so thick. That's where my cat mainly scratches, and he gets mostly fuzz and not sisal. Overall, it's a good quality post. It gives me a place to redirect him to when he goes after my chairs, but he does spend some time around it of his own volition. The thing that matters most is INTRODUCING IT POSITIVELY! I do plan to clicker train him to like it more, but he likes it enough as is.
---
By BigCatFriendly on Mar 10, 2022
Big Cat Friendly
This is an AWESOME post. Very easy to assemble. VERY sturdy. My cat is pretty big and he has been using a shorter post for a long time but never been able to stretch out. I wanted to replace the old one b/c our new puppy destroyed the smaller one (better that then the couch, so we let him have at it!) This new post is really nice looking and is now in a room for just our cat. He went right to it scratching on it. He stands up and scratches, then lays at the base and looks at me with loving eyes that say "Well done human".
---
By Cahoots on Mar 24, 2022
Perfect scratching post
Nice sized scratching post. Both of my cats love it and use it all of the time (instead of my furniture which is a real plus!). Sturdy, wide, and tall. Withstands some rough scratching and also doesn't tip over. My cats ruined other ones rather quickly. We've have had this one for a few weeks and it doesn't even look like it has been touched. Buying a 2nd one now!
---
By Gordo on Apr 2, 2022
2 - 12.5# 9 month old brothers
LOVE this post! They play on it constantly and one of them climbs up and perches himself on the top. It's extremely sturdy, even when they are wrestling or Gordy is climbing. I am not sure how long it will last because they use it so much, but I will be happy to by another! Great purchase!
---
By Char on Feb 16, 2022
Tall, stable and strong!
My poor cats had been using a homemade post that was covered in old carpet and was shedding it's fibers and becoming unstable, but they loved it because it was tall. I tried replacing it with a few different options but apparently they prefer to stretch and scratch...like they would in nature on a tree... so they pretty much ignored them. This looked like a great option, and though at first they were reluctant because the wrapped sisal was a whole different texture, they were intrigued by that little ball, and started climbing after it. (A little catnip rubbed into the rope helped too!) Once they got used to it, they loved it and it's become a fun spot to not just scratch, but play! Two large adult cats frolicking on, (and around and around) this post will NOT topple it!
---
By DiluteTorties on Feb 26, 2022
Good Purrrchase
I have an older cat and a kitten. The older one is very long, she needed height with a scratching pole and can stretch her whole self out with this one. The kitten will also be very long and she is already doing the same thing. She also likes to jump up and perch on top to survey her surroundings. Both kitties play with the ball too. This scratching post is sturdy and solid and can withstand the antics of my kitties without wobbling, and it keeps them away from scratching the things they shouldn't. It's a good purchase!
---
By STLJESS on Mar 12, 2022
stable and tall
I've had this about 2 months now and the fur kids are very happy. Our two big cats that are nearly tall enough to put their nose on a kitchen counter love being able to have a high post to dig their toes into. I love that it doesn't take up a lot of space but the base is still sturdy enough to not wobble when they fling off after scratching.
---
By Patty on Mar 11, 2022
Extremely well-made, heavy-duty cat scratching post.
I spent a LOT OF TIME comparing prices and reviews from many different sellers of cat scratching posts before buying this one. My homework paid off. This is awesome! My 2 rambunctious adult cats love it. Easy to put together, wonderful price, & very sturdy with extra wide base that keeps it from being turned over. This is the one to buy!!!
---
By TMACTexas on Feb 11, 2022
Frisco 35" Heavy Duty Sisal Cat Scratching Post
I really liked this post when I first got it, it seemed VERY stable and would not tip over easily. Well, then my cats started using it and the post's condition quickly deteriorated after that. The sisal rope is now scratched out and hanging somewhat loosely and only one of my cats has gone above that used area and started scratching towards the top of the post which is still pristine. Too much money for this to only last less than a year (opened July 2021).
---
By Patricia on Feb 26, 2022
SAVES FURNITURE
Even though my new kitten has a large tree with scratching posts in the family room, I wanted something for my formal living room for him to use when we were upstairs so he would bypass the furniture. This is perfect! Very sturdy. He jumps on the top to play with the ball. He loves it! I am so glad I went with this large post!
---