Frisco Extendable Litter Scooper
By Frisco
---
About This Item
Extendable design lets you scoop while helping to reduce bending or kneeling.
Change the length easily—turn clockwise to unlock and extend, then counterclockwise to lock in place at your desired length.
Oversized bucket scoop is perfect for larger or multi-cat boxes.
Slots hold solid clumps and waste while letting fresh litter fall through.
Shrink it down to store it easily after you're done scooping.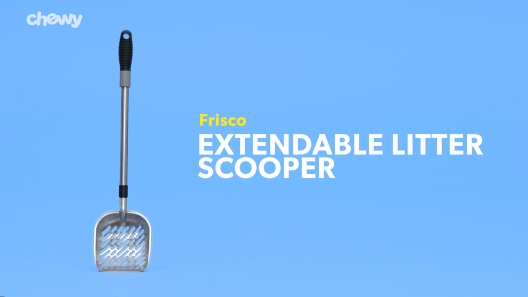 Learn More About Frisco From Our Team of Experts
---
---
Questions & Answers
9 Customer Questions
---
How sturdy is the handle when fully extended?
---
how long does it extend?
Answer by • Sep 01, 2020
When collapsed, this scooper measures approximately 23.5 inches long. When fully extended, this scooper measures approximately 32 inches long.
---
What is this scoop made of? Thank you!
Answer by • Nov 26, 2019
The scoop is made from aluminum alloy.
---
Does it work with Feline Pine pellets?
Answer by • May 12, 2020
The opening of each slot of the Frisco Extendable Litter Scooper is approximately 6.5 millimeters. Feline Pine Pellets are approximately 4.7 millimeters in diameters and have varying lengths of up to 12.7 millimeters.
---
---
---
By Lola on Apr 18, 2022
Heavy duty litter scoop
We were looking to replace a plastic litter scoop with a long handle. Somewhat hard to find the long handle type. This is all-metal and has a heavy, high quality feel to it. The handle is adjustable, though it is hard to get it to lock-down -- the only reason I don't give 5 stars. Scoop bottom is large. Because it is metal, you can apply real pressure to get the dried-on litter clumps out of the pan! Expensive, but I hope it lasts many years.
---
By Dag58nyc on May 11, 2022
Bigger than I thought it would be
The length of the scooper is great. The size of the scoop itself is so big. But does the job without dropping anything. I had surgery so could not bend down with the regular scooper. Thank you for making this product.
---
By Jazz on Mar 25, 2022
What did I wait so long?
The part of litterbox tending I disliked for years (I'm in my 70s, cats all my life) was having my face close to the litter I was scooping out. Hip surgery demands that I not stoop for 6 months - my gears spun, I searched for long-handle scooper - voila! I love these! The handle stays snugly in the chosen position (short/extended) and the slots in the scoop work perfectly with my clumping litter.
---
By Ralph on Feb 18, 2022
It's so close...
I'm 5'9" and this thing is still too short for me. As other reviewers have indicated, it needs to be about an inch or two longer and it would be the perfect length for a lot more people. I'm hoping it will be okay for my wife, who is slightly shorter than me. In addition, the handle doesn't quite stay locked when extended and twisted into place, no matter how hard you try. It's too easy to twist it back while scooping out litter. Changing the twist lock mechanism to a removable pin lock mechanism on a chain might be a better solution for this. Finally, it's really difficult to scrape things off of the bottom of the litter box. This might be due to the long handle, but I think it's also due to the metal edge of the scooper just not being very sharp. It works fine, but it could be better.
---
By MeowMom on Apr 9, 2022
Great if it actually LOCKED In place!
It worked great at first when it locked in place extended out. However, that didn't last long. Now I can honestly say I have never quietly cussed so much in my cat caring life using this thing. Not recommended for someone trying to dial down the stress in their life.
---
By Beachgirl on May 19, 2022
Wouldn't lock
I bought this as an aid after surgery. Unfortunately, it didn't lock and the pole would slide down. The idea is good just didn't work as promised.
---
By CatMomma on Feb 19, 2022
High hopes
Thought this scooper would mean I would be breathing in litter dust. The extendable feature is a great idea .but the scooper was huge and heavy. Meaning, it was tiring to shovel and the scooper was so wide that it was tough to get the big clumps in my newspaper sleeves to dispose. Meant I had to use bigger or grocery bags. So, I'll probably give this away. Found a smaller scoop 4 scooper versus 5 and lighter weight scooper. Live and learn.
---
By DogMamax9FelineQueen1 on Jan 29, 2022
Nice Surprise
We recently had a 9 month old kitten given to us after no cats for 2 years. We still had the top entry litter box from our previous cat and wanted to use it again. We use scoopable litter and reaching in the box daily was no fun. Saw this and though it was worth a try. I was pleasantly surprised when this arrived and it is NO plastic but a lighter metal! The scoop is big enough to get a good amount without having it hang over the sides or drop off. I really do not need to use extended but it works great especially if you want to stand to scoop! I would recommend this even if you do not have a high sided litter box! Great quality with a great price! RECOMMEND
---
By AngieOh on Apr 3, 2022
Back Saver
When I saw this I knew I just had to have it, I was afraid it wouldn't be long or sturdy enough, but it absolutely was both of those, anyone that suffers with back issues this is a Must Have. Thank you Chewy.
---
By Carly on Mar 11, 2022
Wish I would have found this product sooner
This scoop is awesome. It is heavy and very durable. And the telescoping handle allows it to extend well enough that cleaning a box becomes much more safe. Breathing in particles from the litter box is very unhealthy. This product changes everything for the better!!
---