Compare Similar Items
| | | | | | |
| --- | --- | --- | --- | --- | --- |
| | | | | | |
| Customer Rating | | | | | — |
| Price | | | | | |
| Small Pet Type | Guinea Pig, Ferret, Rabbit, Chinchilla | Ferret, Chinchilla, Rat, Degu, Sugar Glider, Guinea Pig | Guinea Pig, Rabbit, Chinchilla | Rabbit, Hedgehog, Chinchilla, Ferret | Guinea Pig, Rabbit, Chinchilla, Ferret |
| Material | Coated Metal, Metal | Coated Metal, Metal | Stainless Steel, Plastic, Metal | Plastic, Coated Metal, Metal | Plastic, Coated Metal, Metal |
| Features | N/A | N/A | N/A | N/A | N/A |
---
About This Item
Provides a multi-level habitat with lots of space for small pets to explore and play, and plenty of room for accessories.
Constructed with a sturdy, square tube frame and wire sides with half-inch horizontal spacing for security.
Leak-proof plastic pan and urine guard on the base help contain messes from food, water and waste for easier cleaning.
Features a wide, adjustable shelf and an easy-to-assemble access ramp to give your pet extra room to explore.
Designed with two full-width double doors with critter-proof, dual-locking latches to keep your pet safe inside.
Available in single and two stories. With the add-on unit, you can turn the single-story cage into a two-story cage.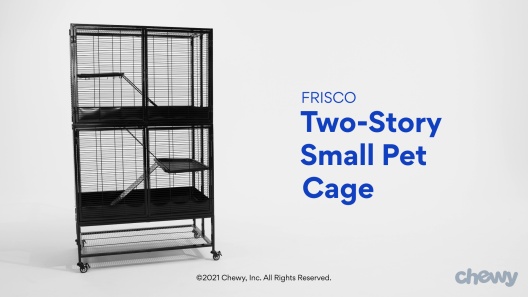 Learn More About Frisco From Our Team of Experts
---
---
Questions & Answers
20 Customer Questions
---
Can this hold two guinea pigs
Answer by • Jan 24, 2022
This small animal cage is suitable for guinea pigs, rabbits, chinchillas, and ferrets.
---
would this be suitable for some rats?
Answer by • Apr 21, 2022
This cage is not suitable for rats, hamsters or gerbil size small pets. The bar spacing is too wide for them.
---
If you purchase the single story cage, could you later purchase a add on to create a 2 level cage?
Answer by • Apr 25, 2022
This cage is available in single and two stories. The two-story unit includes a single story along with an add-on unit. There is not an add-on unit available separately by itself.
---
Are the urine guards metal or plastic?
Answer by • Mar 14, 2022
This cage is designed with a leak-proof plastic pan and metal urine guard around the edges.
---
---
---
By Catnado6 on May 26, 2022
The guinea pig
She went from a tiny cage to a mansion. (Rabbit breeding cage). That worked for a minute. I saw this looked spacious as she's a big girl!! Aww mega mansion, super easy to clean and she has so much room. I recommend if you know your guinea cut out the cardboard box and tape it to the back. So she pees all over including the wall. If you have multiple pets as I do use another piece of the cardboard box but it on top for storage. I ordered a hut so she has a little privacy. It's a great cage for her, mom and 6 cats!
---
By PetsRgreat on May 8, 2022
Perfect for adult rats 1/2inch bar spacing
This is for my big male rat. The bar spacing is 1/2 inch. It has been the perfect cage for him. Lots of room for hanging toys and adding levels with huts, tunnels and such. Easy to keep clean with textured plastic floor and second level. Ramp is heavy metal with traction bars on it. The bedding guard around the bottom is a heavy metal. This is a solid, rugged cage. The casters are heavy and role super easy with ability to lock. The whole front opens up with 2 doors making for easy access. It went together easy. Make sure the 3 panels (top, bottom and under shelf) are put in the right order as there are holes that need to line up. Only a few screws and casters and its together. The manufacturer seems to be lacking a bit on its quality control as it did come with some scratches (it appeared to have been moved on a concrete floor and scratched it) and the guard around the bottom was bent on the top in some places. However none of these things affect its function in my opinion and once together I don't notice the scratches at all. Would I buy another one? ABSOLUTY and Toby would too :)
---
By Sami on May 19, 2022
Good for rats
This is a good cage for rats, bar spacing is fine for them. First this is a decent size cage even the single story. I do have some issues with quality though. The bars have been bent a little after less then a year. Also one of the wheels broke after a month or so from purchasing. Just really poor quality control and quality of metal. Overall I would still recommend if you are trying to save some money just don't expect high quality for a lower price over the competition.
---
By Kathy on May 7, 2022
5 star customer service
The first cage I received was warped and had a couple of broken rivets so I wound up with a couple of screws that went half way in and got stuck (couldn't go in OR come back out). Luckily Chewy has fantastic customer service and I was sent a replacement cage less than 48 hours after I unpackaged the first one. The second cage I received works perfectly. I assembled it by myself in under 30 minutes. Like other reviewers mentioned, the tray + urine guard do a great job at containing mess. I also love that the doors make it super easy to access the entire cage for cleaning.
---
By jendar617 on Apr 9, 2022
Frisco Small Animal Cage
The cage is great for my rats, however, it came all scratched and banged up. It almost looked like it was used. I couldn't return it, as I had babies waiting for their new cage. Bar spacing is great for baby rats. Other than cosmetic/scratches, the cage is awesome, comparable to a double critter nation (actually, a few inches taller!)
---
By Vicki on Apr 16, 2022
Great but not
Easy to assemble, however got to the last piece, the top and the screw only went in half way on the 1 side n then wouldn't come out or go in, rivet was broke. I rigged it, no way was i taking it all back apart to retun it. Platforms/shelves are not as big as I'd like and the platform holders seem kind of flimsy but we will see how they hold up to 3 ferrets. Rest of the cage is solid and sturdy, doors work great
---
By Pigs on Apr 1, 2022
New home for my guinea pigs
I bought the Critter Nation cage first. I like the cage but was disappointed that the bottom pan did not fit all the way to the edges, but still doable. I learned quickly that it needed a splash guard to keep more of the bedding etc. in the cage. I ordered one for another $20. It was not worth that much. Not user friendly and did not actually fit well and therefor didn't do a very good job and needed to be re-attached every time the cage was cleaned. I now have 2 more guinea pigs and needed another cage. I ordered the Frisco cage this time, same type of cage as the Critter Nation (only better) it came with a splash guard that is just simply part of the cage and the bottom pan fits to the edges of the cage. lastly it cost less then the Critter Nation. I highly recommend the Frisco Small Animal Cage.
---
By Thomas on May 19, 2022
Not happy NOT for guinea pigs
This reviews is for guinea pigs THIS CAGE IS NOT FOR THEM DO NOT GET IT FOR THEM.it Is way to small for them. If you want to get really good cage for them get a c&c guinea pig cage that's what I am getting also it didn't come with the bottom mesh
---
By Annoli on May 10, 2022
Ferrets, no, rats yes maybe
This is NOT for ferrets. Too small! Too small, too small, TOO SMALL! How is this even pictured with ferrets? Ferrets will go insane in this cage due to lack of space. Fill it up with hammocks, ropes and hiding places, it'll be great for rats. NOT ferrets!
---
By 1111 on Mar 28, 2022
awesome cage for my ferret!
if you guys are looking for a spacey cage for your small pet i highly recommend this one! i got this for my ferret (i have one currently) but it's more big than i anticipated. my baby just has a bit of trouble making his way up through the ramps so if your new to the game try finding some ramp covers and cage liners as well. as for the setting up it can get tricky sometimes but as long as you carefully read instructions it will be okay.
---