FurZapper Dog & Cat Hair Removal Tool
Frequently Bought Together
---
About This Item
Natural and chemical-free hair remover.
Toss into your washer or dryer to attract, remove and get rid of hair.
No need to clean - gets washed along with your laundry.
Gently loosens and disposes of pet hair and fur down your drain or into your lint trap.
A simple and cost-effective solution to pet hair in your clothes or bedding.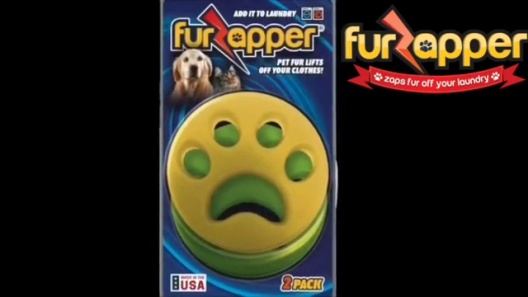 Learn More About FurZapper From Our Team of Experts
---
Compare Similar Items
| | | | | | |
| --- | --- | --- | --- | --- | --- |
| | | | | | |
| Customer Rating | | — | | | |
| Price | | | | | |
| Material | Silicone, Plastic | N/A | N/A | Plastic | Polyurethane, Plastic |
| Breed Size | Small Breeds, Medium Breeds, Large Breeds | N/A | N/A | N/A | N/A |
| Small Pet Type | N/A | N/A | Rabbit, Guinea Pig, Chinchilla... | N/A | N/A |
| Lifestage | Puppy | Adult | Adult, Puppy | Adult | Adult |
| Grooming Tool Type | N/A | N/A | N/A | N/A | N/A |
| Cleaner Usage | N/A | Clothing/Laundry | N/A | N/A | N/A |
| Brush Type | Deshedding Tool | N/A | N/A | N/A | N/A |
---
Questions & Answers
9 Customer Questions
---
Do u put both in the washer and dryer or one at a time?
Answer by • Feb 21, 2020
Just place the FurZapper into your clothes washer during any washing cycle, and it goes to work gently removing any pet hair and lint. While effective in the washer, it works even better in the dryer- often filling up your lint trap.
---
What is this made of, and how does it work?
Answer by • Dec 01, 2019
The hair removal tool is made of silicone. FurZapper is made from a very soft, tacky, flexible material that grabs dog or car fur and hair, pulls it from the clothes, and washes it down the drain or into your lint trap.
---
Where is this item made?
Answer by • Nov 16, 2020
This tool is made in the USA.
---
How do you clean it after it collects fur from the wash?
Answer by • Dec 08, 2019
If you notice reduction in stickiness, hand wash in warm water with mild soap or detergent.
---
---
---
By annamasaoud on Jun 25, 2022
waste of money
I just got around to using them and used them as per instructions. These did not work at all. If I could have given a zero I would have. I was so excited to finally get something that would take the fur off the clothes and they were worthless. Do not buy these.
---
By Belleson4u on May 20, 2022
What a waste
I had such high hopes for these. They are absolutely junk. It gets covered with lint and then the fur doesn't stick to it. I washed only the dogs blankets and bed covers and got very little fur stuck to these, unlike the advertisement. If I could give zero stars I would. Don't waste your money!
---
By Bianca on May 3, 2022
Bonus Feature!
I have been throwing four of these into each load (both washing and drying), making sure to rinse them with soap and water beforehand. I don't know by what mechanism they work, because the hair does not seem to stick to the products themselves, but there does seem to be less cat hair stuck to my clothes than usual. Also, one of my cats LOVES them.
---
By MollyMom on Apr 24, 2022
Had no effect whatsoever
I tried these with multiple loads of laundry including putting them in with rugs that were covered in hair. I used them both in the washer and in the dryer. The "Zappers"came out with absolutely no hair on them. The washer and dryer did all of the work. These did nothing. I saw no difference in how well my clothes and rugs came out using these as compared to not using them.
---
By Sookie on Apr 24, 2022
Flicker's Laundry Discs Choice
Sadly my Mom purchased these rubberized laundry discs be4 Chewy had them in stock. When following directions to wash before each use, they are so awesome!! We have absolutely no residual critter fur remaining on the freshly washed laundry. In the past Mom was forced to wash laundry 2 & in some cases 3 ×'s. Still my fur would remain, especially the short hairs that got stuck within the cloth weave. Since this purchase, we are saving water & laundry cleaning products. Now that Chewy has them available she plans on purchasing at least 2 more sets. Why you ask? More times than not I don't empty the dryer immediately & the disc remains tangled among the freshly washed & dry items. This Sheba Inu has not learned how to fold our freshly washed items & I don't plan on learning anytime soon. After all I have paws & no thumbs!
---
By Beegee on Apr 23, 2022
Pretty good
I had a black fleece jacket covered in cat hair. After washing and drying it with two fur zappers, it was completely clean.However a black knitted jacket in the same load was covered even more with fur! I threw it in with an ordinary dryer sheet in another load, and, amazingly, IT was now free of fur.
---
By NGP1 on Apr 11, 2022
SAVE YOUR MONEY
My complaint with my front load washer has always been that the dog hair that is on my clothes when I put them is is on when I take it out. So I just have clean dog hair on my clothes. When I saw this product I was super excited to get it. I thought finally my clothes would be hair free. First off you are not allowed to use fabric softener in the wash nor are you allowed to use a dryer sheet. You HAVE to use these in both the wash cycle and the drying cycle. The Fur Zapper just does not work in normal application. It only grabs a small amount of hair and that is it. Without being able to use a dryer sheet or fabric softener now I have clean hair on my static filled clothes. Save your money. Lint roll before you wash instead.
---
By Organized on Apr 13, 2022
FurZapper Dog & Cat Removal Tool
This laundry tool arrived on time in good condition. I have used it in the dryer, washed it as recommended, and used it in the washer. Neither time did it remove cat hair sorry to say. I have two, very hairy cats, and the Zappers were not able to attract any cat hair. Wish I hadn't wasted my money on that!!
---
By natqui on May 12, 2022
Don't waste your money
I first saw this product on my Instagram feed and the videos show a lot of fur stuck to it. I expected to see the same when I used it. This product did nothing to help remove fur from my clothes. NOTHING.
---
By Furzapper on Apr 4, 2022
Does not work well at all
These do not work well. Only a little fur attaches on the sides of the zapper. I use both of them for my long-haired kitty. I don't like not being able to use a dryer sheet, so I will just take the zappers out and then run the clothes with a dryer sheet for a few more minutes. I wouldn't buy them again, but it's not worth it to return them.
---